This Classified is Closed
For Sale:
Watercooling Loop Partout! BIX 240, Yate Hi spds, MCW80, EK Supreme, Ln2/DICE GPU pot
Will Ship To: US50

So I am no longer in need of my water cooling system, as I have sold my system. I also have an extra GPU DICE/Ln2 cooling pot laying around so I figured why not sell it.
First Item for sale is a Swiftech MCW80 Universal GPU block. It cools amazingly and has never given me any issues as far as mounting goes. I have all of the mounting plates to fit pretty much every card EXCEPT GTX460's (and cards with the same hole pattern) and 5770's (and cards with the same hole pattern). There is a home-made bracket included so that the block will fit the nvidia 8000 series of cards.
It will fit nvidia 8000, 9000, 200, 400, 500, and 600 series cards. Fits all ATI/AMD 3800, 4800, 5800, 6800, 7900 series cards. (it may not specifically say that on the website, but the hole spacing is the same for most cards from each company except for the excptions listed above.)
I cleaned the copper bases of the CPU and GPU blocks as best I could before re-assembly. They are clean but not all the color is gone.
Asking
$30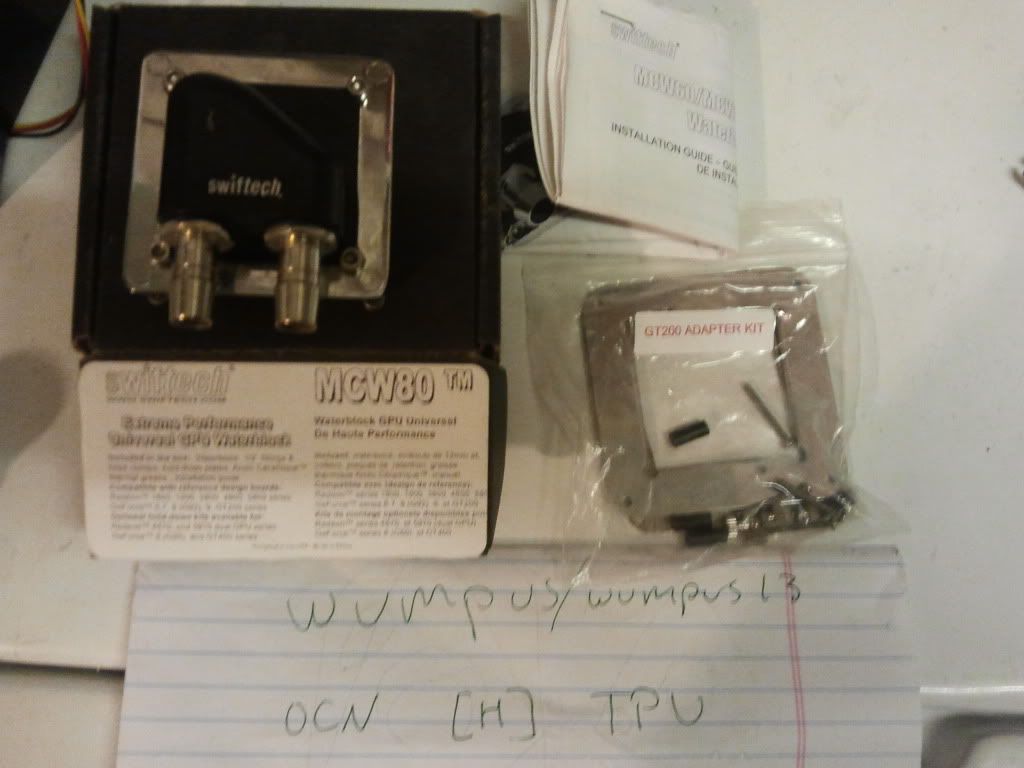 On the left is the GPU plate and on the right is the CPU plate. As you can see neither has a real noticeable amount of damage.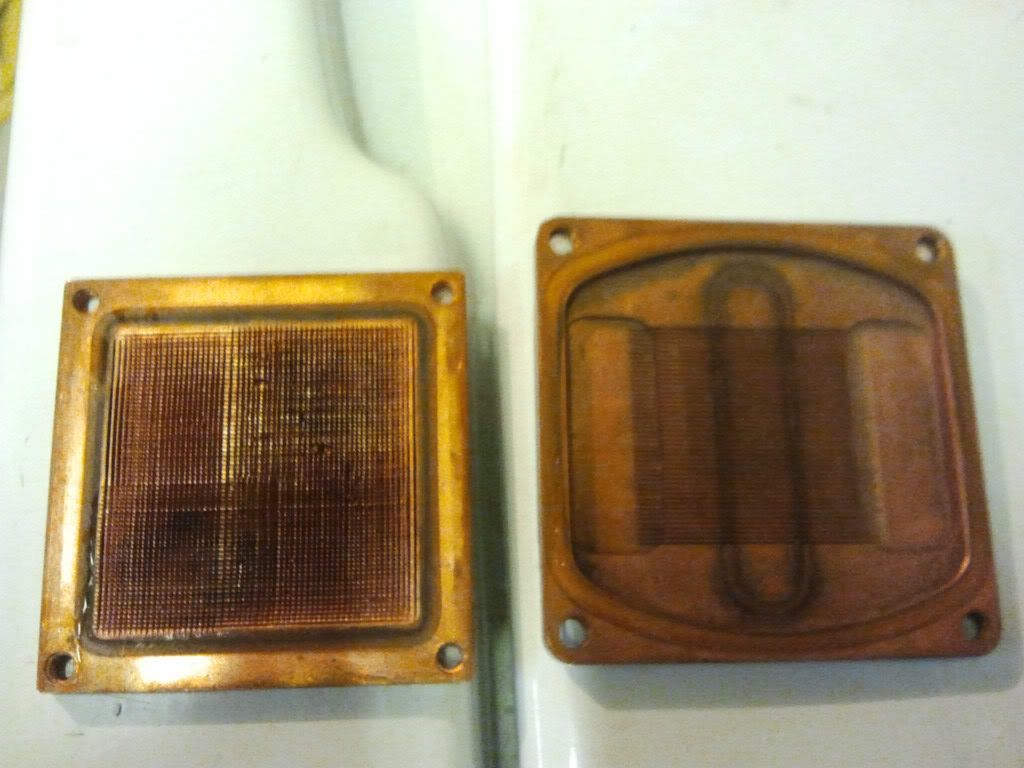 Next item for sale is my Radiator, it appears to be a Black Ice Extreme 240 but there are no markings to verify so I am not 100% sure. It cools damn well though. The only damage is some paint scrapes and such around in some spots, and a few gouged fins in the back side. Other than that, it is in great shape. No leaks or anything of that nature. comes with two 3/8" Brass barbs.
Strapped to the rad are two Yate Loon High speed fans, both in pretty good condition. Never had any issues with them.
Asking
$40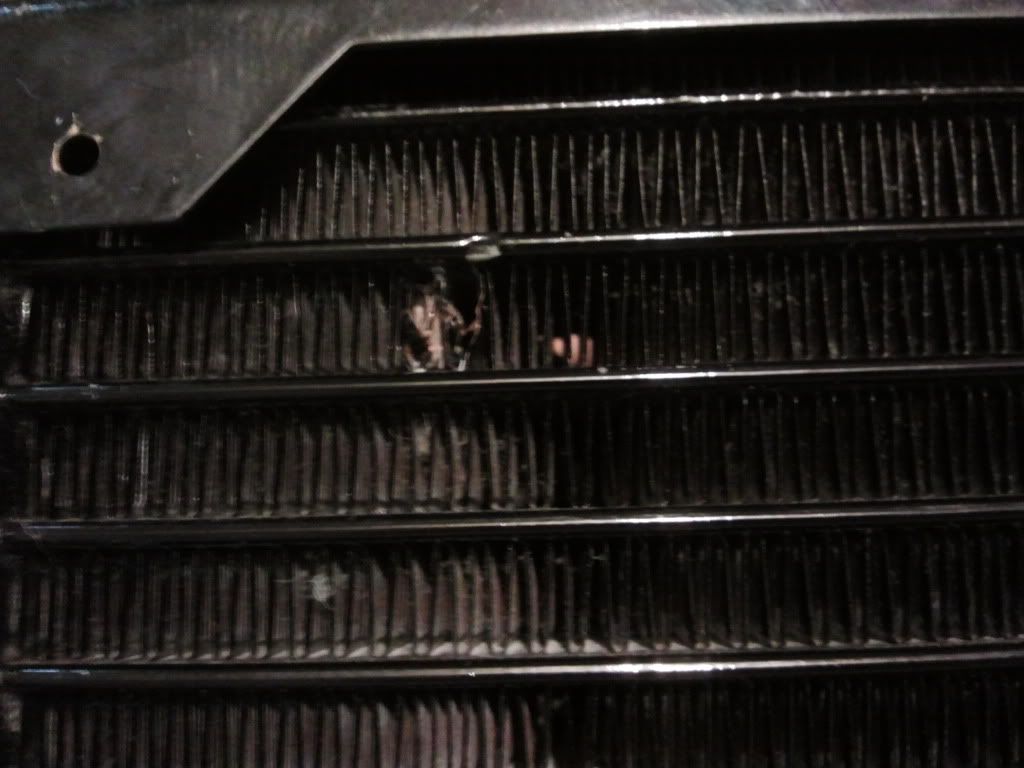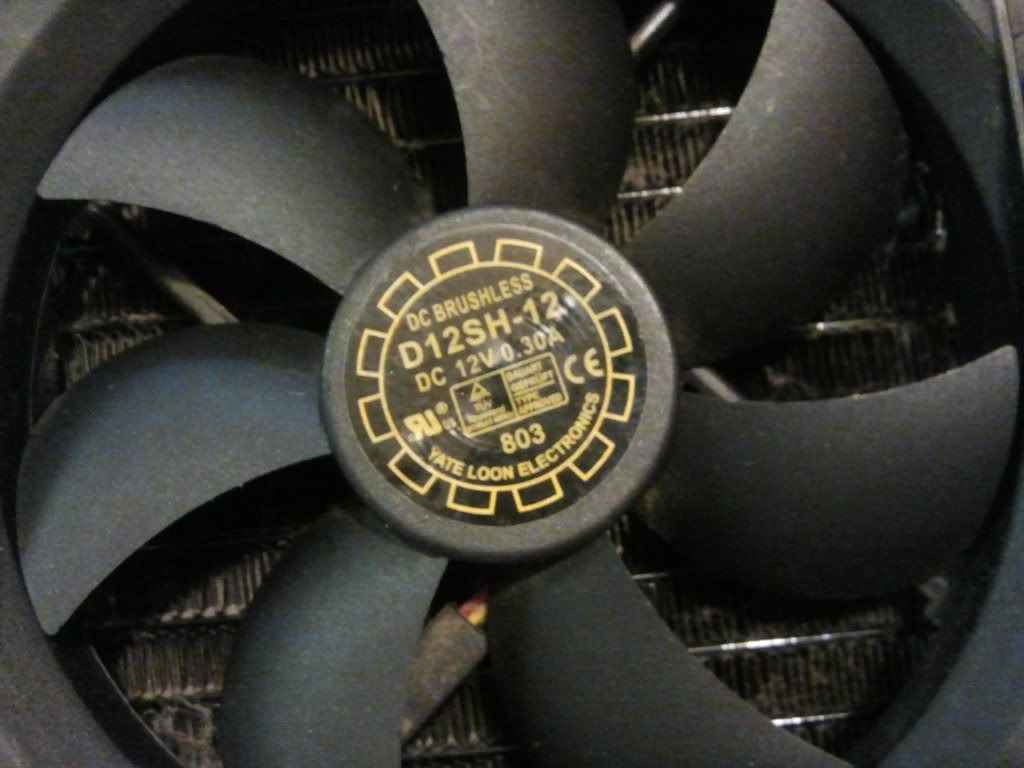 The third item on the list is my CPU block. It is an EK Supreme LT Plexi. It works damn well for the price! However, I accidentally dropped the block and one of the arm things broke off.....so now i am selling it for extra cheap lol. It is certainly still very usable, as even pressure will still be applied when using diagonally opposed mounting arms.
Asking
$15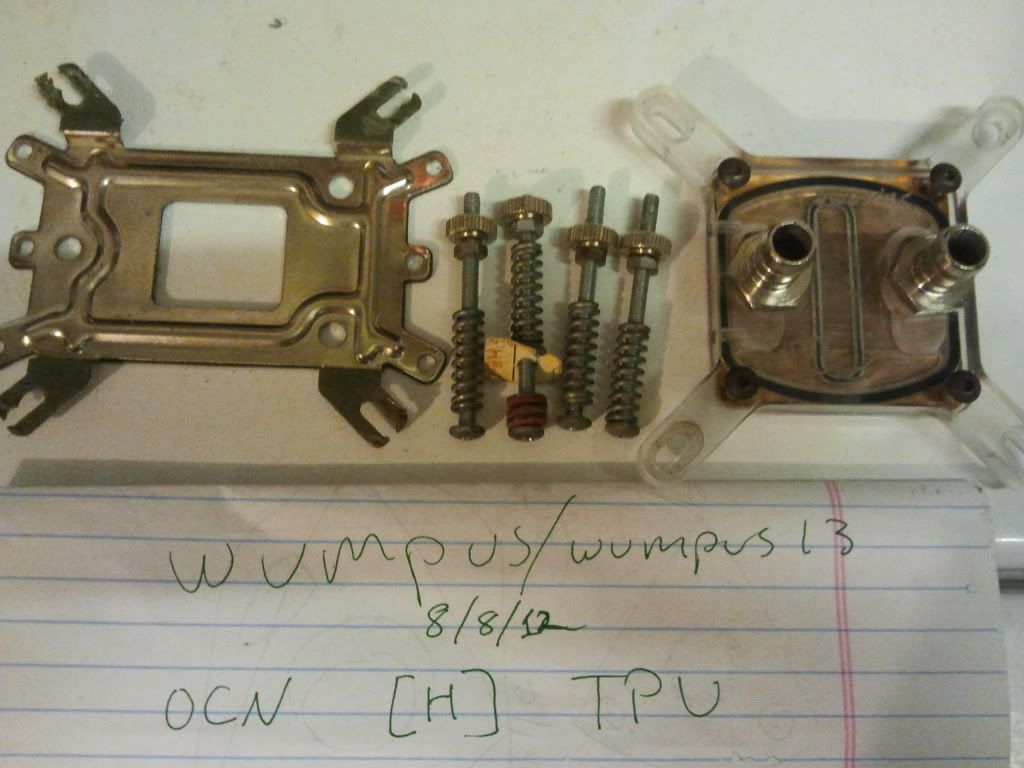 Next item for sale is my Pump. I bought it Labeled as a "Danger Den CPX-1" but it is really just a re-labeled taiwanese pump. It works well and is quite durable. I modified it to run off of a molex plug instead of a 3-pin fan connector.
Asking
$15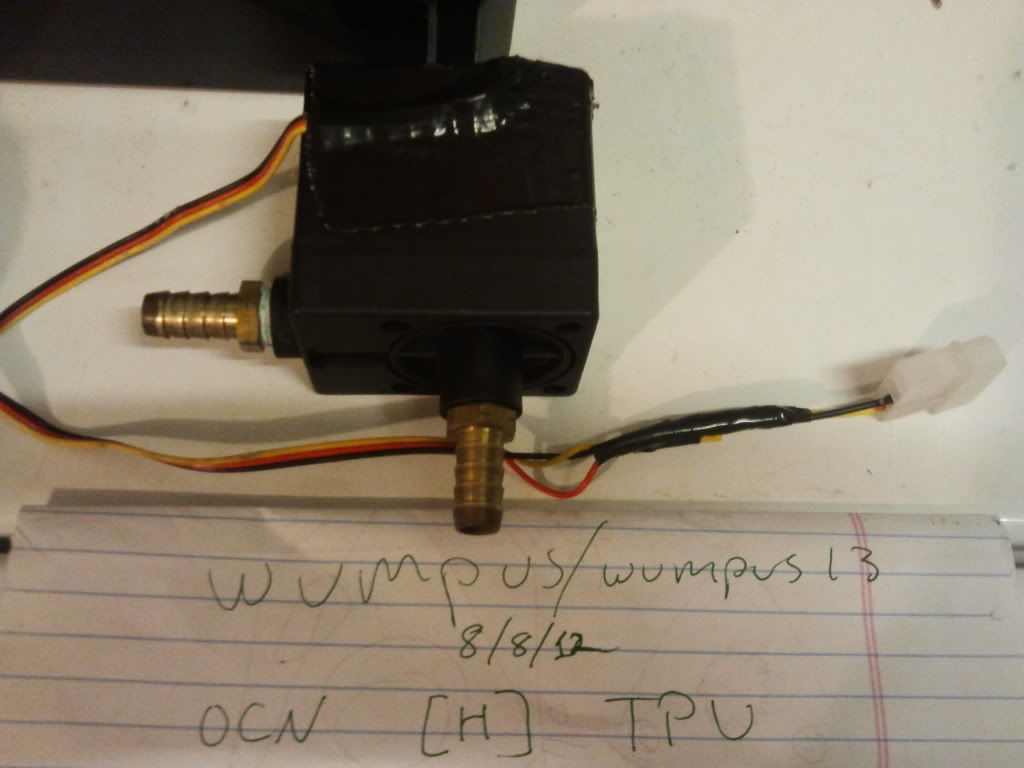 Thermaltake MeOrb cooler. Only comes with 775 mounting hardware. Nice little cooler for an OC'ed dual core or something. Better than stock for sure.
Asking
$10
The last Item for sale is an all aluminum DICE or LN2 GPU pot. There are no internals, just a huge hole, but it works well with DICE and alright with LN2. It will easily handle cards like 8800GTX's and 4890's without too much trouble. The delta will be sizeable, but not insane. I am missing one of the screws, but I DO have all 4 thumb screws. The pot does NOT have a probe on it either.
Asking
$50
(I have cleaned the TIM off of there and cleaned it up a bit since taking the photos!)
ALL PRICES ARE OBO!
ALL PRICES INCLUDE SHIPPING!
LOWER PRICES FOR COMBO DEALS!
Heatware:
http://www.heatware.com/eval.php?id=73280
Terms:
--I
ONLY
take paypal.
--All items shipped USPS priority, to anywhere that the flat rates apply.
--If it is proven beyond a reasonable doubt that the product is defective, I will pay for return shipping and issue a refund.
--All prices
INCLUDE
shipping to US50.
If you have any questions, send me a PM!
Edited by wumpus - 8/18/12 at 11:46am
CPU
Motherboard
Graphics
RAM
E8600 @ 5.8 -- 1.736v
Rampage Formula!
GTX550ti Vmod!
OCZ D9's @ 1200+ cas 5
OS
Monitor
Power
Case
XPEEEEEEEEEEEEEEEEEEEEEEE
XGA 800x600
TR2-RX 850W
Neoprene sheet
View all
hide details
CPU
Motherboard
Graphics
RAM
E8600 @ 5.8 -- 1.736v
Rampage Formula!
GTX550ti Vmod!
OCZ D9's @ 1200+ cas 5
OS
Monitor
Power
Case
XPEEEEEEEEEEEEEEEEEEEEEEE
XGA 800x600
TR2-RX 850W
Neoprene sheet
View all
hide details