Video by MSI
Video by OCTV
Video by Vivi
MSI has been so gracious to give me the opportunity to offer press coverage for MSI's largest competition of the year.
The Master Overclocking Arena finals in Taipei Taiwan on September 28th 2012.
Press coverage will consist of recorded video with interviews of the competitors and MSI staff, along with live updated pictures from the event.
MSI will be hosting a live stream of the event. PizzaMan and Kip69 from Overclock.net will be joining Trouffman and xyala via OCTV's live stream
ABOUT MSI MASTER OVERCLOCKING ARENA
"The MSI Master Overclocking Arena (MOA) is hallowed battleground for global overclocking masters. Every year MSI invites worldwide overclocking gurus, through on-line or on-site qualifications, for a high-tech showdown. Equipped with today's most powerful computers, each invited master challenges the limit of their equipment with their excellent overclocking technique, to win the honor of being crowned the worldwide overclocking master. These overclocking masters break world records under close watch of global media and fellow overclocking enthusiasts. MSI has achieved notable milestones in the field of extreme overclocking. Apart from the players-focused annual MOA contest, many other overclocking events are also hosted online or on-site to break worldwide overclocking records. The globally watched MOA competition has become the flagship of these overclocking competition series."
Quoted from MSI's MOA site
I'm here to say that this event is very much closely watched by most competitive overclocking teams, as we route for our top overclocking teammates who spend loads of time and money overclocking MSI motherboards and graphic cards in attempts to make it to the finals in Taiwan. Weather or not they are MSI fans, overclockers from around the world watch as their teammates take the year's top-end hardware to its limits. The event just seems to get better and better each year as MSI is dedicated to continuing to improve their products, and here is their gift to the overclocking community a stringent competition with awesome prizes throughout the qualifying rounds and free trips to the top overclockers in the world to the finals in Taipei Taiwan.
DATE: September 28th 2012
Location: National Taiwan University's Sport Center, Taipei, TaiwanConfirmed hardware for competition:
Intel® Core™ i7-3960X Processor Extreme Edition
Kingston HyperX Genesis DDR3-2400 2GBx4
Thermaltake® Toughpower XT Platinum 1275W
Keyboard: Tt® eSPORTS Challenger
Mouse/Pad: Tt® eSPORTS AZURUES / PYRRHUS
Big Bang X79 Xpower II
GTX 680 Lightning
2012's MOA confirmed qualifying competitors:
MOA 2012 AM Qualifier Winners List:
Splave
&
Romdominance
: United States; Team_USA
Rbuass
&
Hazzan
: Brazil; Fusion Overclocking Team
gnidaol
&
Overheat
: Brazil; Loading CFX5BR
MOA 2012 EMEA Qualifier Winners List:
Xtreme Addict
& Piwor: Poland; Xtreme Team
T0lsty
&
cyclone
: Ukraine; XtremeLabs.org
ryba (PurePC.pl)
& Joanna: Poland; ASD Crew
Aristidis
&
Stelaras
: Greece; HwBox Hellas O/C Team
Smoke (aka OClab.ru)
&
12
: Russian Federation; Team Russia
MOA 2012 APAC Qualifier Winners List:
I.R.I.S
&
Lucky_n00b
: Indonesia; JagatReview.com
SniperOZ
&
Deanzo
: Australia; Team.au
SOOGE (aka johnlam_OPB_ , aka UncleFester)
&
JJJC
: Australia; Team Mipmap
oc_windforce
&
Littleboy
: Korea (republic); Team_MPBK
Futuremark's Lords of Overclocking 2012:
dRweEz
&
Vivi
: South Africa, Team- SA
Perica_barii
&
Quake
: Montenegro, HW Gurus
Coldest
&
bboyjezz
: Indonesia, JagatReview-Binus CE
Returning Champions MOA 2011:
Monstru
&
matose
: Romania, LAB 501
Competition timeline: +8 GMT September 28th
8:50am Opening Ceremony
9:00-10:30am Assembling/Tuning
10:30-12:30pm Task 1: SuperPi 32M
12:30-3:00pm Task 2: 3Dmark03
3:00-6:00pm Task 3: 3Dmark11 Performance
6:00-7:00pm Winner Announcement and Winning teams interviews
7:00-9:00pm MOA Party!
Official Rules of Engagement: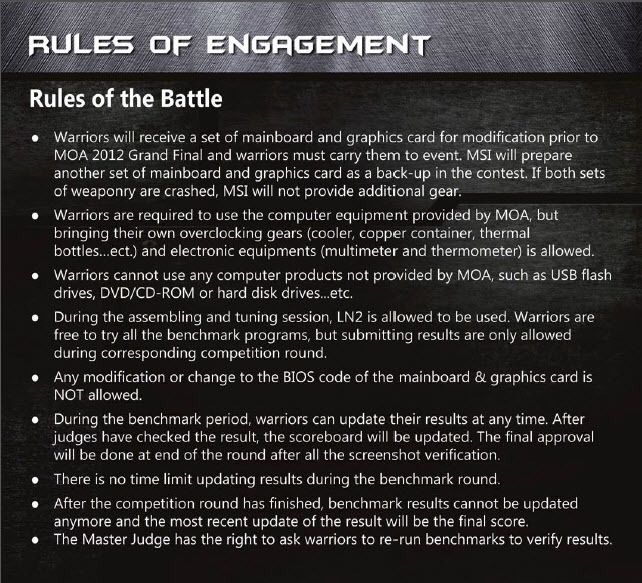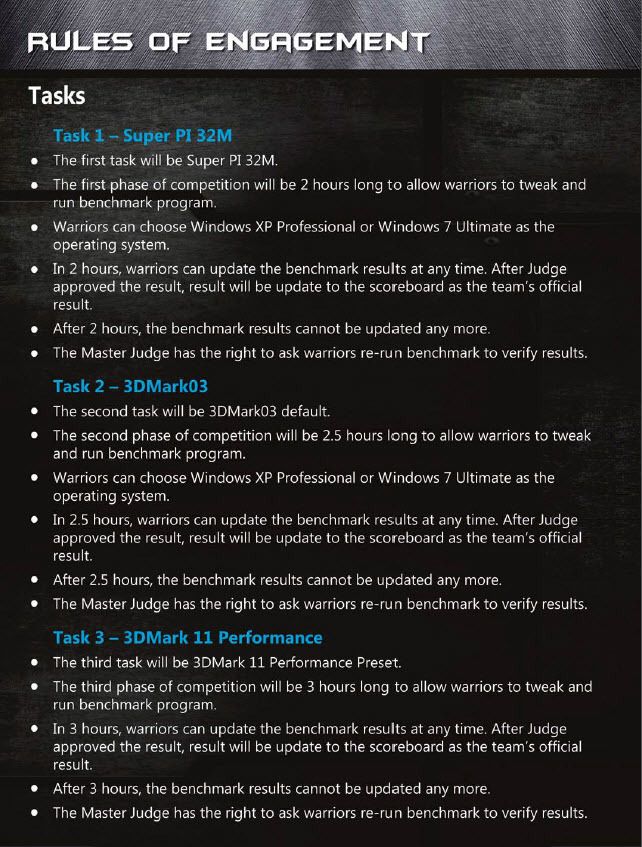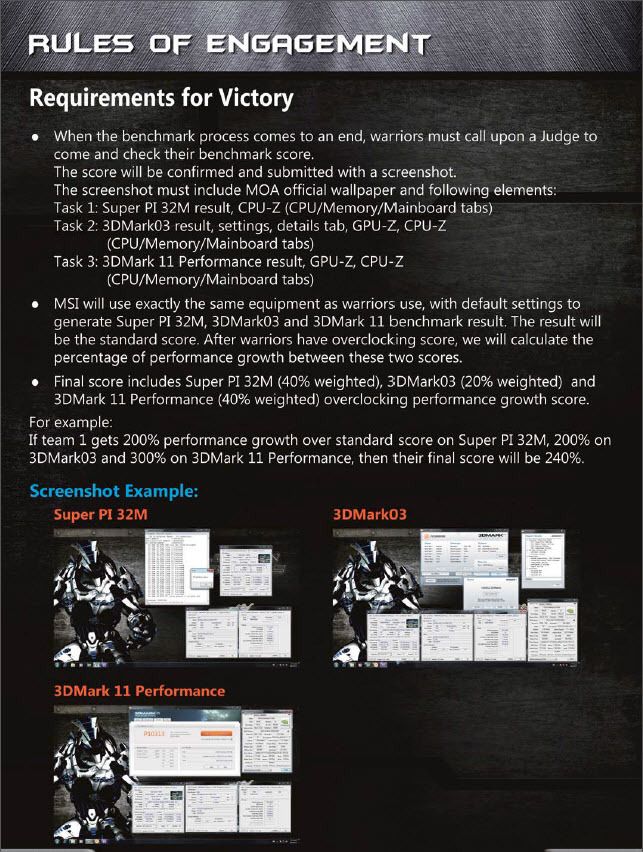 Overclocking-TV Coverage:
MSI MOA 2012 – Competition Website up and running!
MSI MOA 2012 – Competition schedule and benchmarks
MSI MOA 2012 – The results
MSI MOA 2012 – Official Aftermovie
Twitter feeds:
@pizzamanocn
@overclockingtv
@overclocknet
@HWbot
@msiUSA
Photo album
Photobucket
OCN MOA Movie
Past MOA Competitions:
MOA 2011
MOA 2010
MOA 2009
MOA 2008
CPU
Motherboard
Graphics
RAM
E8400, E8600, 980BE
T2RS+, P5E3, TA890FXE
8800GTS's,GTX's,GS,Ultra's,9600GT
Lots of D9's and some crap DDR3
Hard Drive
Power
Case
Seagate 250GB + 80GB WD for benching
TT 875w, Corsair 650TX
Custom bench station
View all
hide details
CPU
Motherboard
Graphics
RAM
E8400, E8600, 980BE
T2RS+, P5E3, TA890FXE
8800GTS's,GTX's,GS,Ultra's,9600GT
Lots of D9's and some crap DDR3
Hard Drive
Power
Case
Seagate 250GB + 80GB WD for benching
TT 875w, Corsair 650TX
Custom bench station
View all
hide details