Had always wanted to venture into watercooling but nvr had the time to really research on it. After years of procrastination, finally took the plunge and decided to try it out.
This is my first time doing up a project log and will update this as I go along, hopefully bros here experienced with WC can give me abit of tips here and there as I go along. Might take months to properly complete this lol so please bear with me.
Hardware
CPU: Intel i7 3770K
Motherboard: Asus Maximus V Formula
Ram:
G.Skill Ripjaw DDR3 16GB 1600mhz
Avexir Core DDR3 4x4GB 1600MHZ Red LED
Graphics: Asus Nvidia GeForce GTX 670 DCU II
HDD: OCZ Vertex 4 120GB + WD 1TB Black
PSU: Seasonic 760W
Casing: NZXT Switch 810 Black
Water Cooling Parts:
(Some parts not yet decided)
CPU Waterblock:
EK Supremanxy - Nickel
VGA Waterblock:
EK-FC670 GTX DCII - Nickel
EK-FC670 GTX DCII Blackplate - Black
Water Reservoir:
Liquid Fusion 250mm - UV Red
Pumps:
2 x Swiftech MCP655 (Variable speed)
Bitpower Dual D5 MOD TOP (To couple the 2 D5 pumps together)
Radiator:
1 x
Black Ice GTX 360
Black Ice SR-1 360
1 x
Black Ice GTX 240
Black Ice SR-1 240
Couplings:
(not yet decided on Bits Power or Monsoon)
Tubing:
Feser Red Active UV Hose
ID: 3/8", OD: 1/2"
Cooling Medium:
Industrial Grade Demineralized Water
Conductivity: 0.5us/cm
Additive: Kill Coil (Not too sure what isit yet but read its important?)
Pics of the HardWare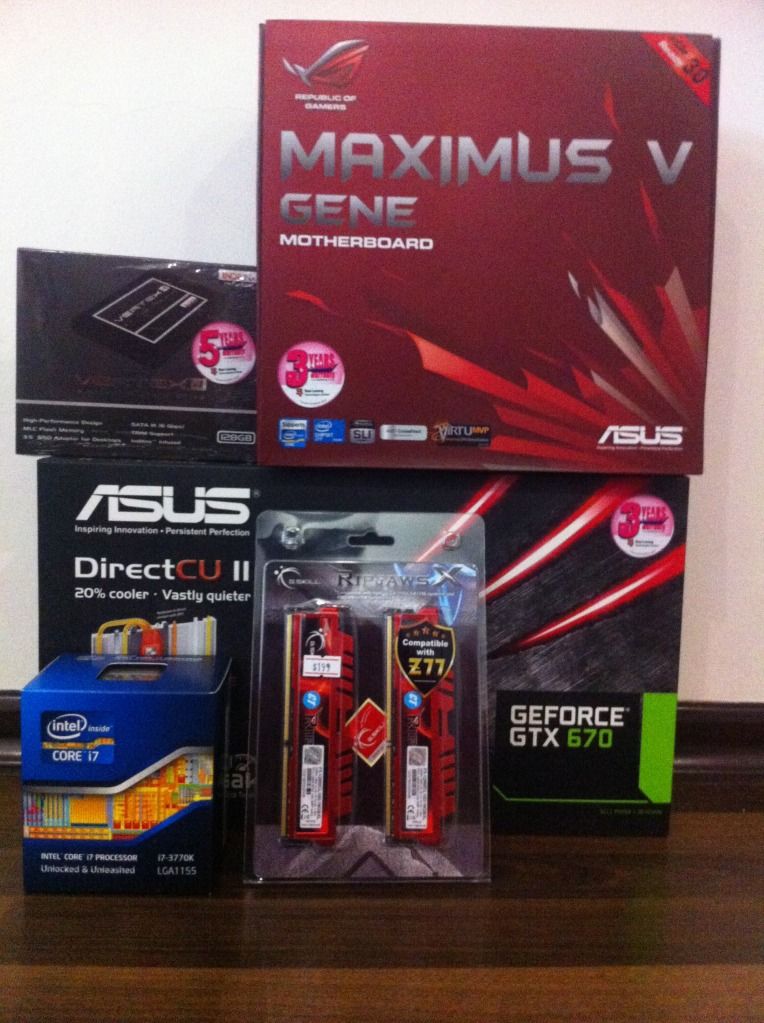 Bought Maximus V Gene by mistake and decided to topup to exchange for a Maximus V formula due to the built in Mobo WC block.
Edited by CRViper - 11/5/12 at 7:13am