I think you're talking in Klingon lol
Are you saying that I've been trying to do the wrong thing?
I think I might buy a 1" x 1' drill bit and go through a wall. Put an ethernet cable through it and buy a cheap switch!
I'm happy to try anything else you can suggest.
Just so you understand what I'm trying to do; I know I'm not making your job easy, I made a quick diagram.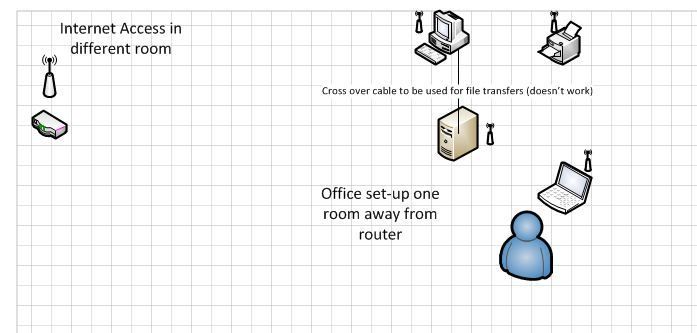 edit 1: the router is in my son's nursery. A cable would have to go across 2 door ways and 2 rooms. The floors are marble so I can't hide them under carpet etc. I'm in a rented condo so loathe to drill holes.... having said that, is is only a plasterboard wall and how noticeable is a small hole anyway.......
edit 2: didn't spot your edit.
Will try sharing the wifi.
Thanks for all your help. Really appreciated.
For you
Edited by makecoldplayhistory - 9/8/12 at 11:30pm