Because I know next to nothing about attacking stuff on motherboards with a multi-meter, I was just wondering what to do.
I know that my vcore measurement is on one of the leads of the inductors on my motherboard (but I don't know which one), is it ok to try both? Or will this blow something up? And can I basically try any component? Or will they brake if I try the wrong lead on something? And what do I use for neutral/ground on the DMM?
Thanks.
Here's my problem, someone said it was the left lead, but the board is mounted vertically in the picture so there is no left/right leads. So I don't know which one to use: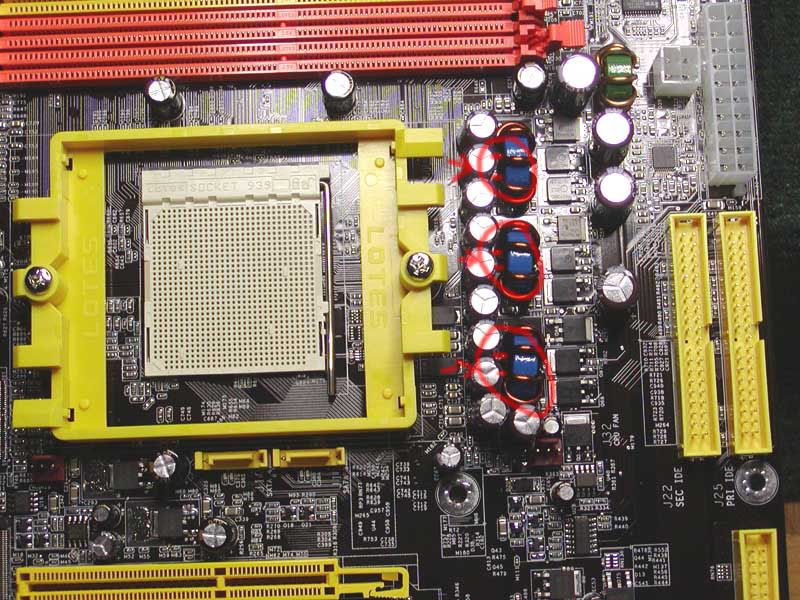 The DFI site was of no use...
CPU
Motherboard
Graphics
RAM
i7 920 @ 4GHz
Asus P6T SE
4850X2 2GB
3x2GB OCZ PC3-12800
Hard Drive
Optical Drive
OS
Monitor
2x250GB RAID0 7200.10, 320GB 7200.11
Samsung SH-S183ABEBN SATA
Windows 7 Pro
SM2443BW + HP LP2065
Keyboard
Power
Case
Mouse
Logitech G15 v1
Silverstone Zeus ST75ZF
TT Lanfire Xaser III Modded
Razer Deathadder
Mouse Pad
Icemat v2 Blue
View all
hide details
CPU
Motherboard
Graphics
RAM
i7 920 @ 4GHz
Asus P6T SE
4850X2 2GB
3x2GB OCZ PC3-12800
Hard Drive
Optical Drive
OS
Monitor
2x250GB RAID0 7200.10, 320GB 7200.11
Samsung SH-S183ABEBN SATA
Windows 7 Pro
SM2443BW + HP LP2065
Keyboard
Power
Case
Mouse
Logitech G15 v1
Silverstone Zeus ST75ZF
TT Lanfire Xaser III Modded
Razer Deathadder
Mouse Pad
Icemat v2 Blue
View all
hide details