Hello all, first post here, and I'm looking for some input for a new build I'm starting tomorrow.
...I wanted to install the H100 in a push/pull fan configuration but I'm not sure if I'm going to have the clearance with the motherboard (ASUS P9X79 WS) to mount it all on the top underside, so a couple of weeks ago I started looking for solutions and came up with the idea of using this 2 x 140mm Koolance radiator shroud bolted onto the top of the case (using two 140mm fans):
http://koolance.com/2-x-140mm-fan-radiator-shroud-black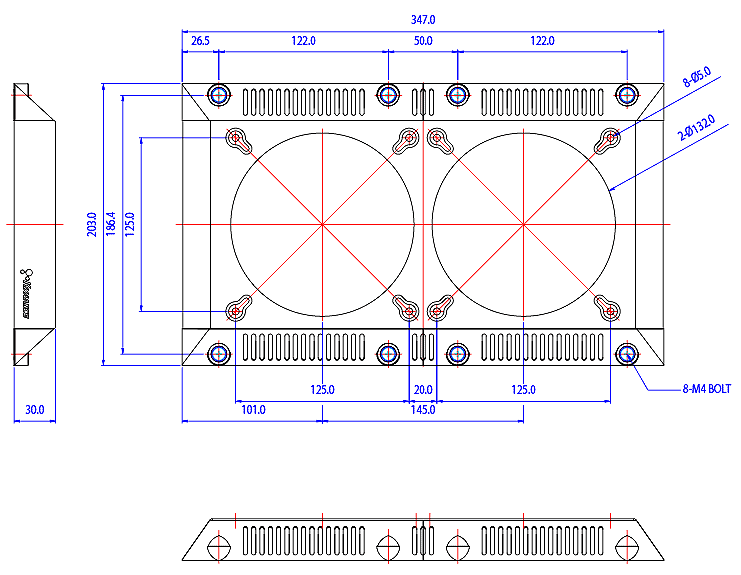 Using the dimensions on the shroud drawing, I measured my 650D and this shroud will fit perfectly on top of the case (butted up to back edge and centered down the middle with all the 140mm holes in alignment). I'll be able to drill the holes in the top of the case for the outer mounting holes and use a gasket to seal it up on the top of the case... (...just received my Koolance shroud and indeed it will fit nicely atop the case).
The radiator will mount on the inside of the case on the underside with the stock fans in a push configuration, and I would mount 2x 140mm Akasa Viper fans on the underside of the Koolance shroud pulling air out of the case...
Now for my questions:
1. This isn't quite a true push/pull config with fans mounted onto both sides of the radiator, but does anyone forsee any problems with this setup? (Note: will have 3 GTX580's inside making heat).
2. I was thinking of connecting the 2x Akasa Viper fans to the motherboard and the 2x 120mm Corsair stock fans to the H100 controller. If this is not a good setup, then what is?
3. Although the shroud would be sealed to the top of the case, one concern I have is that the air will take the path of least resistance and be sucked out from around the H100 radiator from the case vents-- not sure if this would help or hurt overall cooling... thoughts?
4. For #3 above, would it help to seal up the case venting and only leave the radiator footprint exposed to the two 140mm Akasa Viper fans?
Thanks in advance!
Edited by Archangel35757 - 9/21/12 at 9:54pm