Doing a cheap build to hold me off to build an I5 Ivy rig. Just looking to get back into gaming, and I'm not gonna lie, I miss building pc's.
1) Asus M4A79Xtd Evo and an Phenom x4 955 Black edition (Thanks to IcyPimpHand on here ) $120 shipped
2) Bought Samsung ddr3 1600 4x2gb Wonder Ram - $45 shipped (transferable to i5)
3)Bought Hyper 212 Evo hsf - $30 shipped (Tranferable to I5)
4) Bought Evga gtx 280 - $65 shipped (transferable to I5)
5) Using old parts from old Build of a friends: $100 Total
Purepower 680 psu
Case Thermaltake (forget rest)
Graphics 8400gt ( for now, waiting on graphics card should be getting early next week.
Ned Dvd Burner
Scrapping: Asus a8n32sli - x2 4400 if i remember correctly, corsair xms ddr400.
Total: $360
Pics of the parts in: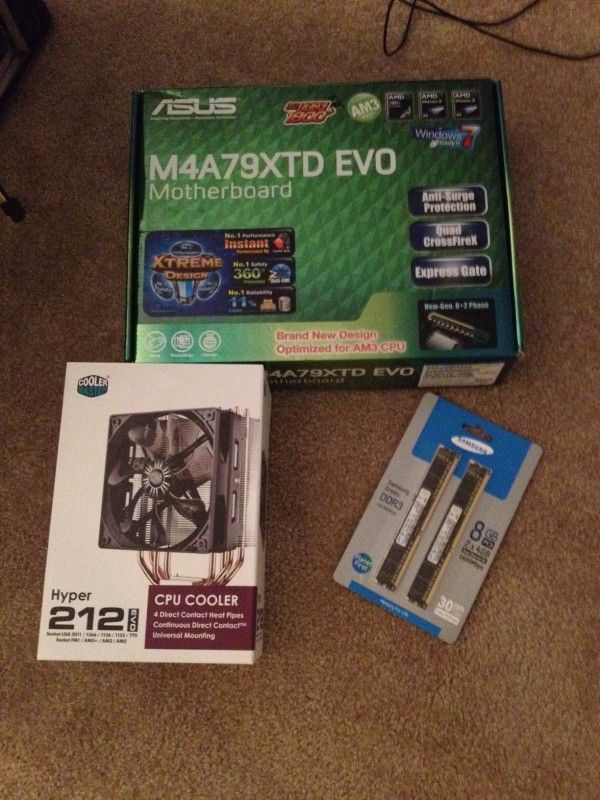 Case I'm working on cable management, not much I can do with the psu because its not modular. Currently working on it now so I'll keep you guys updated tonight, already got the coffee on - Shouldn't take me much longer.