Finished volt mod last night. May have destroyed card.
Attached 1k VR to card and set to ~900 ohms (stock resistance was measured to be 13ohms).
Turn on PC, seems fine, "Starting Windows".... .... .... .... brrarrraarghghgararhghghghghgrghghhhh... flip power switch on PSU...
Removed modded card, replaced GT220 in same pcie slot, everything starts as normal, so definitely the card (duh).
First time I tried to solder a wire to a pad connected to the FB I accidentally ripped off the pad, popped the GPU in without doing anything else and everything checked out fine.
Change game plan, solder to a small capacitor next to removed pad that also looked to be connected to FB. Got same resistance from cap-to-ground as with FB-to-ground when setting DMM to 2k OHM and also continuity test.
Ground is marked below. Also remember not getting any voltage readings off of that and a couple other legs pre-mod when GPU in PC. Also, part of the wire soldered to cap is uncovered in the picture below but only b/c i slid it back some to get a better look underneath afterwards, it was otherwise covered up to the bead of solder.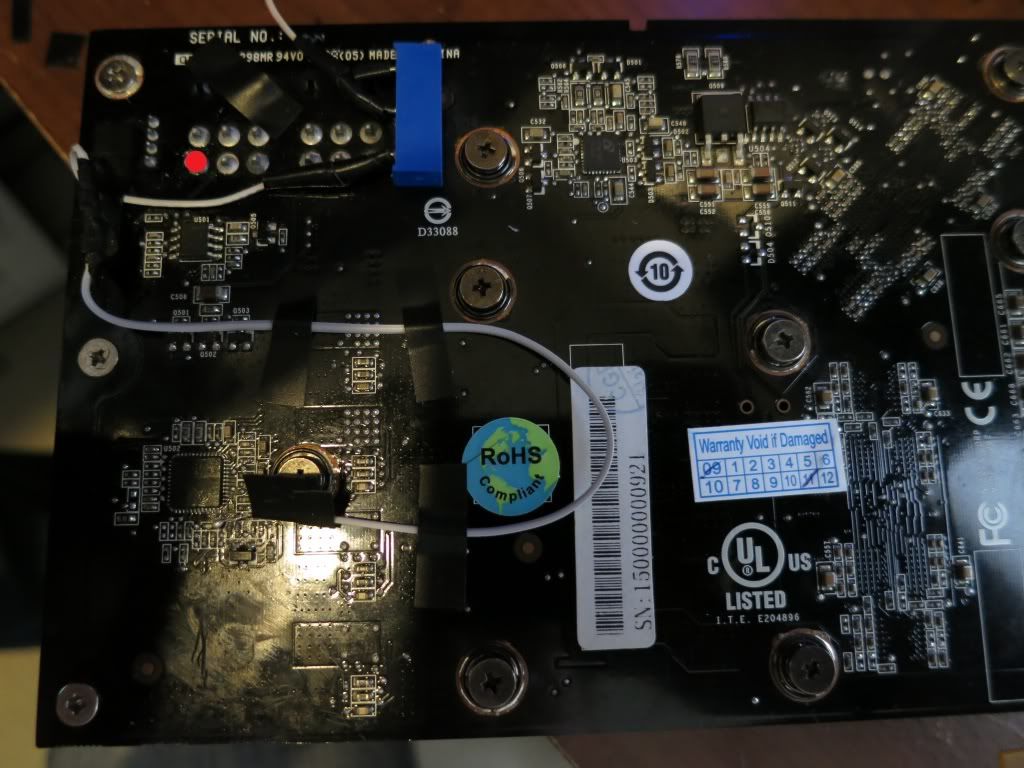 After hours of struggle, managed to get a strong joint soldering wire to the cap, measured from other end of wire to ground just to be sure (same stock resistance...assumed I didn't accidentally solder together any components that would be a no-no). Also visually inspected with magnifier to look for any possible unwanted connections.
Soldered wire to outer leg of VR. Soldered middle leg of VR to what I believed to be a ground, I had cut the connection by the time I took picture in order to test with DMM in-line.
Visual aid:
http://s1276.photobucket.com/albums/y478/regularguy_oc/?albumview=slideshow
EDIT: didn't get a chance to measure vGPU post mod so not sure if I majorly f'd up somehow. Also,
stock vGPU: 1.19v (measured off of
http://cdn.overclock.net/d/d4/500x1000px-LL-d4248173_vgpu_measure400.png
)
stock resistance: 13ohm
VR: 900+ ohms (out of 1k max)
When pc is turned on...
Little LED on back of card (where DVI ports are) lights up green.
Fans turn on (sounds like 100%) after a second.
MILLION DOLLAR QUESTION:
Does anyone have suggestions on how to FIX/DIAGNOSE what's wrong? Is the card completely fried?
Also, maybe not important but there's a lot of low viscosity super glue, flux, and bits of q-tip cotton from trying to clean the flux off with alcohol on the board.
Edited by regularguy - 10/10/12 at 11:54am