Quote:
Originally Posted by
Covert_Death
right, so NOW here are the results from LLC Disabled..... didn't quiet reach 60*C, only reached 57*C but that may be due to reseating my H60 what i'm not understanding is that with LLC DISABLED the VCORE Goes UP???
here are the results
Core Temp:
CPUTIN (Socket Temp):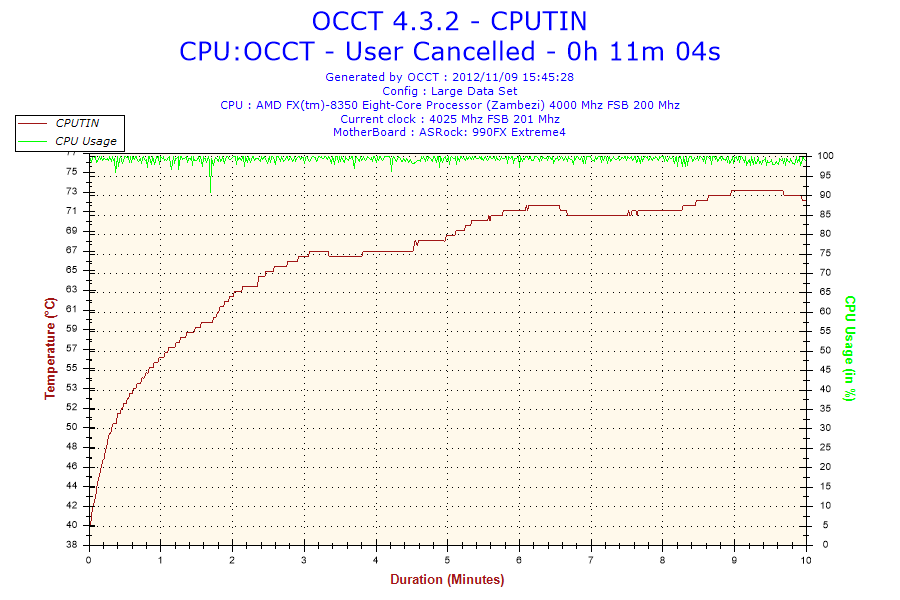 CPU VCore: (Volts still set at 1.3375 and as you can see it starts off at that and then goes UP when load is applied...)
http://s21.beta.photobucket.com/user/fmjaguar7/media/OCCT%20Stock%20Clocks%20LLC%20DISABLED/2012-11-09-15h44-Voltage-CPUVCORE.png.html?sort=3&o=7
12+V RAIL (identical to LLC = AUTO so ill only post one)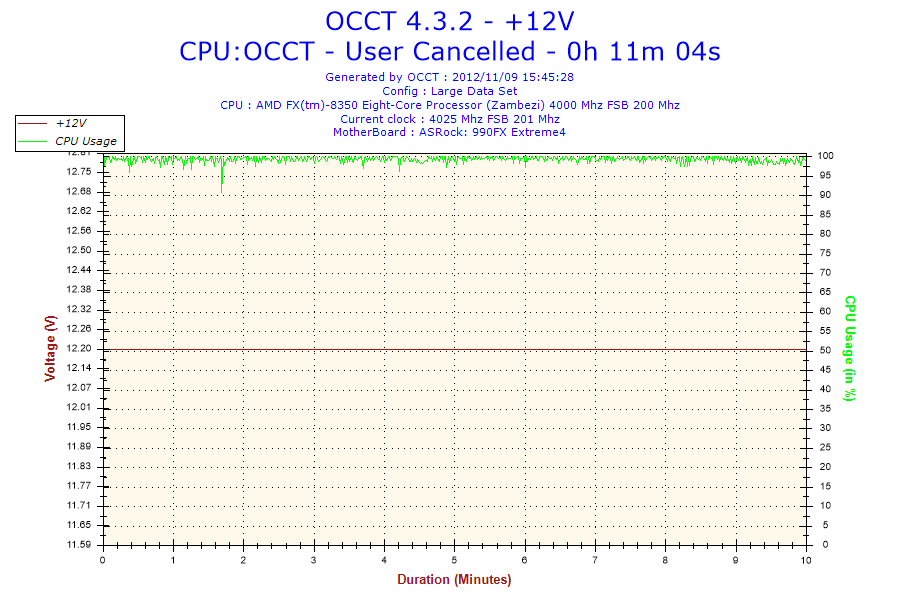 so should i NOT be disabling LLC??? i thought it was always a good idea to disable it if your system could still run stable
The image link is broken. But the result of no LLC or turning it off is almost always a drop in volts, so that is strange. In the graph that I can't access, did the volts just jump up and stay there? or did they fluctuate a lot?
How many LLC setting do you have availible?...6?
can you find one that does this?
The reason I ask is it's ideal for OC'ing because it works at lower volts until you apply a heavy load and then jumps up and stabilize things.
This is 'Ultra' LLC on mine (with a FX-8150 for a Rev 1.1 UD7 review I did (second highest LLC setting )
Edited by Red1776 - 11/9/12 at 2:14pm
CPU
Motherboard
Graphics
RAM
AMD FX-8350 @ 5.2GHz
Gigabyte GA-990-FXA-UD7
4 x MSI R 290X 4GB Gaming
16GB Corsair Dominator Platinum 2133
Hard Drive
Optical Drive
Cooling
OS
4 x Seagate 1 TB 7200
2 x Asus Optiarc
Koolance 370 CPU WB/ AlphaCool Water cooling: ...
Windows 7 Professional
Monitor
Keyboard
Power
Case
1x3+1 Eyefiniy 5760x1080
Gigabyte 8100K V.2
1-AX1200w + 2x FSP x500w
Coolermaster Cosmos II Full Tower
View all
hide details
CPU
Motherboard
Graphics
RAM
AMD FX-8350 @ 5.2GHz
Gigabyte GA-990-FXA-UD7
4 x MSI R 290X 4GB Gaming
16GB Corsair Dominator Platinum 2133
Hard Drive
Optical Drive
Cooling
OS
4 x Seagate 1 TB 7200
2 x Asus Optiarc
Koolance 370 CPU WB/ AlphaCool Water cooling: ...
Windows 7 Professional
Monitor
Keyboard
Power
Case
1x3+1 Eyefiniy 5760x1080
Gigabyte 8100K V.2
1-AX1200w + 2x FSP x500w
Coolermaster Cosmos II Full Tower
View all
hide details