Quote:
Originally Posted by
Hexus
Here at HEXUS we've given AMD's second-generation 'Trinity' APU a fair crack of the review whip. The headline A10-5800K improved upon last-gen 'Llano' in almost every way; we examined just how well AMD's claim of Dual Graphics worked; saw comprehensive IGP performance gains by switching to faster memory, and then took the £75 A8-5600K for a spin.
The missing part of the overall APU jigsaw is an evaluation of a 65W, (relatively) energy-efficient part. An obvious candidate for this role is the A10-5700 chip, which shares much in design with the A10-5800K but snips in-use power-draw by one-third - to 65W from 100W.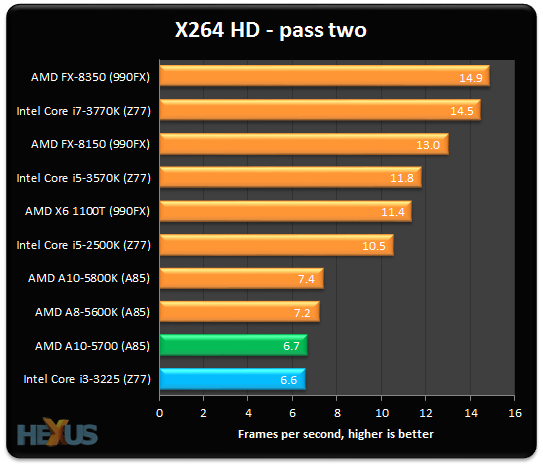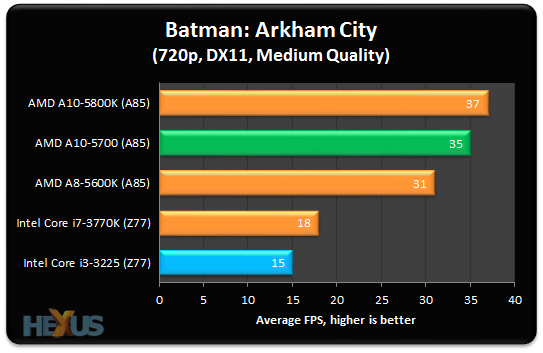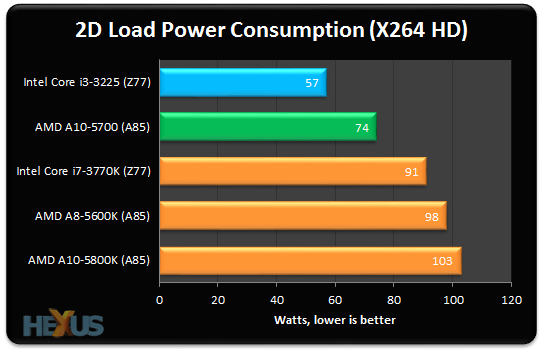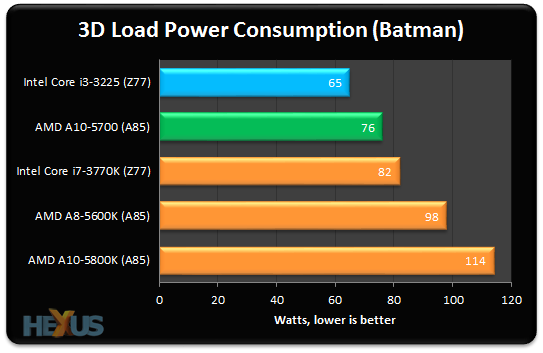 →
Source
CPU
Motherboard
Graphics
RAM
Core 2 Duo (Penryn) T8300 @ 2.4GHz
Dell Studio 1535
Intel 965GMA
2GB 667MHz Samsung DDR2
RAM
Hard Drive
OS
Monitor
1GB 667MHz Samsung DDR2
60GB Corsair Force 3 SSD
Windows 7 64bit SP1
Toshiba 39L1350U HDTV
Keyboard
Power
Mouse
Mouse Pad
Some USB wireless Logitech keyboard
Rocketfish universial power adapter (my cousin's)
Some USB wireless Logitech mouse
couch
Audio
Audio
HDMI audio-out to HDTV
HDTV optical-out to Denon AVR-200 reciever
View all
CPU
Motherboard
Graphics
RAM
Pentium 3 @ 667MHz
Some Intel mobo
ATI Rage 128 AGP 32MB
2x256MB DDR1
Hard Drive
Hard Drive
Hard Drive
Hard Drive
1GB Sandisk CF card - boot drive
Western Digital Caviar SE - 320GB IDE
Maxtor - 200GB IDE
RamDisk - adaptive 64MB viotle scratch
Cooling
OS
Monitor
Power
Athlon XP 2000+ Palomino stock heatsink w/ copp...
Windows 2000 Pro SP4
None - VNC is used instead
Bestec ATX-250-12Z
Case
Other
Other
Some super-basic beige case
Intel PCI ethernet card
Linksys PCI ethernet card
View all
hide details
CPU
Motherboard
Graphics
RAM
Core 2 Duo (Penryn) T8300 @ 2.4GHz
Dell Studio 1535
Intel 965GMA
2GB 667MHz Samsung DDR2
RAM
Hard Drive
OS
Monitor
1GB 667MHz Samsung DDR2
60GB Corsair Force 3 SSD
Windows 7 64bit SP1
Toshiba 39L1350U HDTV
Keyboard
Power
Mouse
Mouse Pad
Some USB wireless Logitech keyboard
Rocketfish universial power adapter (my cousin's)
Some USB wireless Logitech mouse
couch
Audio
Audio
HDMI audio-out to HDTV
HDTV optical-out to Denon AVR-200 reciever
View all
CPU
Motherboard
Graphics
RAM
Pentium 3 @ 667MHz
Some Intel mobo
ATI Rage 128 AGP 32MB
2x256MB DDR1
Hard Drive
Hard Drive
Hard Drive
Hard Drive
1GB Sandisk CF card - boot drive
Western Digital Caviar SE - 320GB IDE
Maxtor - 200GB IDE
RamDisk - adaptive 64MB viotle scratch
Cooling
OS
Monitor
Power
Athlon XP 2000+ Palomino stock heatsink w/ copp...
Windows 2000 Pro SP4
None - VNC is used instead
Bestec ATX-250-12Z
Case
Other
Other
Some super-basic beige case
Intel PCI ethernet card
Linksys PCI ethernet card
View all
hide details