Hi OCN!
I've been out of the whole PC loop for about 5 years (i.e. my last rig was from 5 years ago). My last PC I made used a Q6600... that generation.
As for what I do, usually only Photoshop aside from general coursework and browsing. I work with multiple 30MB images. I don't play any games.
I currently have this laid out, tell me what you think: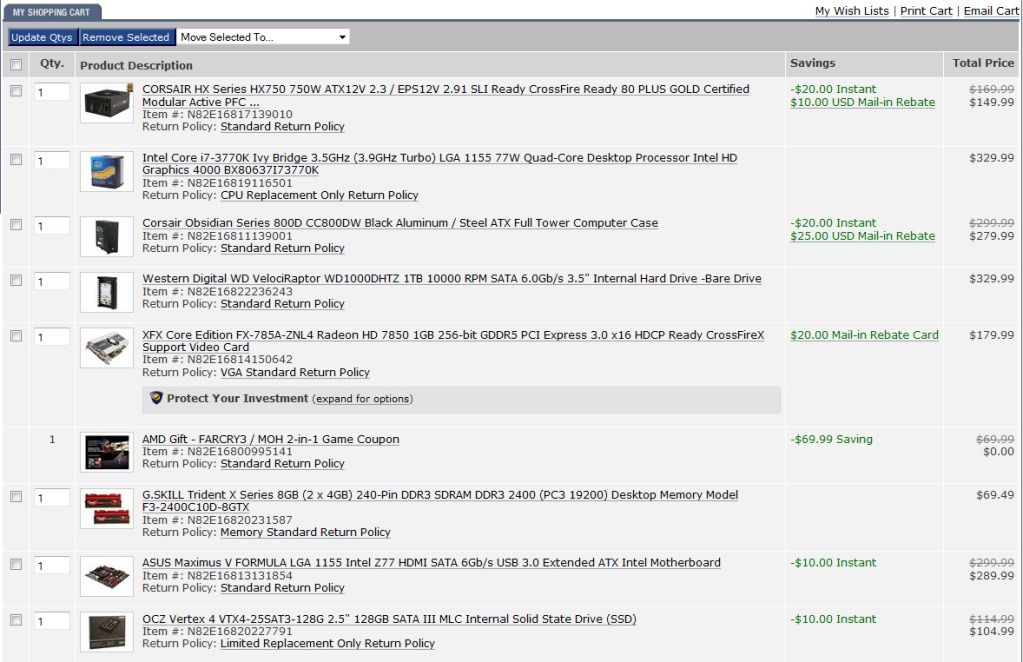 It comes up to around 2000 after taxes.
As for cooling, I can't seem to find a watercooling section on newegg... but I was planning the following from a local vendor:
- XSPC RX360 Triple 120mm Fan Water Cooling Radiator ($95)
- Swiftech MCP655 12V Industrial Water Cooling Pump 1/2IN Barbs ($90)
- Koolance CPU-370 LGA1366/1156/1155/775/AM3 Universal CPU Water Block G1/4 Threads ($100)
- Swiftech Maelstrom 5 Dual Bay Standalone Reservoir for MPC350 355 or 35X Pump G1/4 ($90)
- Swiftech Adjustable Black Hose Clamps for 1/2IN Inner Diameter 3/8IN Outer Diameter 3/8IN (8x) ($24)
- Primochill Primoflex Pro LRT Clear 3/8IN ID 5/8IN OD Tubing (10 Feet) ($17)
- Bitspower BP-CPF-CC5 G1/4 to 1/2IN Straight Compression Fittings -SILVER SHINING- (Pair) (3x) ($51)
What should I look for when comparing radiators and reservoirs? There seem to be limited options compared to other components. Thing is there are some reservoirs cost as much as 3x as others. I've been looking on this forum too and it seems like there is a popular one, but I can't find the name of it.
I'm just not too sure about the compression fittings and hose clamps... my head is a bit fuzzy about those having not built a PC for 5 years. How many of each am I supposed to need, and do the components usually come with barbs/clamps?
Edited by Winwin - 11/3/12 at 6:17pm
CPU
Motherboard
Graphics
RAM
Q6600
ASUS P5Q
Powercolor Radeon 5750
6GB of DDR2
Hard Drive
Power
2x Seagate 7200.12 500GB
Corsair VX550
View all
hide details
CPU
Motherboard
Graphics
RAM
Q6600
ASUS P5Q
Powercolor Radeon 5750
6GB of DDR2
Hard Drive
Power
2x Seagate 7200.12 500GB
Corsair VX550
View all
hide details