Alright so here are the specs of my current rig.
i7 930 @ 4.1 - 1.270v - HEATKILLER Rev 3.0 Waterblock
Galaxy GTX480 - Evga E760 Classy
3x2GB Corsair Dominator
Creative SB X-Fi ~ Corsair 1000 PSU
Cooler Master Stacker Full Tower
WD Raptor 2X 74GB - 1TB WD Caviar
The only hardware part of my computer that I'm looking at upgrading is my video card.
The case is pretty old. From 2004-05 easily when I did my first watercooling build. The 800D seems to be very popular especially with dual loop builds as that's what I'm interested in doing. What I've done before in the past is a single loop for the CPU and video card(s).
Here is a pic of my setup currently minus SLI 480's I'm just running a single 480.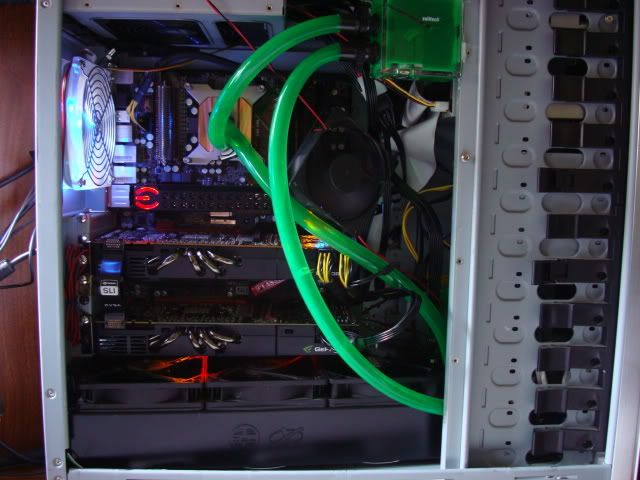 Here is the parts list I've come up with so far.
Corsair 800D - $275.00
EVGA GTX 680 4GB w/Backplate - $520.00
Total $795
XSPC Dual 5.25" Bay w/dual MCP35X - $280.00
EVGA GTX 680 Hydro Copper - $158.00
Tubing PrimoChill PrimoFlex PRO LRT Tubing 3/8"ID 1/2"OD 2x - $4.50
Compression Fittings 90 Koolance 3/8" x 1/2" (10mm x 13mm) G 1/4 Threaded Compression Nozzle 10x - $60.00
Compression Fittings 45 Bitspower G1/4" Matte Black Dual Rotary 45-Degree Compression Fitting CC2 2x - $32.00
Fluid XSPC EC6 High Performance - Blood Red 1x - $16.00
Fans Corsair Air Series SP120 High Performance Edition 120mm 5x $85.00
240mm Radiator EK CoolStream 240 XT Series Liquid Cooling Radiator 1x $61.00
Total $696.50
This is just a rough estimate of where I want to go. I plan on running the 320 rad from my current build mounted up top on the 800D and have the 240 rad at the bottom behind the PSU. From what I understand you have to mod the floor of the 800D to accept the 240 rad. Might order the case from Frozen CPU and have them mod if for me since I don't have the tools at my disposal at my current apartment I'm moving into.
What do you all think about the update? The only thing I'm not sure about is the fittings. In the past I've always used barbs and clamps and honestly I just want to get away from them and use the much more reliable cleaner looking compression fittings.
Also I want a good fan controller. Doesn't have to being fancy/high tech.