hey everybody. its been a while since ive been on this forum. anyways, i just did my first build ever.
Main Specs:
Intel C2D E6600
Asus P5W DH Deluxe
Corsair XMS2 DDR2-800 1GB Dual Channel (2x512MB) (4-4-4-12)
Zalman CNPS9700LED HSF
Thermaltake Tsunami Dream Case
250GB HD
Asus EAX1900 512MB CF
620W Enermax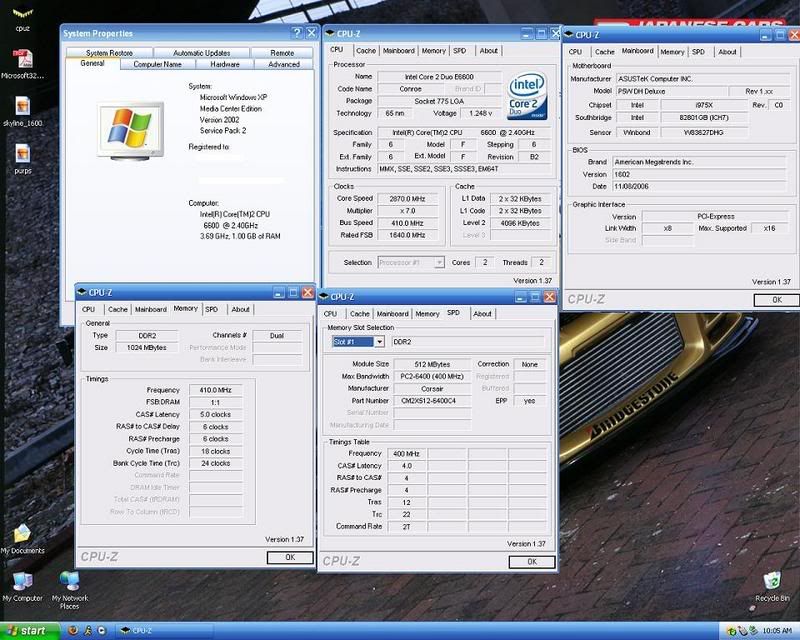 any ideas on how i can push this thing further? im running BIOS 1602.
BIOS Settings:
FSB 410
DRAM DDR2-820MHz
Mem V 1.95V
Vcore 1.2875V
CPU Ratio 7 (default 9)
i havent done any major stress tests yet. im just trying to see how far i can push this thing. but so far im able to play farcry, halo, and ghost recon without restarting or anything.
CPU-Z Validation
CPU
Motherboard
Graphics
RAM
i7 2600k @ 4.5GHz
Gigabyte Z68X-UD4-B3
EVGA GTX460 SC EE 1GB
8GB G.Skill @ 1333MHz (7-7-7-21)
Hard Drive
Optical Drive
OS
Monitor
Corsair Force 3 120GB + 3TB
Lite-On DL DVD+/-RW w/ Lightscribe
Windows 7 Pro x64
Samsung B2230 @ 1080P
Keyboard
Power
Case
Mouse
Logitech MK710
Corsair HX 850W
NZXT Tempest Evo
Logitech Performance MX
View all
hide details
CPU
Motherboard
Graphics
RAM
i7 2600k @ 4.5GHz
Gigabyte Z68X-UD4-B3
EVGA GTX460 SC EE 1GB
8GB G.Skill @ 1333MHz (7-7-7-21)
Hard Drive
Optical Drive
OS
Monitor
Corsair Force 3 120GB + 3TB
Lite-On DL DVD+/-RW w/ Lightscribe
Windows 7 Pro x64
Samsung B2230 @ 1080P
Keyboard
Power
Case
Mouse
Logitech MK710
Corsair HX 850W
NZXT Tempest Evo
Logitech Performance MX
View all
hide details