I have tried a few over a period of time, the ones I have used are...
Koolance RP452
v1.2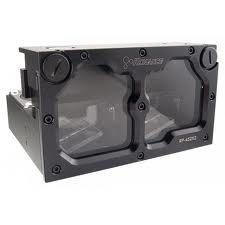 Works well once you have it running, steep learning curve as the simplicity of use is really "hit or miss", any maintenance and it's a pain all over again unless you have quick disconnects.. The quality on it isn't that great it seems as both pumps leaked from the oring after running for a year. (I'd imagine their latest revision 2.0 shouldn't have this problem as it no longer uses the cylinder holder that screws into the body and holds the pump in place)
EK dual Spin Bay Res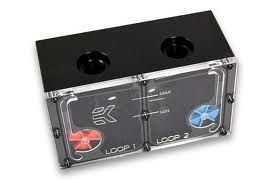 Very easy to fill and bleed, but does cause a problem if your loop have very high pressure, the air bubbles in the waterfall gets sucked right back into the loop... The single res version don't appear to have this problem.
Bitspower 525 black Reservoir
Easy to work with and bleed, but any slight tap or kick to the case, then air goes right back into the loop, also pretty quite problematic if you have high flow..
Bitspower Z-Multi Cylinder res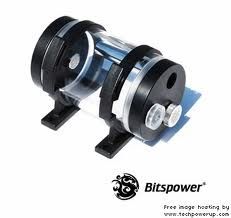 Easy to use, even easier if you attach it to a fill port on top of your case, fill + bleeds in no time... I actually don't have any complaints about this one..
T Line
I have used this on and off for testing rigs, but no long term usage, I always thought this was kinda "ghetto", if you are going to bling out your rig with radiator and blocks, why not get a decent reservoir to add to it? It's like I'm going to buy a Ferrari but I don't want the leather seats...
I have to say by far, the Cylinder type res is the most easiest to work with, it fills like a charm and bleeds the quickest.

What do you guys think?