Quote:
Originally Posted by
vectrauk
Quote:
Originally Posted by
axipher
I've got a super smexxy tech bench coming in:
http://richchomiczewski.wordpress.com/small-tech-station-gallery/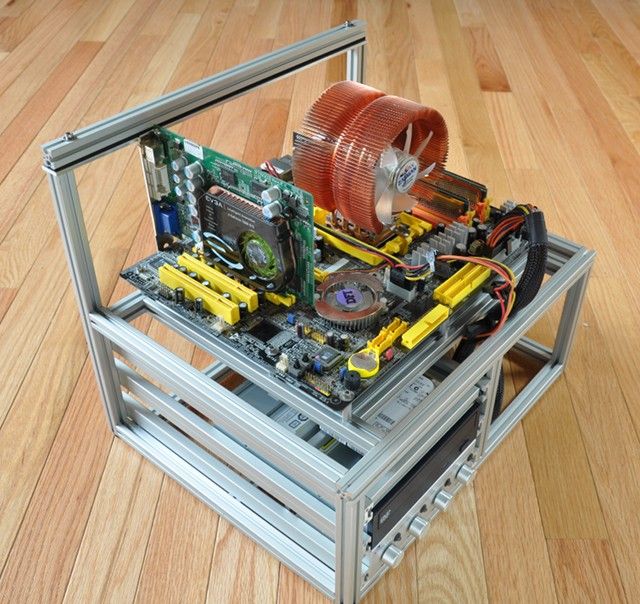 Yikes!!
Yep, can't waitt o get this baby in, then eventually get it powder-coated matte black with gloss red accents :D
That's not my board, although the colours are pretty nice. This will be used for Project Maple Leaf while I'm in this temporary hotel/suite place getting notices every 2 days for high electricity usage...
CPU
Motherboard
Graphics
RAM
Intel i5-4570s
Asus H97M-Plus
AMD R9 280
G.Skill RipjawsX 16 GB (2x8)
Hard Drive
Hard Drive
Hard Drive
Cooling
250 GB Samsung 840
240 GB Kingston
3 TB USB 3.0 Drive
Custom Loop
OS
Monitor
Keyboard
Power
Windows 10 Preview
BenQ GL2450
Filco MajesTouch2 Ninja
PC P&C Silencer Mk III 600 W
Case
Mouse
Mouse Pad
Audio
Fractal Design Core 1000
Mionix Castor
Monoprice XXL
JL Amps + Custom Morel Bookshelf speakers
Other
Scythe Kama-Panel 3
View all
CPU
Motherboard
Graphics
RAM
FX-8150 @ 4.6 GHz
Fatal1ty 990FX Pro
9800 GTX+ 512 MB
G.Skill Ripjaws X 1866 CL9
Hard Drive
Hard Drive
Cooling
OS
120 GB OCZ Vertex 3
1 TB WD Black
5x 120mm + MCP350 + EK Supreme HF + MicroRes
Windows 8 Consumer Preview
Monitor
Keyboard
Power
Case
2x Dell U2212HM
Logitech G110
Cooler Master 850W Silent Pro
Cooler Master 690 II Adv.
Mouse
Mouse Pad
Audio
Razer Death Adder 3.5G
Staples Gel Cushion
Asus Xonar DG + Senn. PC333D
View all
CPU
Motherboard
Graphics
RAM
Q6600
Acer X1800
ATI 5670
2 GB Kingston
Hard Drive
Optical Drive
OS
Monitor
2 TB WD Green
Asus BD-R
Windows 7 Home Premium
Sony 50" LCD
Keyboard
Power
Case
Mouse
Acer Media
220 W SFF
Acer X1800
Acer Optical
Mouse Pad
Audio
The TV cabinet
Denon 2808 7.1 AVR + Dahlquist 350W 8" Sub + Kl...
View all
hide details
CPU
Motherboard
Graphics
RAM
Intel i5-4570s
Asus H97M-Plus
AMD R9 280
G.Skill RipjawsX 16 GB (2x8)
Hard Drive
Hard Drive
Hard Drive
Cooling
250 GB Samsung 840
240 GB Kingston
3 TB USB 3.0 Drive
Custom Loop
OS
Monitor
Keyboard
Power
Windows 10 Preview
BenQ GL2450
Filco MajesTouch2 Ninja
PC P&C Silencer Mk III 600 W
Case
Mouse
Mouse Pad
Audio
Fractal Design Core 1000
Mionix Castor
Monoprice XXL
JL Amps + Custom Morel Bookshelf speakers
Other
Scythe Kama-Panel 3
View all
CPU
Motherboard
Graphics
RAM
FX-8150 @ 4.6 GHz
Fatal1ty 990FX Pro
9800 GTX+ 512 MB
G.Skill Ripjaws X 1866 CL9
Hard Drive
Hard Drive
Cooling
OS
120 GB OCZ Vertex 3
1 TB WD Black
5x 120mm + MCP350 + EK Supreme HF + MicroRes
Windows 8 Consumer Preview
Monitor
Keyboard
Power
Case
2x Dell U2212HM
Logitech G110
Cooler Master 850W Silent Pro
Cooler Master 690 II Adv.
Mouse
Mouse Pad
Audio
Razer Death Adder 3.5G
Staples Gel Cushion
Asus Xonar DG + Senn. PC333D
View all
CPU
Motherboard
Graphics
RAM
Q6600
Acer X1800
ATI 5670
2 GB Kingston
Hard Drive
Optical Drive
OS
Monitor
2 TB WD Green
Asus BD-R
Windows 7 Home Premium
Sony 50" LCD
Keyboard
Power
Case
Mouse
Acer Media
220 W SFF
Acer X1800
Acer Optical
Mouse Pad
Audio
The TV cabinet
Denon 2808 7.1 AVR + Dahlquist 350W 8" Sub + Kl...
View all
hide details