Had this appraised a year or so ago
here
, wanted to get some more opinions as I want to get it gone. Please don't just quote what was in the last thread to appraise it. Want a current price.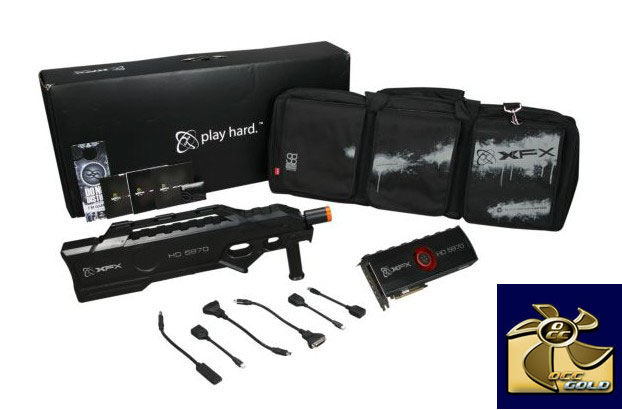 Bit of an odd one I've got here. Basically everything you got with the limited edition 4GB 5970, except the card itself.
The package, and it's contents, are limited edition, this one one out of 700 made (No. 624). Pretty much everything in the stock image at the top,
minus the GPU itself.

Includes (all unused):
Gun shaped graphics card holder, LTD number #0624
MiniDP to SL-DVI x 2
MiniDP to Display port x 3
MiniDP to HDMI x 1
Crossfire bridge
Black Edition stickers/XFX stickers
Black Edition badge/Lanyard
Door hanger
All documentation
All driver CD's and packaging
Large XFX LAN bag as pictured.
All in thee separate boxes that go in the front pockets of the bag. Mint condition boxes, as are the items.
Gun case:
Bear in mind this is a
very
limited run of 700, this will have collectors value as well as actual face value. Although I'm not really too sure what it's worth, the whole thing (with GPU) retailed for £1,200+ IIRC due to it's exclusivity, although obviously the GPU was a fair chunk of that, pretty sure they are all long sold now, making this rather rare.
Any ideas?
Edited by SmokinWaffle - 12/6/12 at 9:54am