I was wondering how to do this myself so I thought i would do a bit of research. Filip has written a guide on overvolting fans to make them faster (but louder) so here is a guide for those people who would prefer a quieter PC like me.
What You Need
A Fan operating via a 4 pin molex connector (not 3 pin motherboard connection)
A Molex passthrough wire (your fan should have one built in)
Tweezers
Electrical Tape
Scissors
Wire Strippers (If you have them)
Please do not be put off, it really isnt that much work!
Your fan should look something like this one.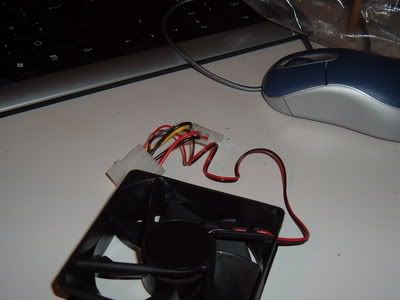 How It Works
This trick works by rearranging the wires in a molex connector. By default the yellow wire carries 12v of charge and the red wire carries 5v. When you hook a fan up to these it operates only on the 12v pin. By using the 5v pin to take some of the current away, you end up with the fan only using 7v of current. Genious!
What Do I Do?
This is an image of what your molex connector should look like before and after the mod.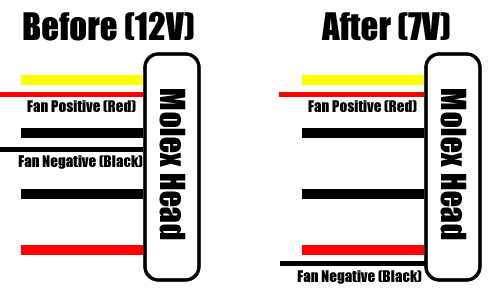 As you can see you have to move the negative fan wire to the red molex pin. Doing this is relatively simple.
Firstly use your tweezers (or your special molex pin taker outter device if you have one) and take out the black molex pin closest to the yellow (the one with the negative fan wire on). I found the easiest way to do this was to squeeze in various places from the top whilst gently pulling from the bottom. Eventually you will hit the right spot and it will come out.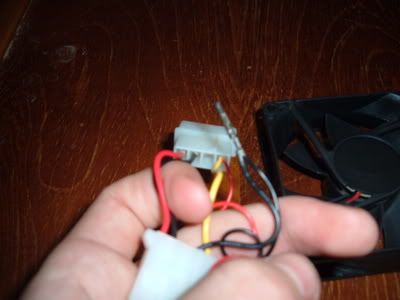 Now use scissors to cut the black fan wire from the molex pin as far up as you can. If you think you can, then just pull the fan wire out, but be careful not to damage the pin or the other wire.
Next use your wire strippers to strip the top of the wire off. I never had strippers so I used scissors. If you are using scissors then wrap them around the wire where you want to cut it and gently twist them, giving them slight pressure if you have to. Then pull the top of the wire off.
Next repeat the earlier step to take out the red molex wire (not the red fan wire). When this is out you have to attach the black fan wire to the red molex pin. I did this by slipping it under the top of the pin. Here is a picture but it is quite bad, I'm not sure you will be able to see it.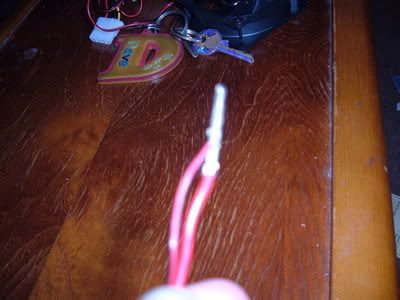 Once this is done and you are sure the wires are conducting then wrap the bottom of the molex pin in electrical tape.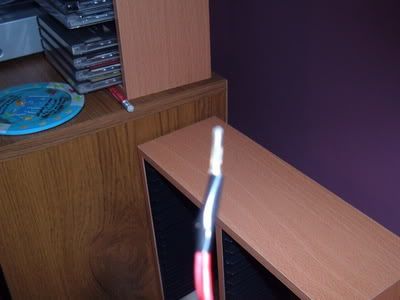 Now put both the pins back into the molex head and make sure they click into place. If you have trouble puttin them in like I did then find the ends of the molex pin and bend them out so it forms an arrowhead spike. This should stop them coming back down.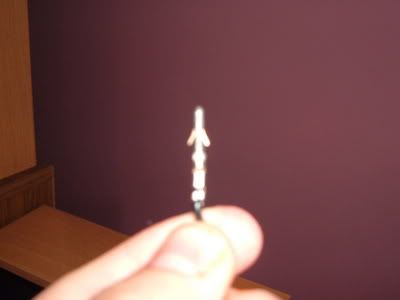 You can now hook your fan back up to your system
BUT!!!When you perform the 7V trick, 5V has to go somewhere right? Yes, it may end up going back to your PSU and damaging it. For best safety you should use your passthrough molex connector and put something else on the same power line such as hard drive or CD-ROM. These devices are capable of taking the extra power. It is not absolutely vital you do this but i would recommend it.
There you go! Your very own modded case fan. I did this to an 80mm fan and it was SILENT!. i am not joking I could not hear it at all. Bear in mind that slower fans will shift less air so always check your temps when you boot back up with this mod.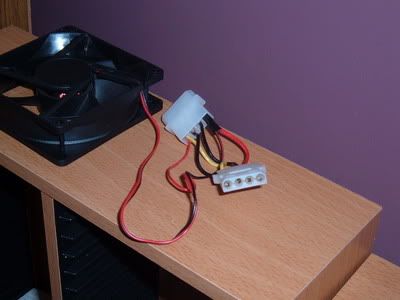 Contributed by Stevo3