FS: 2x4gb Team Xtreem (Samsung HCH9)
*Stock 9-11-11@2400mhz. Have not had time to properly test this memory. Current gigabyte board hates everything but budget ram.
Price: $95-shipped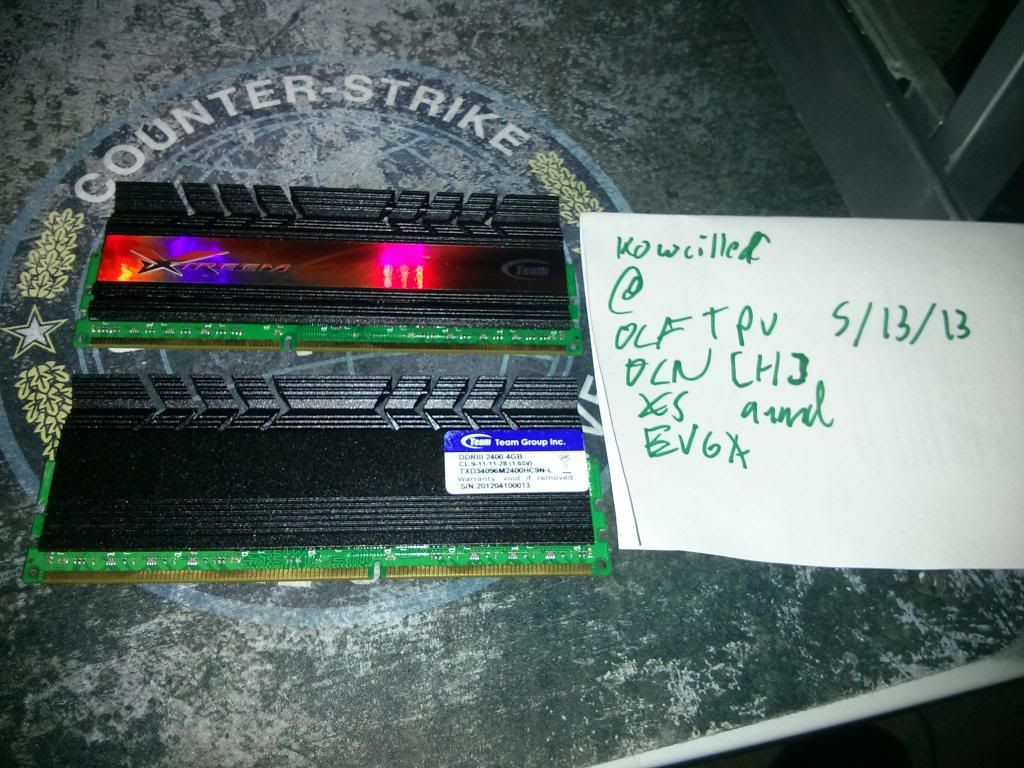 FS: 2x4gb Patriot Viper (Hynix CFR)
*Stock 9-11-9@1866mhz. These have been my daily sticks. Ran them 9-11-10@2133mhz 1.66v for daily use. Never pushed volts into them
Price: $65-shipped -sold
SOLD:
FS: 4x2gb ADATA Extreme 2000mhz (PSC IC)
*Stock 9-9-9@2000mhz. Good set, although not my best so they need to go. Only tested with 4x sticks. Likely to clock better in two-stick sets.
Price: $75-shipped -traded
FS: 2x2gb ADATA Gaming series (BBSE IC)
*Stock 9-9-9@220mhz. Best set of BBSE I've ever owned. 6-9-5@2200mhz stock voltage. Got this set directly from ADATA in Taiwan. have not tested on cold.
Price: $120-shipped -SOLD
FS: 3x2gb Supertalent 2200mhz (Hyper IC)
*Stock 8-8-8@2200mhz 1.65v. Good sticks, works best on X58,AM3 and 775.
Price: $80-shipped -SOLD on OCN
FS: 3x1gb G.Skill Ripjaws 2000mhz (BBSE)


*Stock 9-9-9@2000mhz 1.6v sticks. Did not quite do the timings+ volts I was looking for. Nice inexpensive set to get started with benching memory+ learning about different types of IC's


Price: $25-shipped -Traded on OCF





FS: 3x2gb Corsair Dominator GT (X-Series PSC)


*8-9-8@2000mhz stock. 2nd Strongest set of memory I own. very strong set. 7-11-7@2400mhz is no problem


Price: $130-shipped-SOLD




FS: 4x1gb Crucial Ballistix (D9GTR)


*8-8-8@1600mhz stock. 7-7-7@2000mhz capable on 775. Have not tested on IB.


Price: $80-shipped -SOLD on OCF





FS: 2x2gb Patriot Sector 5 (PSC) x2 kits


*Stock 9-11-9@2400mhz. Sticks easily do 7-11-7@2400 with tight subs. Set #1 out of two


Price: $110-shipped -SOLD





FS: 2x2gb G.Skill Trident 2133mhz (BBSE IC)


*Stock 9-9-9@2133mhz. Not as strong as my best BBSE sticks so they need to go. Haven't tested them very much since this gigabyte board sucks


Price: $65-shipped -SOLD to Splave
Heatware under
kow_ciller
(115-0)
Payment options:
*Paypal
*money order
*personal check (will ship after it clears)
*Amazon Payments
Shipping:
*Shipping included unless noted
*PM for international shipping quotes
Edited by kow_ciller - 7/22/13 at 7:44pm