Quote:
Originally Posted by
Alex132
Wait hang on.
Where is the chip on the CPU?
And you do know the stock Antec paste isn't really bad, 10'c difference means that you applied it wrongly, very wrongly (probably both letting air-bubbles into the gap between the CPU and copper of the 920's base as well as too much paste. The air bubbles are a result of re-applying the cooler multiple times with the same TIM within a short period of time (ie, if you set it down, but didn't fully screw it in because it wasn't aligned properly and then removing it, placing it down again and seating it. etc.)
And how did you not know that a
back
plate went on the
back
of the motherboard? I mean, come on. There are even instructions in the AIO Antec 920 kit!
Even 80'c temps are really high for a AOIC unit like this, heck I only got ~55-60'c on my TRU120!
You must have no applied enough pressure, mounted it incorrectly otherwise or done something wrong with the TIM.
Also your application of the TIM is poor. You do not need to do that line since you are not using a Core 2 Quad. The line TIM application became popular because of the linear cores of the Core 2 Quad (ie, there were 2x2core 'modules', if you will, running down the center of the IHS). Original Core iX and above just need a smaller than pea-sized dot in the middle of the IHS.
Doing this will not only increase your temperatures (even then, only slightly), but also save you TIM and money.
The idea of TIM is not to be a layer between the 2 metals, but to fill in any air between them. So there should be metal touching metal, but not air touching metal. As air is an insulator. Basically this (extreme example):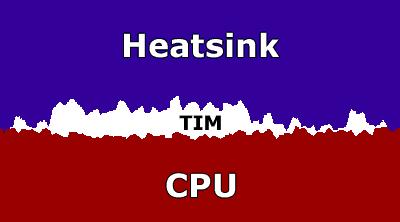 See how the TIM bridges the gaps? But that there is still the CPU heatsink touching the CPU IHS?
That's how you want it to be.
If you want to achieve lower temps, I would look at applying the cooler correctly. Using the correct amount of TIM, making sure that all your fans are spinning up accordingly, make sure you have good airflow and make sure that you have no kinks etc. in the tubing of the Antec 920.
Hi there,
1.
Well from the pictures, it seems pretty bad to me
2.
Yes the application was done properly
3.
I didn't realise were the backplate went at first - is that a crime?
4.
The antec instructions suck so bad, that I even chose to make a guide (which has helped quite a few people so far)
5.
Those are my temps unfortunately - even now, as you can see 10-5c difference.
6.
TIM application isn't poor - I looked on the Arctic website, and that's how THEY suggested to do it.
7.
TIM application depends on individuals, some prefer a cross, some prefer two small lines, others a small pea sized dot
8.
I understand the principle of the bubbles and the space in between
9.
As I said, the cooler is applied correctly - in fact any more you press or try to twist/turn the screws, it starts rotating the metal nuts within the plastic backplate - it won't go any more.
10.
I have quite good air flow in my case
I chose bullet points as it is easier to break down the points.
Cheers for the reply anyway, just seems like people are attacking me for posting this thread...and I don't like that any sort of "community"