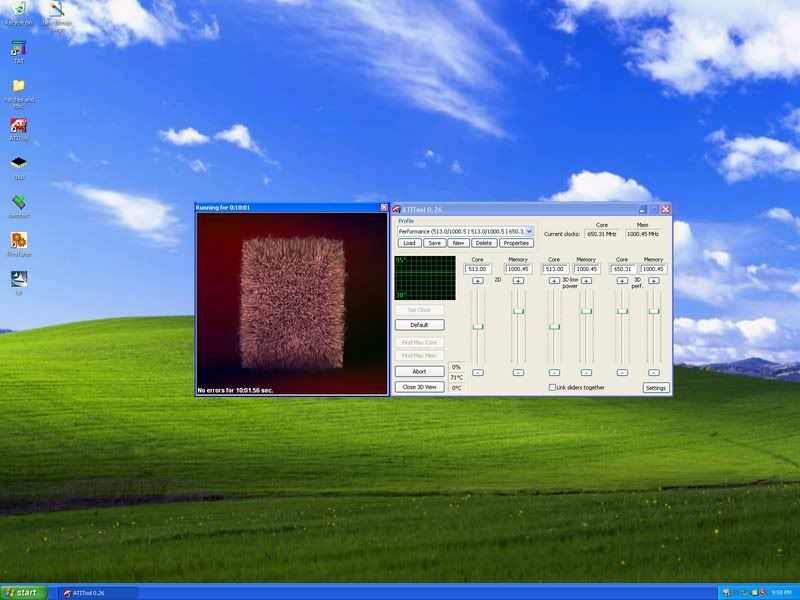 EVGA 8800GTS 640mb, stock air cooling, 500mhz core clock stock and 800mhz memory clock stock.
I got to 714 core clock on air when doing "find CPU max OC" or something like that, but it went into an infinite loop and restarted. I'll test at 690 later.
http://i35.photobucket.com/albums/d1...mapImage-2.jpg
Oh yeah, temps maxed out at 70C (average, fluxuated between 72C and 70C with the vast majority of time being 70C).
CPU
Motherboard
Graphics
RAM
E8400 @ 3.6ghz
DFI LANPARTY DK P35-T2RS
HD 4870 @ 790/1000ddr
2x2gb 1000mhz G.Skill
Hard Drive
Optical Drive
OS
Monitor
250gb Seagate 32mb cache
SAMSUNG 20X DVD±R
Windows XP Pro
Acer AL2216Wbd Black 22"
Keyboard
Power
Case
Mouse
one with keys.
Corsair HX520w Modular PSU
P182
a lazer one.
View all
hide details
CPU
Motherboard
Graphics
RAM
E8400 @ 3.6ghz
DFI LANPARTY DK P35-T2RS
HD 4870 @ 790/1000ddr
2x2gb 1000mhz G.Skill
Hard Drive
Optical Drive
OS
Monitor
250gb Seagate 32mb cache
SAMSUNG 20X DVD±R
Windows XP Pro
Acer AL2216Wbd Black 22"
Keyboard
Power
Case
Mouse
one with keys.
Corsair HX520w Modular PSU
P182
a lazer one.
View all
hide details