So, the H320 isn't out yet, but I was thinking about doing a little H320 simulation test to compare with the H220 results. I have my H220 apart from doing pump testing and I still have a few triple rads I saved from my triple rad testing. I have both a QP series and XP series triple rad on hand a long with a few others so I could do some radiator expansion type testing.
I was thinking of testing the H220 pump/block
+
MCR320QP
+
MCres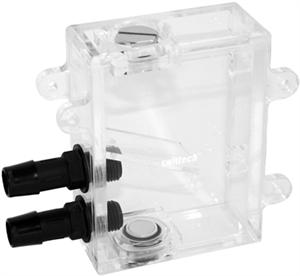 It won't be exactly like an H320 since the rad is likely a bit thinner and more restrictive like the H220 rad is, but it would be the closest thing I could think of.
If there is enough interest I'll try it, but I wanted to ask first.
Anyone want to see this?
OR
I could try H220pump/block + H220rad + MCR120QP?
OR
I could try H220pump/block + H220rad + MCR320 ?
What would be most useful???
At first I was thinking the MCR320 scenario, but actually leaning toward the H220 rad plus mcr120 add on. That's something many could fit in the case and may want to know what gains there are.
I also have more fan testing coming soon thanks to a couple of generous forum members (cpachris & Prymus) sponsoring some new fan samples in the pursuit of the ultimate fans..
Cougars, Noiseblocker eloop, SP120, GT AP-45, and a few others will be on the flow bench soon...
Edited by Martinm210 - 5/3/13 at 7:57am
CPU
Motherboard
Graphics
RAM
3930K
ASrock X79 Ext7
Evga GTX570
CORSAIR Vengeance 16GB
Hard Drive
Optical Drive
OS
Monitor
Phoenix SSD+2TB Seagate drives
ASUS DVD-RW combo
Windows 7
28" Hanns-G HZ281
Keyboard
Power
Case
Mouse
MS Natural
Corsair TX650
Danger Den Torture Rack
Logitech MX518
Mouse Pad
Desk
View all
hide details
CPU
Motherboard
Graphics
RAM
3930K
ASrock X79 Ext7
Evga GTX570
CORSAIR Vengeance 16GB
Hard Drive
Optical Drive
OS
Monitor
Phoenix SSD+2TB Seagate drives
ASUS DVD-RW combo
Windows 7
28" Hanns-G HZ281
Keyboard
Power
Case
Mouse
MS Natural
Corsair TX650
Danger Den Torture Rack
Logitech MX518
Mouse Pad
Desk
View all
hide details