Hello Everyone! This is going to be the first post I have here on Overclock.net
I've been runing a 1ghz Socket 370 Intel with 360MB of ram for way too long, I've saved a ton of money and it's time to blow it all..
Soo This is going to be my new build:
Motherboard: Asus Striker 680i
Prossessor: Intel Core 2 Duo E6600
RAM: Corsair PC2 8500 (2gb)
Video: Leadtek WinFast PX8800 GTX (they have a nice new cooling setup)
CPU Cooling: ASUS Silent Square Sleeve CPU Cooler
PSU:KINGWIN ABT-600MA1W ATX 12V Ver.2.2 600W Power Supply
HDD: WD SATA II 250gb (windows), And A WD 200gb PATA 133 HD (Music,Pictures,Videos)
DVD Burner: LITEON DVDRW SATA Burner
CASE: LIan LI PC-777 Black (Don't hate, I like it)
CASE COOLING:AeroCool XtremeTurbine-Black 120mm Case Fan
Fan Controller: VANTEC Fan and light Controller (blue neon)
RAM COOLING: Corsair Dominator RAM Cooler
Keyboard: Saitek Eclipse (blue)
Mouse: Razer Copperhead (blue)
Monitor: Sceptre 21" Widescreen HD LCD
That my friends is how you set sails, quite a bump from a 1ghz......I hope soo...hahaha just kidding..
Everything is Ordered and should be here tomorrow (the 14th)
I have the Case. LCD, Keyboard, And Mouse here already.
Here are some pictures soo far, Which I'm going to post a ton of, and kinda do a review on everything I'm using.
Thank you,
Nicholas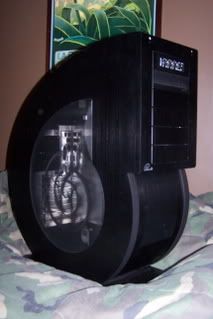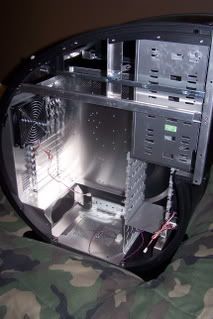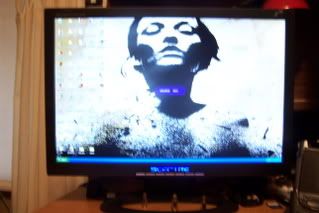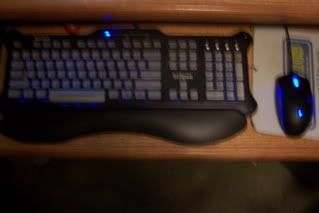 CPU
Motherboard
Graphics
RAM
Core 2 Duo E6600
Asus Striker Extreme 680i
8800GTX
Corsair Dominator PC2 8500 (2gb)
Hard Drive
Optical Drive
OS
Monitor
250gb WD SATA 2
LITEON SATA DVDRW Burner
Vista RC2
Sceptre 21" HD Widescreen
Keyboard
Power
Case
Mouse
Saitek Eclipse
Kingwin 600M1A1
Lian Li PC-777 (The Snail)
Razer Copperhead
View all
hide details
CPU
Motherboard
Graphics
RAM
Core 2 Duo E6600
Asus Striker Extreme 680i
8800GTX
Corsair Dominator PC2 8500 (2gb)
Hard Drive
Optical Drive
OS
Monitor
250gb WD SATA 2
LITEON SATA DVDRW Burner
Vista RC2
Sceptre 21" HD Widescreen
Keyboard
Power
Case
Mouse
Saitek Eclipse
Kingwin 600M1A1
Lian Li PC-777 (The Snail)
Razer Copperhead
View all
hide details