Alright,
well I am pretty well off into modding my Lian Li case that I got, but I have ran into a little bit of a wall. I think I only have 3 options here so I am gonna post each one, with pictures of the possible solution. I am also gonna do a poll for said 3 options. Which ever one wins, I am pretty sure I will be using, unless I find it impossible to do. Also if you vote please state your reason for doing so.
Option #1
Wires would be coming out of hard drives and into middle of case, not the best looks but it would work and be simple. or I could try to turn drives around, but I only have about 2cm ish between back of hard drives and front bezels.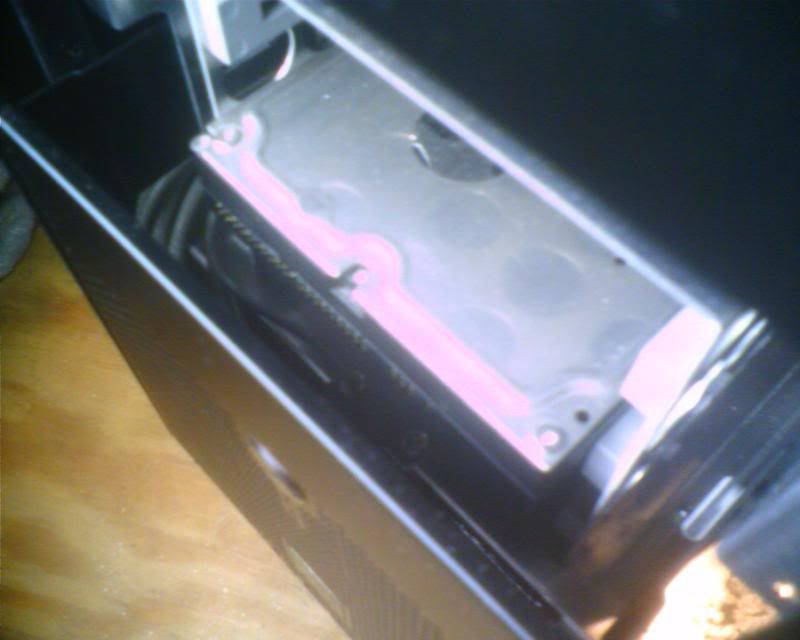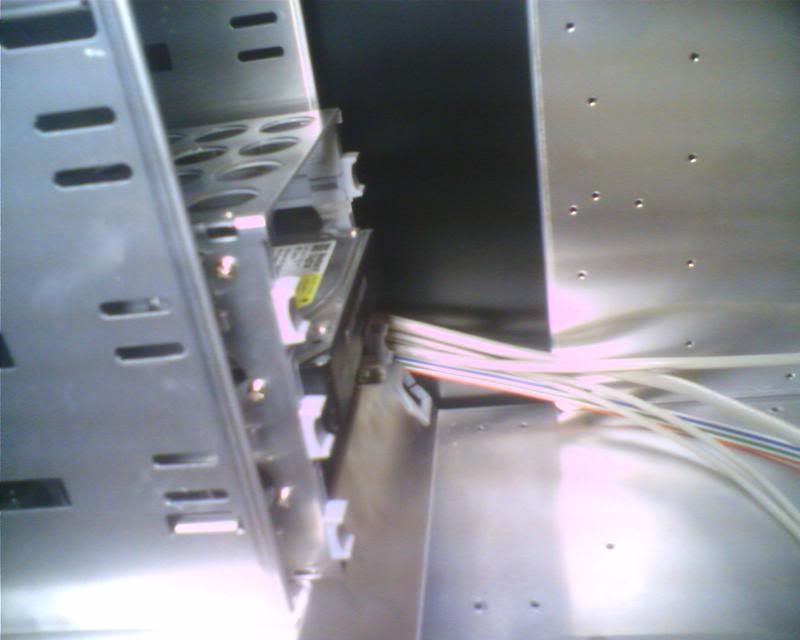 Option #2
side ways so the drives are perpendicular, takes about the same space and and wiring as option #1 but it would just look different, and tidy up the inside of the case a little bit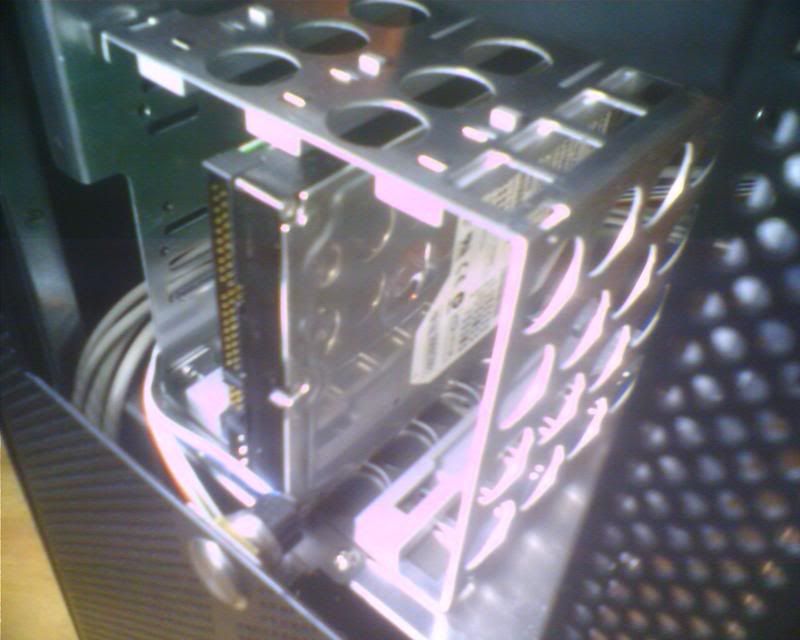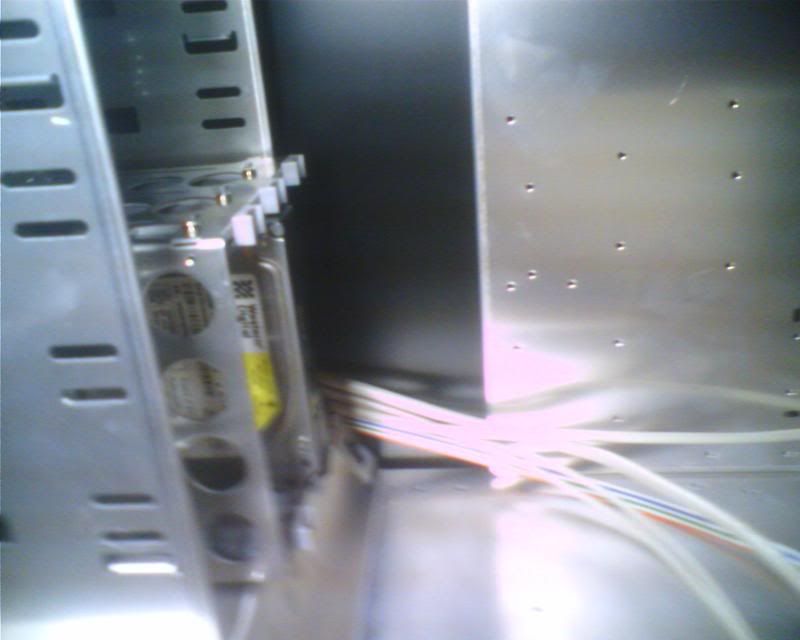 Option #3
This one would take some modding to complete but I think it might be the best solution thus far, turn the hdd cage 90° then mod and cut out the back section of the drive bays so that I would have access to the drives for wires. This would provide a clean look on the inside, but the hard drives wouldn't be easily removable. Not sure if that is really a problem considering I don't really plan on removing them every day, but to put them in and take them out I would have to unscrew the cage and put the drives in and then screw it back in place. I can use thumb screws for this, as I have 4 on had that are the same thread as the holes on the cage.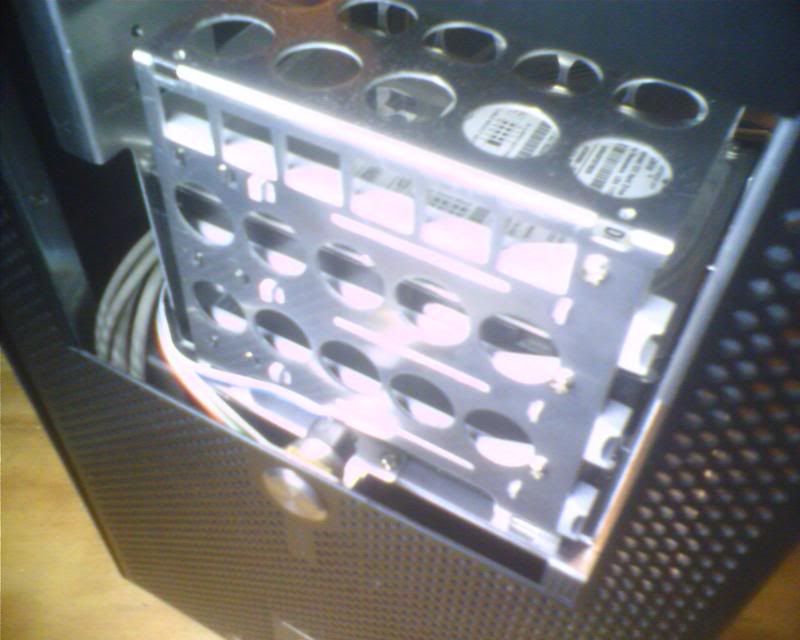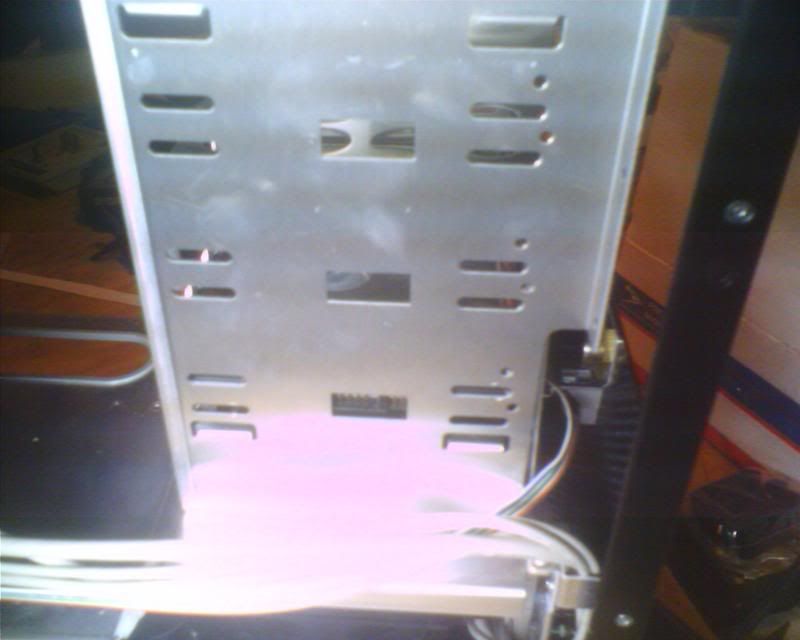 Sorry for the crappy pics, camera was up stairs, and I had my phone in hand.
CPU
Motherboard
Graphics
RAM
Intel C2D E6600 Week 28A
Asus P5B Deluxe
eVGA 8800GTX
2gb Crucial Ballistix DDR2 1000
Hard Drive
Optical Drive
OS
Monitor
2x 250gb Seagate 7200.10 (RAID 0) + 250gb backup
DVD-RW
Window XP
Acer AL2216W 22" WS LCD
Keyboard
Power
Case
Mouse
Logitech Multimedia
PC Power & Cooling Silencer 750
Lian Li PC-V1200B Plus II Modded
Logitech MX518
Mouse Pad
FUNC 1030
View all
hide details
CPU
Motherboard
Graphics
RAM
Intel C2D E6600 Week 28A
Asus P5B Deluxe
eVGA 8800GTX
2gb Crucial Ballistix DDR2 1000
Hard Drive
Optical Drive
OS
Monitor
2x 250gb Seagate 7200.10 (RAID 0) + 250gb backup
DVD-RW
Window XP
Acer AL2216W 22" WS LCD
Keyboard
Power
Case
Mouse
Logitech Multimedia
PC Power & Cooling Silencer 750
Lian Li PC-V1200B Plus II Modded
Logitech MX518
Mouse Pad
FUNC 1030
View all
hide details