__________________________________________________ __
EDIT 7 MAR 07 @ 6:31PM
__________________________________________________ __
Get CASCADES here:
http://www.nzone.com/object/nzone_cascades_home.html
__________________________________________________ __
GeissWerks (Ryan Geiss) has been around for a very looong time. He's just reciently made a nifty little visual that only owners of the GeForce 8800 can appreciate! Man...I can only imagine how sweet this looks being rendered. Can any of you 8800 owners out there make a vid of this thing in action when the project is up for download?
Cascades GeForce 8800 Workout
Quote:
Originally Posted by Ryan Geiss of GeissWerks.com
We (Nvidia) launched the GeForce 8800 today. This is a really, really, really awesome day for people who love realtime graphics. It is screamin' fast and can do so many new things (a la DirectX 10) it's not funny: stream out, geometry shaders, uncompromised instancing, REALLY fast branching, constant buffers, dynamic indexing, full native 32-bit float support, etc. - the list goes on and on. And to boot, it's over twice as fast as our fastest 7000 series GPU!
I wanted to take advantage of a bunch of this stuff, and came up with the idea of making an endless vertical rock tower whose polygons were generated (from noise and other functions) all on the GPU, as well as pouring water over it to make pretty waterfalls. The final result - dubbed Cascades - turned out pretty well.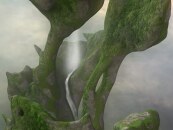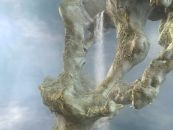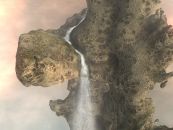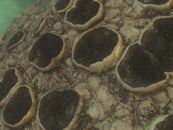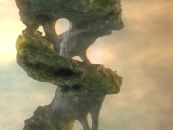 Cascades runs on Vista using DirectX 10. The cool thing about this demo is that the CPU is virtually idle. Everything happens on the GPU. The polygons for the rock are actually *created* (and streamed out to a vertex buffer) all on the GPU, using marching cubes. In the particle system for the water, particles are emitted, propagated, and destroyed on the GPU using a geometry shader. Collision with the rock (and sliding along it) all happens on the GPU, and particles can even spawn other particles (mist) when they hit the rock.
When you zoom in close to the rock, you see some really cool Displacement Mapping. It's something you have to see realtime (screenshots don't communicate it) but when we showed it to the launch audience today, I had the pleasure of hearing about a thousand people gasp in unison.
There are some cool bug critters flying around; their flocking behavior is driven fully by the GPU, so they can avoid hitting the rock. They're also drawn using instancing, so (virtually) one single draw call draws them all.
We also used to have vines growing and branching all over the rock, but no matter how technically impressive they were, they still looked kind of cheesy (especially when you zoomed in close and the rock's displacement mapping shader kicked in, but the vines were still growing on the "outer hull" of rock polygons). So we nixed 'em.
Source:
GeissWerks Cascades
Official Site:
GeissWerks
EnJoy,
Xaine99
__________________________________________________ __
EDIT 17 DEC 06 @ 7:33AM
__________________________________________________ __
Cascades still is not ready for download, sadly. However, I did get the HD video of Cascades in action from the premier that dBs mentioned below. Here is the link to the file I uploaded to TransferBigFiles.com.
*NOTE*
This link expires December 22 @ 05:39 AM MST!
GeForce 8800 Cascades Demonstration -- Video Link Expired
__________________________________________________ __
EDIT 28 DEC 06 @ 12:34PM
__________________________________________________ __
Still no Cascades. However the other three demos are out if you didn't know already.
Box of Smoke Demo
Froggy Demo
Adrianne Demo
EnJoy!
Xaine99
CPU
Motherboard
Graphics
RAM
Intel Core i7 920 2.67GHz
ASUS P6X58D PREMIUM
NVIDIA GeForce GTX 480
6GB DDR3 9-9-9-24
Hard Drive
Optical Drive
OS
Monitor
Approx. 1.5TB total space
PIONEER DVD-RW DVR-212D
Windows 7 Ultimate
Samsung T240HD
Keyboard
Power
Case
Mouse
Apple Keyboard A1243 (remapped)
BFG
Cooler Master: Cosmos
Microsoft Habu
Mouse Pad
Black IceMat
View all
hide details
CPU
Motherboard
Graphics
RAM
Intel Core i7 920 2.67GHz
ASUS P6X58D PREMIUM
NVIDIA GeForce GTX 480
6GB DDR3 9-9-9-24
Hard Drive
Optical Drive
OS
Monitor
Approx. 1.5TB total space
PIONEER DVD-RW DVR-212D
Windows 7 Ultimate
Samsung T240HD
Keyboard
Power
Case
Mouse
Apple Keyboard A1243 (remapped)
BFG
Cooler Master: Cosmos
Microsoft Habu
Mouse Pad
Black IceMat
View all
hide details