This Classified is Closed
For Sale:
EVGA GTX 470 1.2GB w/ EK acetal/nickel full cover block
Will Ship To: US48

Snapshot's Comp Shop!
My

Heatware

(110+ -0-0) and

Ebay

(47) for references.
By reading the Rules of my [FS] Thread you agree to the following:
1.
All prices include shipping cost.
2.
I ONLY accept Paypal verified accounts.
3.
I don't ship anywhere outside the US. (lower 48 states only)
4.
Item ships out when I receive verified payment-
(echeck payments: 3-4 day clear then ship out)
5.
I ship USPS Priority or ground carrier
6.
Insurance optional at buyers expense.
7.
NO Trades at the moment
**************************************
EVGA GTX 470 1.2GB GDDR5 with the EK acetal/nickel full cover, I bought this card used from "bom" @ocn, but never installed or tested it myself, No part out, P/N: 012-P3-1470-AR asking
SOLD to xlastshotx
Quote:
By user "bom" @ overclock.net
: The EVGA GTX 470 with the EK acetal/nickel full cover will come with stock cooler and backplate. It's stock VID is .925 and it can do 900 MHz Core, 1800 MHz Shader, 1900MHz Memory at 1.087 Stable, probably able to push memory further ,but only did this for benching. Will do 700 Core at Stock Voltage .925. Will underclock to .862 at stock clocks 607 Core 1674 Memory. Will do 800 Core at .987. Has been watercooled for most of the time I owned it, with temps never exceeding 50C. Also to
note the screws to mount stock cooler are missing and a corner is broken, but does not effect performance.
Card is flashed with the Gigabyte GTX 470 SOC Bios
bom specs:
http://cdn.overclock.net/8/88/889b0d4a_ASICQuality89.5GTX470.png
Stock is optional if requested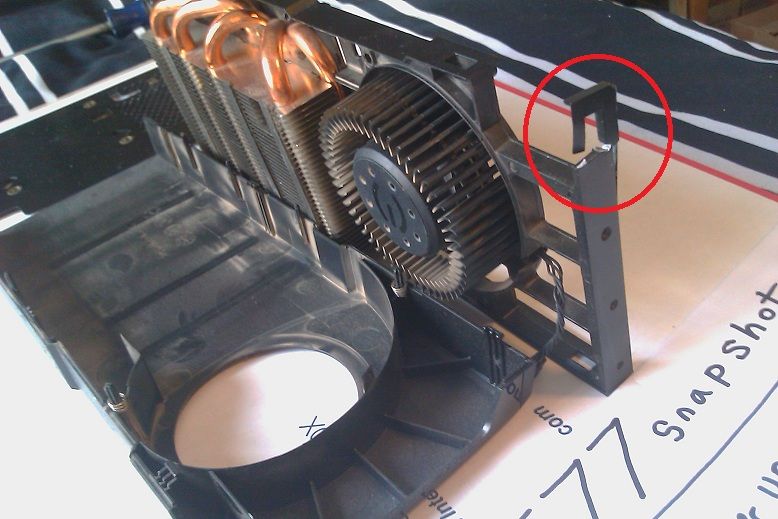 If you have any questions pm me, Thank you.
---
Sold items:
count:
46
Celeron 440 2.0Ghz CPU sold to: Sduneman3
Rocketfish 550w PSU sold to: topdog5252
Thermaltake NB cooler sold to: dank1983man420
Pentium 4 cpu sold to: local buyer
Windows XP SP2c 64bit sold to: ChiSox
Dynex 400W PSU sold to: sammy29926
Linksys Gigabit Switch sold to: Munki
Panasonic Lumix Camera sold to: MKmods
Netgear Wireless Router sold to: local buyer
DVD-RW and DVD-Rom drives sold to: theonedub
ATI Radeon 9700 Pro AGP card sold to: kohan69
Laing D4 pump sold to: ranger0520 @ EVGA
Dead Space PC game sold to: Master Wolfe
Corsair 1Gb DDR3 ram sold to: theonedub
Evga 7600GT 256mb card sold to: freaksavior
Zalman CNPS9500a cooler sold to: Radical_Edward
Evga 9600GT 512mb card sold to: mab1367
Dirt 2 dx11 pc game sold to: Zuppy
Thermochill PA120.2 traded to: Chicken Patty
Corsair ram cooler sold to: reaper @ EVGA
Doom 3 PC game sold to: d3fct
Swiftech 655 pump sold to: Fiius @ EVGA
dead DFI board sold to: brandonwh64
Bioshock 2/ Touch2000 traded to: Erazer
Athlon X2 5600+ cpu sold to: brandonwh64
Infineon 2x256mb Ram sold to: LiNKiN
New CM Sentinel Mouse sold to: Cold Storm
Thermaltake SpinQ sold to: Radical_Edward
Socket A board/cpu/cooler sold to: Rickss69
Evga 9600GT card sold to: Whilhelm
Creative Fatal1ty Ti sound card sold to: Whilhelm
G.Skill 16Gb, OCZ 4Gb RAM sold to: hardwaresick
Evga GTX 285 1Gb vcard sold to: nanoscale
OCZ 4Gb So-Dimm Ram Kit sold to: msjohnsn
Bitspower 5.25" Bay Resvr sold to: TB13
ECS AM2 6100- m.board sold to: brandonwh64
AMD Phenom X4 CPU sold to: Jazzisjazz
AM3 Gigabyte motherboard sold to: DM3K
Evga GTX-285 1Gb graphics card sold to: wint0nic @ OCN
Free

Box O' Goodies sold to: TheGuruStud
Koolance CPU-330 water block sold to: Reefa_Madness
OZC 2Gbx3 ddr3 Ram kit sold to: Pheezy @ EVGA
Water Cooling bundle sold to: AlderonnX @ OCN
Thermaltake iCage sold to: zaqwsx
Corsair H50 sold to: mdnelson09
World of Tanks game code sold to: Zardnok
Bitspower fittings sold to: absoluteloki89 @ OCN
Edited by t77snapshot - 6/26/13 at 2:22am
CPU
Motherboard
Graphics
RAM
Intel i5 655k
Asus Maximus III Formula 1156
Asus GTX-570 DCII
Kington 4Gb DDR3 2166mhz
Hard Drive
Optical Drive
Cooling
OS
WD 640Gb Caviar Black
LG X22 Blu-ray/dvd/cd burner
cpu water loop / everything else on Air
Windows 7 Pro x64
Monitor
Keyboard
Power
Case
32" Samgung 1080p
Razer Tarantula
Corsair TX 750 W
NZXT Tempest (H.L. Mod)
Mouse
Audio
Razer Death Adder (Left Edition)
Creative FX X-Fi (w/ Logitch 5.1 speakers)
View all
hide details
CPU
Motherboard
Graphics
RAM
Intel i5 655k
Asus Maximus III Formula 1156
Asus GTX-570 DCII
Kington 4Gb DDR3 2166mhz
Hard Drive
Optical Drive
Cooling
OS
WD 640Gb Caviar Black
LG X22 Blu-ray/dvd/cd burner
cpu water loop / everything else on Air
Windows 7 Pro x64
Monitor
Keyboard
Power
Case
32" Samgung 1080p
Razer Tarantula
Corsair TX 750 W
NZXT Tempest (H.L. Mod)
Mouse
Audio
Razer Death Adder (Left Edition)
Creative FX X-Fi (w/ Logitch 5.1 speakers)
View all
hide details