Good afternoon OCN,
After learning the tricks of the trade and being in the scene for quite some time, I am finally going to try and launch my own small business for assembling, repairing and upgrading computers. Please note that I have done more than enough research into this and understand it's a "hard business to make a profit" but honestly believe I be successful with the right service, customer care, guarantee and quality of craftsmanship (so please don't give me your 2 cents about how you know it's not worth the time and whatnot). I am asking anyone and everyone to "
Constructively Critique
" and give helpful suggestions to this computer flyer that I am trying to finish. My market is geared towards gamers (I love assembling sweet rigs that have the latest components and such) but that does not mean they are my only target, EVERYONE IS. My creative juices are starting to drain and I've been breaking my head trying to finish this thing. Please note IT IS FAR FROM FINISHED and I am simply trying to get good suggestions to add to the flyer. I want it to be simple, yet effective as the last flyer I had looked like a page out of the bible lol. So without further a due, here it is!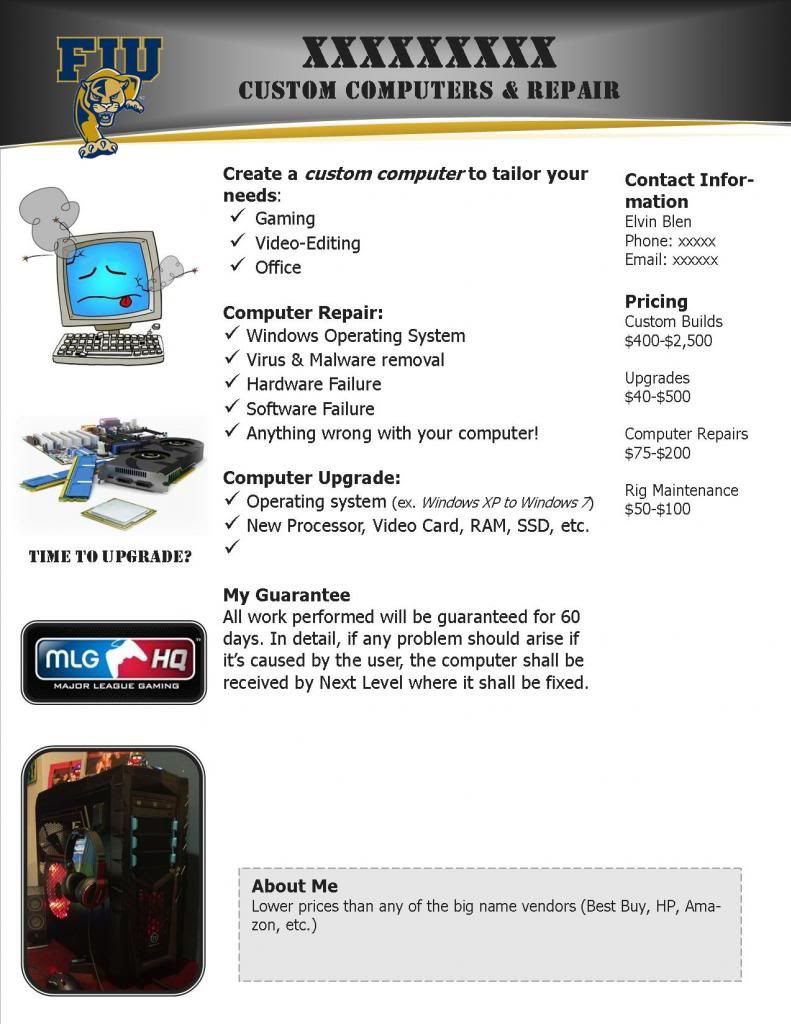 Here are a couple of thing's I was thinking about adding:
1. About Me (let them know I am currently in school Junior year of college Majoring in I.T., studying to get my A+ cert too.)
2. Should I include pricing? (I really don't have any marketing experience and have heard its a negative while others say it's a positive, confused:blushsmil)
3. Prices vs Best Buy, Geek Squad, Tiger Direct, etc.?
4. A Facebook Like logo and URL to my FB page (Business Page which is also in the midst of completion).
Sorry if I am posting this in the wrong thread in advance!
Best,
Elvin Blen