I started this list because I felt like it
. Perhaps if you are looking for a new gaming experience you could use this thread for ideas. I will include in no particular order games that I have played and liked, but are not anymore, or never were, in the main stream. I will update from time to time.
The List:
Evil Genius
"You're a malevolent mastermind bent on achieving global domination through the construction of the ultimate doomsday device. Build a secret base, gain notoriety by completing daring missions, repel the forces of justice in real-time combat, and develop evil super-weapons to complete your nefarious master plan."
S.W.I.N.E.
NEW!!! Apparently in 2005 S.W.I.N.E. was made free for
download
! NEW!!!!
In this older RTS game by Stormregion you are conscripted to be the general to win the gorilla style mechanized war between the pigs and the rabbits.
Fun game, although there were some issues with bugs and hardware support.

<===Havent played for a while and it looks like its been updated. Its also free now, see above the picture

.

Homeworld series
(mostly Homeworld 2)
Baldur's Gate
1, 2 and expansions
(I dont think Dark Alliance made it to the PC, did it?)
Populous: The Beginning
Silent Storm
and
Silent Storm: Sentinels
Plasma Pong
(Free)
The absolute best Pong game out there. It uses real time fluid dynamics to affect the path of the ball. This game has it all: strategy, explosions, awesome visuals, and an epic soundtrack to boot. Has single and two player modes, and it can be a bit of a challenge playing against your self in two player. Also includes a sandbox mode to create some neat visuals. Watch out, with settings set on high this could put up a bit of a challenge to low end systems!
TIE Fighter Collectors Edition
(
2000/XP patch
)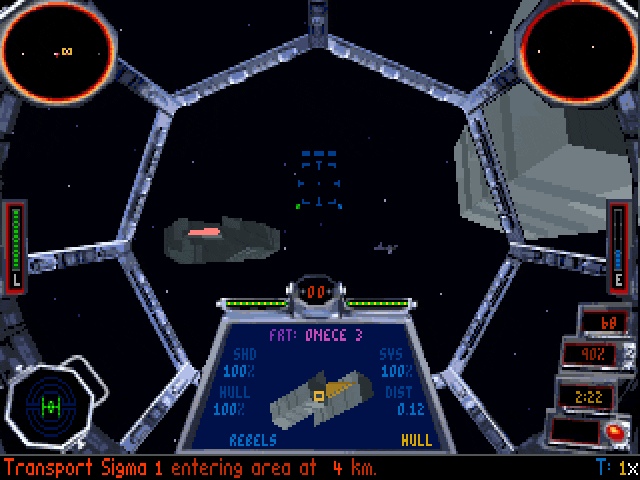 The sequel to the game that defined space sims back in 1995. While lacking in graphics by todays standards the game went all out when it came to in-depth-ness and a great story line. You are a pilot in the Imperial Navy flying a wide variety of crafts including the TIE fighter and advanced, and move on to more advanced ships like the Missile boat and the TIE Defender. Over 20 (?) military campaigns with around 10 or so missions each.
Coming soon:
Poke646
Much, Much more to come.
CPU
Motherboard
Graphics
RAM
AMD A64 3500+ Winchester
DFI nF4 SLi-DR
EVGA 7800GT
OCZ 4000VX
Hard Drive
Optical Drive
OS
Monitor
Maxtor 300Gb 16Mb Buffer
Spinney one
XP Pro
SOYO LCD
Keyboard
Power
Case
Mouse
Broken Somewhat
OCZ PowerStream 520W
None
Old
Mouse Pad
Pad? AHAAHAHAH
View all
hide details
CPU
Motherboard
Graphics
RAM
AMD A64 3500+ Winchester
DFI nF4 SLi-DR
EVGA 7800GT
OCZ 4000VX
Hard Drive
Optical Drive
OS
Monitor
Maxtor 300Gb 16Mb Buffer
Spinney one
XP Pro
SOYO LCD
Keyboard
Power
Case
Mouse
Broken Somewhat
OCZ PowerStream 520W
None
Old
Mouse Pad
Pad? AHAAHAHAH
View all
hide details