Quote:
Originally Posted by
stolemyowncar
Well, I tried some overclocking recently. I tested it out on Prime95 running the In-Place Large FFT's test for about 1 hour and 40 minutes. That's about as long as I've tested anything else before.
Here's what I have it at right now:
http://valid.canardpc.com/6adtud
Is it safe to keep it on that voltage?
I still haven't touched uncore, I think it's ratio is on auto, so I'm not sure if I should bother with that.
I tried it on some lower voltages, but it BSOD'd on 0.01v lower than that in about 20 mins. It's fine for doing, say, the Valley benchmark, but screws up on much above that.
Temperatures while running that Prime95 test capped out at about 80 C. Is that normal?
Picture:
Warning: Spoiler!
(Click to show)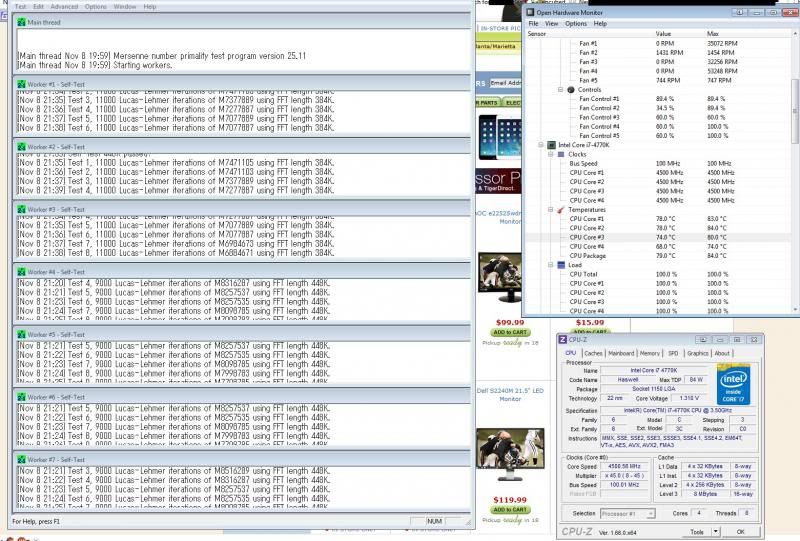 Opinions?
Thanks.
Safe vs unsafe voltages are already noted in the original post.
TL;DR: Voltage wise, you are fine. temp wise, you are also fine.
CPU
Motherboard
Graphics
RAM
7600k @ 5.197/1.392 1.392v
z170 Asus Hero
EVGA 1080ti SC Black (2100/6250)
x2 8gb GSkill Trident Z 3600 @ 3804 15-15-15-32-2T
Hard Drive
Hard Drive
Hard Drive
Cooling
Samsung 950 Pro 512gb (Undelwalt)
WD Red 2tb (Pack Yak II)
Seagate Expansion Drive 5tb (Phoenix Down II)
3x560mm HardwareLabs Nemesis GTX
Cooling
Cooling
Cooling
Cooling
XPSC Raystorm Pro
Watercool Heatkiller 1080ti Full Cover Waterblock
EK XTOP Revo Dual D5 (Serial, PWM, v4)
EK ZMT (1/2 - 3/4 ID OD)
Cooling
Cooling
Cooling
Cooling
14xEK ACF (Compression Fittings)
EK x4 250 (v2)
Distilled Water + PT Nuke (Copper Sulphate)
24x140mm Silent Wings 3
OS
Monitor
Keyboard
Power
Windows 10 Pro 64bit
Catleap 27 Inch 2560x1440 IPS 60hz Display
Coolermaster Storm Trigger (Brown Switches)
EVGA P2 1000w
Case
Mouse
Mouse Pad
Audio
Corsair Air 540
Logitech G Pro
Tek Syndicate "Raze the World" Desk Mat
O2 + Odac by Mayflower Electronics (Rev A)
Audio
Audio
Audio
Audio
Sennheiser HD 800
2xKrk Rokit 6 G2
Blue Yeti (Grey)
Rode PSA-1 Arm
Other
Aquaero 6 LT + Aluminum Heatsink
View all
hide details
CPU
Motherboard
Graphics
RAM
7600k @ 5.197/1.392 1.392v
z170 Asus Hero
EVGA 1080ti SC Black (2100/6250)
x2 8gb GSkill Trident Z 3600 @ 3804 15-15-15-32-2T
Hard Drive
Hard Drive
Hard Drive
Cooling
Samsung 950 Pro 512gb (Undelwalt)
WD Red 2tb (Pack Yak II)
Seagate Expansion Drive 5tb (Phoenix Down II)
3x560mm HardwareLabs Nemesis GTX
Cooling
Cooling
Cooling
Cooling
XPSC Raystorm Pro
Watercool Heatkiller 1080ti Full Cover Waterblock
EK XTOP Revo Dual D5 (Serial, PWM, v4)
EK ZMT (1/2 - 3/4 ID OD)
Cooling
Cooling
Cooling
Cooling
14xEK ACF (Compression Fittings)
EK x4 250 (v2)
Distilled Water + PT Nuke (Copper Sulphate)
24x140mm Silent Wings 3
OS
Monitor
Keyboard
Power
Windows 10 Pro 64bit
Catleap 27 Inch 2560x1440 IPS 60hz Display
Coolermaster Storm Trigger (Brown Switches)
EVGA P2 1000w
Case
Mouse
Mouse Pad
Audio
Corsair Air 540
Logitech G Pro
Tek Syndicate "Raze the World" Desk Mat
O2 + Odac by Mayflower Electronics (Rev A)
Audio
Audio
Audio
Audio
Sennheiser HD 800
2xKrk Rokit 6 G2
Blue Yeti (Grey)
Rode PSA-1 Arm
Other
Aquaero 6 LT + Aluminum Heatsink
View all
hide details