Greetings denizens of Overclock.net and welcome to my first water cooled PC build ever!
I am relatively new to actual PC modding, so bear with me as I go about my custom build rant!
This build will be based off of the awesome explositacular Silverstone Raven RV02 case known as one of the best if not the best air cooling case on the market (For it shares the same internal chassis design as the FT02). I've decided that I will name this project "nevermore" why you ask? because after this thing is done I will be too broke to build any more crazy **** like this.
So, the basic design principles behind choosing this case and driving theory is that the best air cooling pc case will also make the best water cooled PC case. A lot of you will say that's bul****, or you're too much of a noob to pull that off well I digress.**** you, the best air cooled pc cases have optimized internal air flow and Silverstone is a stone... MADE OUT OF SILVER!
So the internal layout which I will not DRAW OR OUTLINE because I suck at art, 3d design, I'm lazy, I'm supposed to be going somewhere in 5 minutes, and and I just might do it in paint later because I'm prone to changing my mind is this! MORE RADIATORS AND MORE SANDWICHES THAN THIS CASE HAS ROOM FOR! I'm talking about a 400mm rear mounted radiator, a 540mm internal intake bottom mounted radiator, and a 120mm exhaust mounted radiator for pre-cooling. With radiators supplying room temperature water to the GPU and CPU that's a whopping 530mm of radiator per processor in the LOOP!
And lets not forget to mention that the hot side of the radiators will always be facing away from the components.
So this is the current plan for the Loop. The loop will be UV green with a UV green reservoir. It will be running on nothing but distilled water with biocide because of all the nasty stuff that happens to colored coolant. The internal color scheme will be based off of Hafenvy's beautiful build.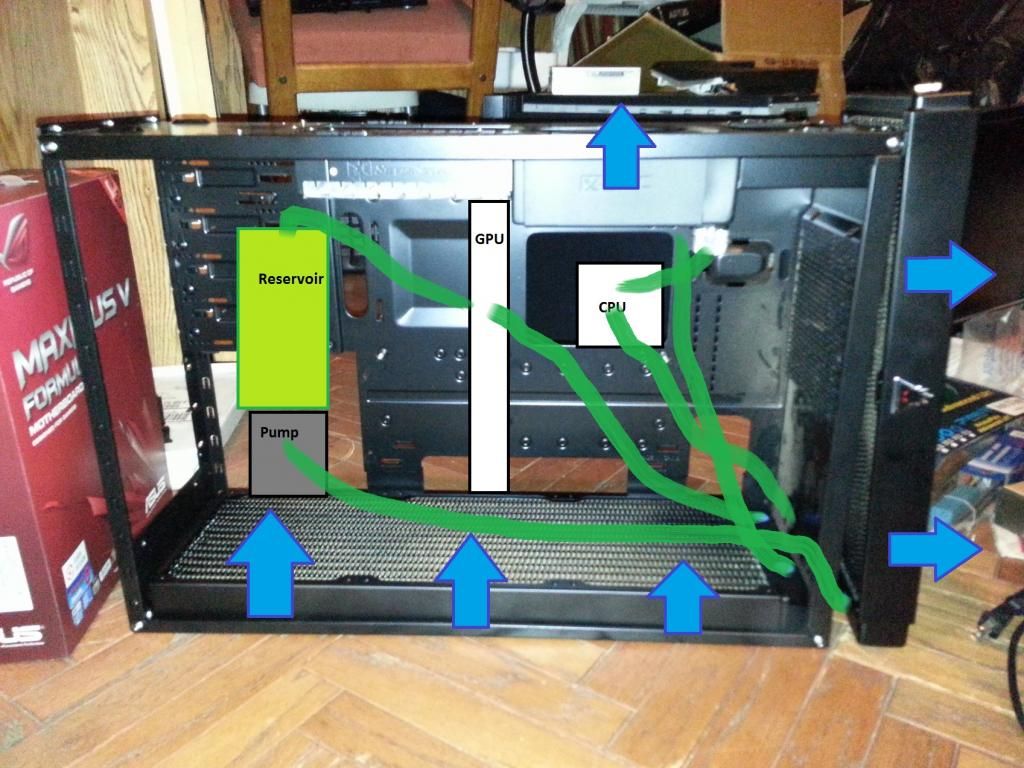 Overkill Much? Nay, there are no qualms in the pursuit of performance! NOW BEHOLD THE COMPONENTS THAT I'VE DECIDED TO START THIS CASE WITH PHOTOGRAPHED VIA A POTATO!
Impressed yet? You should be. That mess in that room took decades to pile up! My study is now an advanced research lab for the feeding habits of dust mites!
So this is the hideous inside of the case. How dull, how boring. Lets get rid of some ****.
*** is this, snap that ***** in half.
NEW FANS GOING IN! "
THE POWER OF HOUSE FAN FOR YOUR PC
"! WHY? BECAUSE **** YOU THAT'S WHY! Your ***** little fans have nothing on mine! I should just tear that fan out of the ceiling and install one of these!
Doctor, doctor, the patient is prepped for surgery yet! SHUT UP LENORE! I KNOW WHAT I'M DOING, I'M A DOCTAR GOD DAMMIT!!! HAND ME THAT DRILL AND THE DREMEL! B-B-Bu FUUUuuuuu Don't make me go PHD all up in your RN!
FUUUUUUuuuUuuuuuAaaaaaa WHY IS IT RAINING? THERE SHOULD BE NO RAIN IN MY OPERATING ROOM!
Mods, please let me know if there are any changes I need to make to this, or if it isn't entertaining enough as this is my first build log. FEEDBACK IS WELCOME AND APPRECIATED! THANK YOU!
Edited by DrGenocide - 7/26/13 at 11:15pm