As the title states, I'm finally stepping into the modern world, everyone! So, why did I finally decided to upgrade from my Q6600, DDR2, and GTX275? Well...long story short, I was just finally ready to step up. I've been busy with IRL things, which have finally settled. So, I was ready to focus on my PC again. A friend had bought a new case and sold me his modded HAF 932 (with a fan controller) for $50. On top of that, I made a trip out of town (to QuakeCon) with some friends and part of the trip was a drive to Fry's. Before we went there, I decided I'd see what kinds of deals they had going on and would pick up some new component. Well, I got a fantastic deal on a V1 Asus Sabertooth mobo at Fry's and picked it up. After getting home, my friends donated some Ripjaw DDR3 ram and a loaner CPU (AMD Athlon 620 quad core), so I'm finally on recent hardware!
This year, I plan on purchasing new components to phase out the old GPU and loaner CPU. So anyway, on to the PICTURES!
Here's what I started with: Antec 200, 240 rad water loop. I repent in dust and ashes for all the dust in this. I'm honestly ashamed of it. I'd just been cleaning the front filter and leaving it (was doing masters degree school work so didn't worry with it. The downside of WC is the temps stay so stable you can afford the dust, LOL).
HDD rack removed to make room for the rad and the HDDs rigged up in the 5.25" bays.
And here's what the HAF looked like from the previous owner. He'd modded it with a radioactive wasteland theme.
The first order of business was painting the case back to black. I don't have any pics of this (sorry), but I took everything out of the case and painted it all semi-gloss Rustoleum black. It looks much better now (pics later).
Here's a shot of the mobo. This thing is gorgeous! Whoo, I feel like I bought a Ferrari after driving a Corolla for years, lol.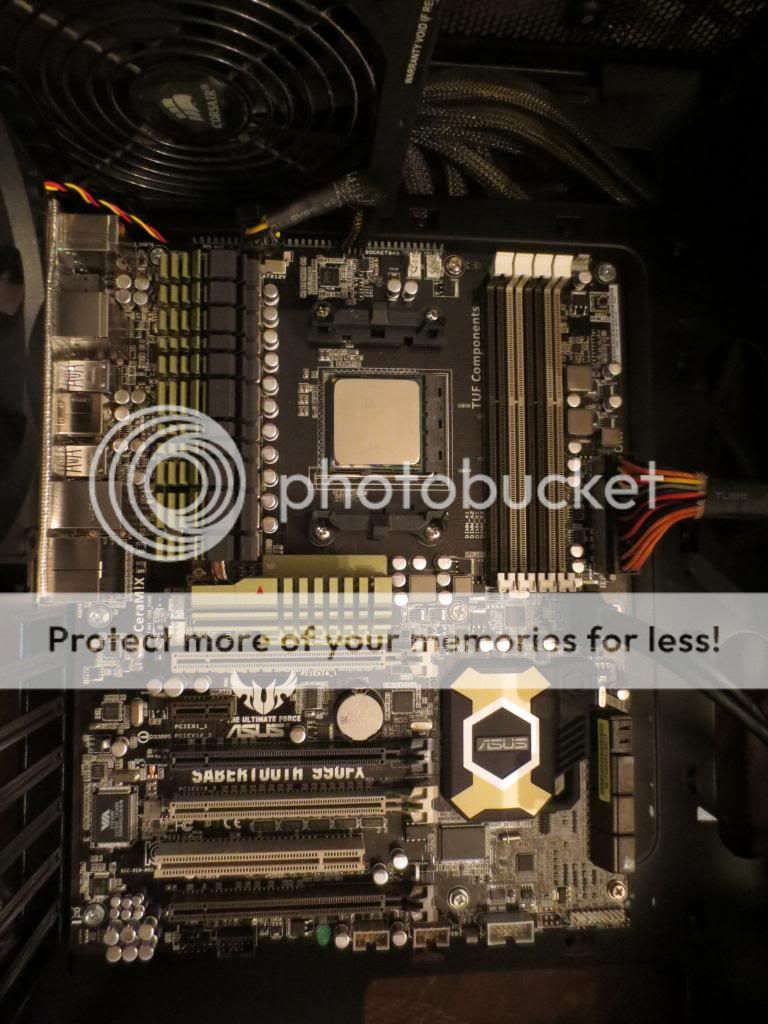 And here's the final build: AMD Athlon 620, 4GB of RipJaw ram, my old GTX 275, and my trusty Corsair TX750w PSU. I opted to put the stock air cooler on my GPU since I wouldn't be using the loop to cool the CPU anyway. It didn't seem worth the hassle of dealing with my WC gear for the 275 when I really only browse the internet, use MS Word, and play Minecraft on my PC at the moment, lol. So, for the first time in at least 4 years, I'm all air cooled again. This is weird, lol. Can't wait to finalize CPU/GPU plans and get some more water gear.
Holy old GPU, Batman!
Here it is with the NZXT fan controller up top. Controls 5 fans and have 5 temp probes built in. It's pretty nice!
At my desk with the new 24" monitor (traded my 22" for it. Friend wanted something smaller, I wanted something larger, great trade!), my old surround sound, and the Saitek blue switch keyboard.
And last but not least, none of my cases would be complete without my two best buddies: Optimus Prime and the Batmobile!
If any of you guys has a recommendation for a CPU, I'm all ears. I haven't been in the loop for at least two years now, and I'm way lost here. I'd like to buy something used in the near future for CPU and GPU. Thanks for looking everyone. Feels good to be back!