MetallicAcid's TJ07 (working title)





Proudly sponsored by:




Södertälje Specialsnickeri AB Sweden


Welcome to my third project!!
In this project, I have planned this project to include the Silverstone Temjin TJ07S, a timeless classic of premium case. I have had an ongoing community driven planning phase over a couple of months, where I have received feedback from the public, and tried to turn that feedback into a 3D render. I have really enjoyed the entire process, and learnt many new techniques along the way.
I know that this particular case has been modded probably 1,000,001 times now, so creating a TJ07 that stands out from an already well saturated crowd is already hard enough to do. To make this build even better than my previous projects is an even bigger challenge.
Update 2014/03/06
Hello everybody! I know this has been a long time coming
It is with great excitement that I announce that the project has now officially been started! I am building this project for Demis, a friend of mine. He had fallen in love with the project, and the ideas which I had visualized with the aid of SketchUp and Skindigo - 3D modelling and rendering software.
There had been discussions between Demis and I regarding the colour and overall theme of this build, and in the end we both thought that a blacked out stealth build, with subtle gold highlights, with an overall monolithic feel with a simple exterior and neat interior was the best option for this project. The colour scheme comes from the X79 ASUS motherboard. I would like to now show you a visual representation of how this project will probably look like: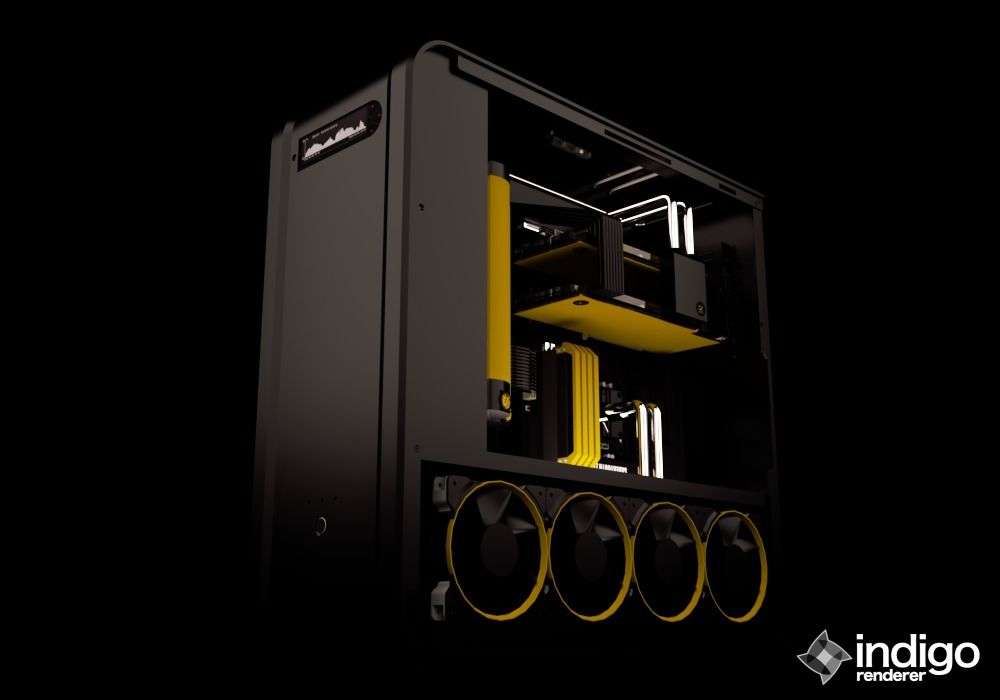 This project may take some time to complete. This is a good thing in my opinion as it means that I can plan every detail to perfection, and execute those plans into reality with ease and minimal stress.
This will be a watercooled project, but in stages. Stage 1 for the watercooling will include just the CPU, with the GPU being air cooled. Stage 2 of the watercooling will include a 2nd GPU with both being watercooled. So you can expect a Rev.1 and Rev.2 of this project over the coming months.
Here comes a list of things that I plan to do with this mod:Fabricate
Custom made midplate
Custom made reservoir wall
Acrylic window for top of case
Acrylic windows for side panels
Modify
Extend window for top of case
Window opening on side panels
Pass-through holes in midplate for hard tubing
New power button
Sleeve PSU
Prepare for painting
TJ07 case
Custom made midplate
Custom made reservoir wall
Paint
TJ07 case
Custom made midplate
Custom made reservoir wall
GPU shrouds
Install
Cold Zero parts
Water cooling parts
PC components
I hope you have enjoyed the news. We are both super excited about this project, and want to see it to perfection. I hope you stick around for future updates!
With best regards,
Justin "MetallicAcid" Ohlsen
Update links:
Update 1 - Parts ordered and modding begins.
Update 2 - Midplate Progress
Update 3 - Angled plate
Update 4 - Cold Zero
Update 5 - Motherboard fitting
Update 6 - Top window cut out
Update 7 - GPU shrouds
Update 8 - Side window complete and Icemodz sponsor
Update 9 - Acrylic windows milled
Update 10 - Silverstone sponsor and unboxing Strider ST1200G
Update 11 - Installed front panel, glued into place and installed vandal switch
Update 12 - EK Delivery
Update 13 - Soldering guide and molex complete
Update 14 - PSU cables sleeved
Update 15 - Inet joins as sponsor
Update 16 - EK lends a hand
Update 17 - Hardware update
Update 18 - Another hardware update
Update 19 - Case is back from powder coaters
Update 20 - Sponsor update/fans installed/EKWB monoblock installed
Update 21 - Sponsor update
Update 22 - EKWB GPU blocks and reservoir installation
Update 23 - Piping up the loop
Update 24 - Final photos/Project finished
Edited by MetallicAcid - 11/7/14 at 3:32am