This pisses me off. People are formulating opinions about BF2142 WITHOUT EVEN PLAYING IT! And don't say you played the demo and hated it... the demo sucks and doesn't stand up to the actual game. It is, after all a demo, and lacks some things that the game has.
And the game is full of spyware? LMAO the only "Spyware" I have seen in the game is Intel ads on billboards as seen below:
*and all you C2D fanboys should love it*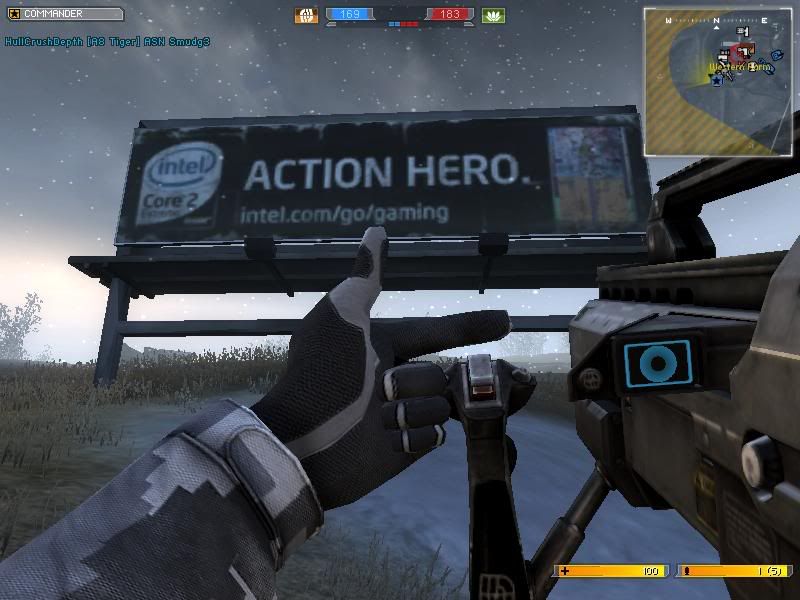 I don't get pop ups, or strange e-mails as a result of my owning this game. Literally "spyware" in the game is some thing that discerns what region you live in, so it can display the billboards correctly. i.e. If you live in a different speaking country, you see the ad in your language.
BF2 with Spyware that you pay $50 for... wow, way to be judgmental about a game that you obviously don't own.
How about this. You only give opinions about games you ACTUALLY OWN. I don't say games I don't own are crap... if you don't own the game, then there is really no way you can give your opinion on it to someone thats thinking about buying it. You haven't played it enough to formulate a valuable opinion in the first place.
And don't say I tried it at a friends house for 5 minutes. There's plenty of games I haven't liked until I had played it enough to understand it. For a game like BF2142, you haven't even experienced all the game has to offer until you've spent 5+ hours on it.
So again... don't give an opinion on either game if you don't even have it to play. Otherwise, why don't you go ahead and review every game out there. Don't even play them, or if you do, don't give yourself a chance to like them either. Just spew out crap that other people say about it... buy it and formulate your own opinion, then come back.
Not one of you people that say "don't get BF2142" have anything else to say right now about the game but "it's basically BF2 with ads". Well it's not. So tell us something useful we can think about if you don't like it.
[/rant]
CPU
Motherboard
Graphics
RAM
Q6700 G0 @ 3.6GHz 24/7 1.47v
ASUS P5K Deluxe
BFG 8800GT OC 512MB
2x2GB G.Skill DDR2-1000 (1:1 4-4-4-12)
Hard Drive
Optical Drive
OS
Monitor
2x 150GB WD VelocoRaptor RAID 0 & 1TB Seagate
Samsung SATA DVD+/-RW
Windows 7 Pro. 64 bit
25.5" ASUS VW266H
Keyboard
Power
Case
Mouse
Red Edition Saitek Eclipse
Corsair TX750
CM 590
Razor Diamondback
Mouse Pad
Audio
14" x 18" Gaming pad
X-Fi Xtreme Gamer
View all
CPU
Graphics
RAM
Hard Drive
i7-720QM 1.6Ghz
1GB Nvidia GeForce GT 230M
4GB DDR3
320GB 7200RPM SATA
Optical Drive
OS
Monitor
Case
Lightscribe Blu-Ray ROM w/ DVD+/-R/RW DL
Windows 7 Prof. x64
18.4" 1920 x 1080
HP
View all
hide details
CPU
Motherboard
Graphics
RAM
Q6700 G0 @ 3.6GHz 24/7 1.47v
ASUS P5K Deluxe
BFG 8800GT OC 512MB
2x2GB G.Skill DDR2-1000 (1:1 4-4-4-12)
Hard Drive
Optical Drive
OS
Monitor
2x 150GB WD VelocoRaptor RAID 0 & 1TB Seagate
Samsung SATA DVD+/-RW
Windows 7 Pro. 64 bit
25.5" ASUS VW266H
Keyboard
Power
Case
Mouse
Red Edition Saitek Eclipse
Corsair TX750
CM 590
Razor Diamondback
Mouse Pad
Audio
14" x 18" Gaming pad
X-Fi Xtreme Gamer
View all
CPU
Graphics
RAM
Hard Drive
i7-720QM 1.6Ghz
1GB Nvidia GeForce GT 230M
4GB DDR3
320GB 7200RPM SATA
Optical Drive
OS
Monitor
Case
Lightscribe Blu-Ray ROM w/ DVD+/-R/RW DL
Windows 7 Prof. x64
18.4" 1920 x 1080
HP
View all
hide details