Quote:
Originally Posted by
Alatar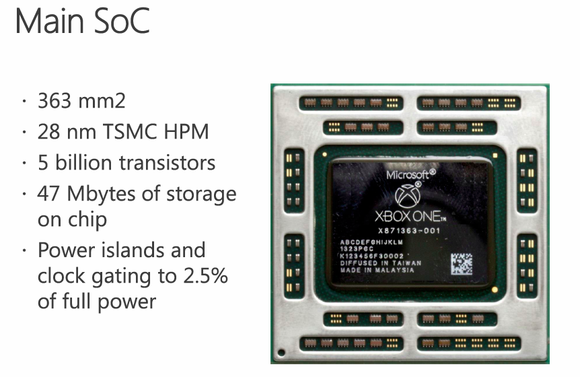 Quote:
Physically, the system-on-a-chip at the heart of the Xbox One is 363 square millimeters. But the real whopper is the amount of logic integrated within it: 5 billion transistors. Although Wikipedia isn't necessarily the final arbiter, the Xbox One is possibly the largest chip manufactured to date, with a comparable number to Intel's 64-core Xeon Phi coprocessor for supercomputers, and easily topping Intel's 8-core "Poulsen" Itanium that the chip maker launched in 2012.
Source
Okay these guys clearly don't know a thing about big chips if they think this is the biggest one ever made but at least you guys can enjoy the newly released slides.
Z196 MCM anyone?
CPU
Motherboard
Graphics
RAM
Core i5 750 3.99 (190x21) 1.376v Load
ASUS P7P55d-E Pro
GTX 670 FTW <- Poor overclocker :(
8GB (4x2GB) G.Skill DDR3 1600
Hard Drive
Hard Drive
Optical Drive
OS
Samsung 830 Evo 128GB
2x 2TB
Some DVD drive
OSX 10.10.4
Monitor
Power
Case
Mouse
Asus 1080P Crap
TX 750
HAF 922
G400s
Mouse Pad
Other
Apple Keyboard
Xbox One controler
View all
CPU
RAM
Hard Drive
Hard Drive
C2D 2,26GHz under volted @ .978v
8GB
Crucial M4 64GB SSD
500GB Scorpio Black
OS
Monitor
Keyboard
Mouse
OS X 10.0
1280x800
Built-in
Trackpad
Audio
Built-in
View all
hide details
CPU
Motherboard
Graphics
RAM
Core i5 750 3.99 (190x21) 1.376v Load
ASUS P7P55d-E Pro
GTX 670 FTW <- Poor overclocker :(
8GB (4x2GB) G.Skill DDR3 1600
Hard Drive
Hard Drive
Optical Drive
OS
Samsung 830 Evo 128GB
2x 2TB
Some DVD drive
OSX 10.10.4
Monitor
Power
Case
Mouse
Asus 1080P Crap
TX 750
HAF 922
G400s
Mouse Pad
Other
Apple Keyboard
Xbox One controler
View all
CPU
RAM
Hard Drive
Hard Drive
C2D 2,26GHz under volted @ .978v
8GB
Crucial M4 64GB SSD
500GB Scorpio Black
OS
Monitor
Keyboard
Mouse
OS X 10.0
1280x800
Built-in
Trackpad
Audio
Built-in
View all
hide details