First off...I have to give Thanks to one of my best friends, April, for making this project possible.
Since I have some time on my hands this weekend, I figured it would be a good time to get this going. I won't have any pics, other than pics I've borrowed from CaseLabs & XSPC, for about a week.
This is my first stab at water cooling, so I'll be the first to admit, I'm still inside the learning curve.
The name I chose for this build is fitting, IMO, as there won't be any flashy lights, super bright LED's, UV tubes, etc. (although I have tons of those from previous builds).
Just a little background...I'm upgrading from a Cosmos II build I did a year & a half ago & I'll be using the same parts (minus the CII).
For the curious, I would've gone with 2 EX560's, but I already had a brand new EX420 (this project merged from a Cosmos II WC project to this one).
System Parts List:
Case: CaseLabs MH10 + Pedestal
MB: Maximus IV Extreme-Z
CPU: 2500k
RAM: G. SKill Ripjaws Z 16 GB 1600
GPU: 1x 7970 (2nd coming soon)
PSU: Silverstone 1500w
SSD: 120 GB Corsair Force 3
HDD: 4x 2 TB: Seagate & WD
OS: Windows 7 64
Water Cooling Parts List::
CPU WB: XSPC Raystorm
Res. 1: Pump / Res.: XSPC D5 Dual Bay Combo
Res. 2.: XSPC Photon 270
RADS: 2x XSPC: RAD1: EX560 & RAD 2: EX420
Fans: 7x XSPC 140mm 1350 RPM
Tubing: PrimoChill Advanced LRT Clear 7/16", 5/8"
Comp. Fittings: XSPC 7/16", 5/8", Black Chrome
Koolance QD's: M & F QD3 Series (4th Gen.)
QD Components: CPU, GPU & 2x Res.
GPU WB: Swiftech Komodo 7970 (2nd coming soon)
Coolant: Mayhem's Pastel Pure Black
Koolance Drain Port w/ Nozzle: VLV-XTSPLB
Koolance QD Assignments:
I chose to go with Threaded Male > Female on the component end & Female (accepts Barbs or Comp. Fittings) > Male end on the tubing end. So...:
8x QD3-FG4
8x QD3-MFG4
Loop Order
(borrowed from lvl8hacker): D5 Pump / Res 1 > RAD 1 > Res 2 > CPU > RAD 2 > GPU > Res 1
CaseLabs Case:
After almost 3 weeks of back & forth between 3 configurations, I decided on the MH10 + Pedestal. For the MH10, I opted for the Ventilated Flex-Bay Covers, an XXL MB side window & Ventilated top cover. Jim & Kevin have been a pleasure to work with throughout this process.
Here are some pics
I borrowed
from CaseLabs & XSPC. Stay tuned for actual Build Log pics...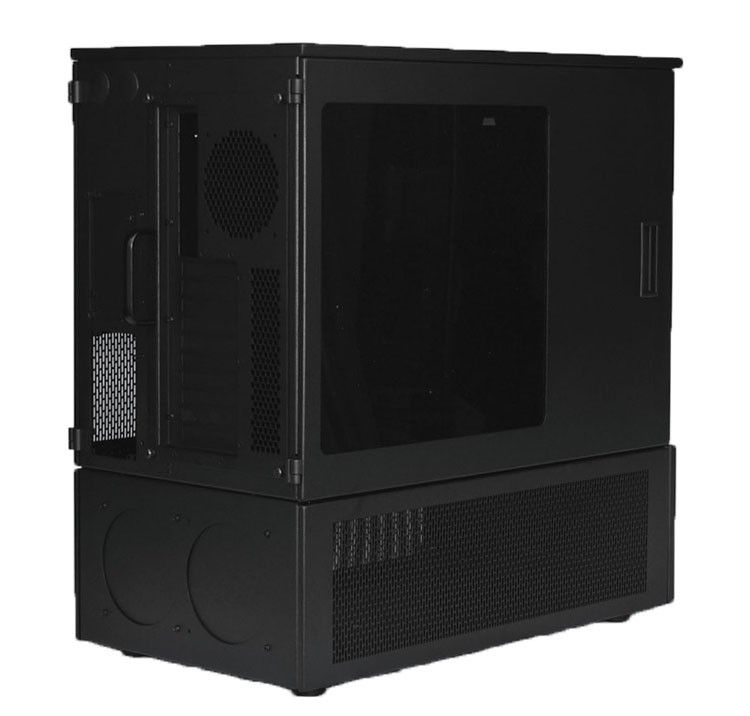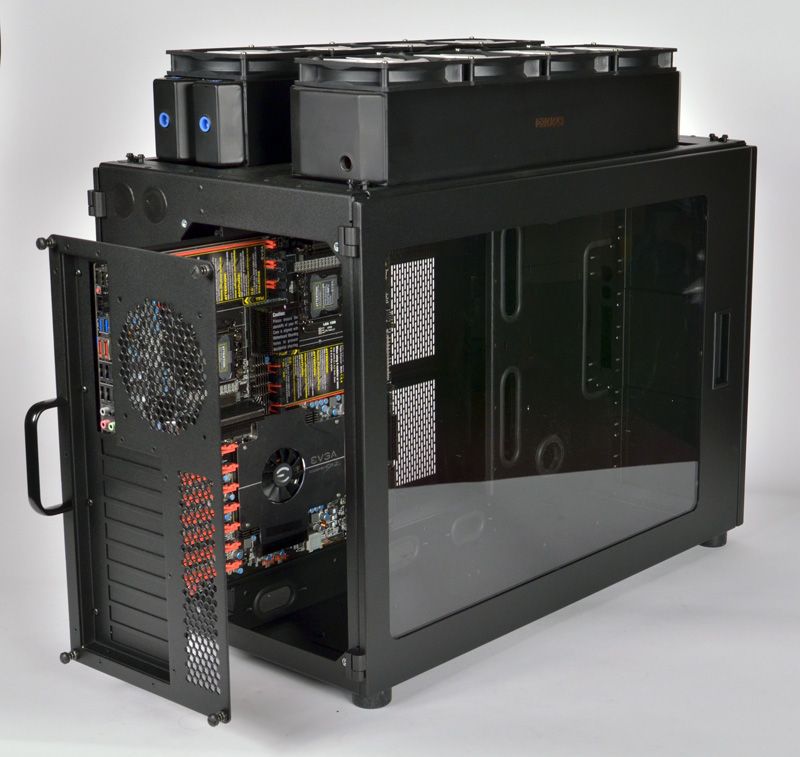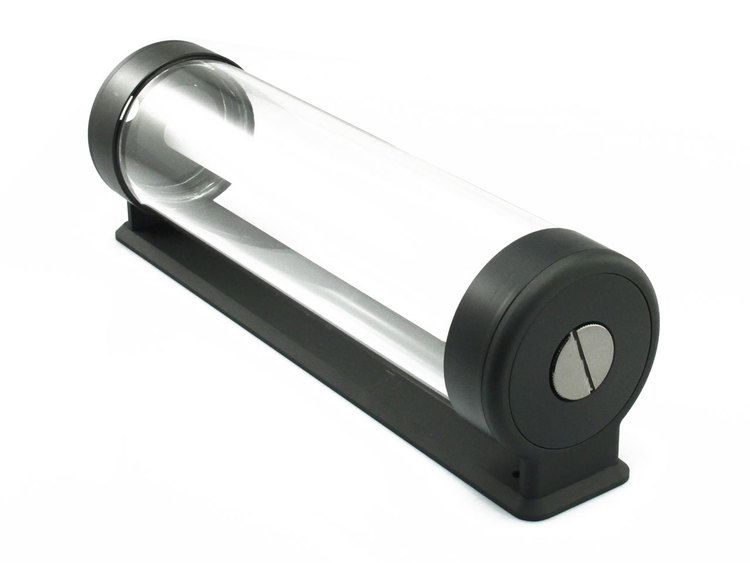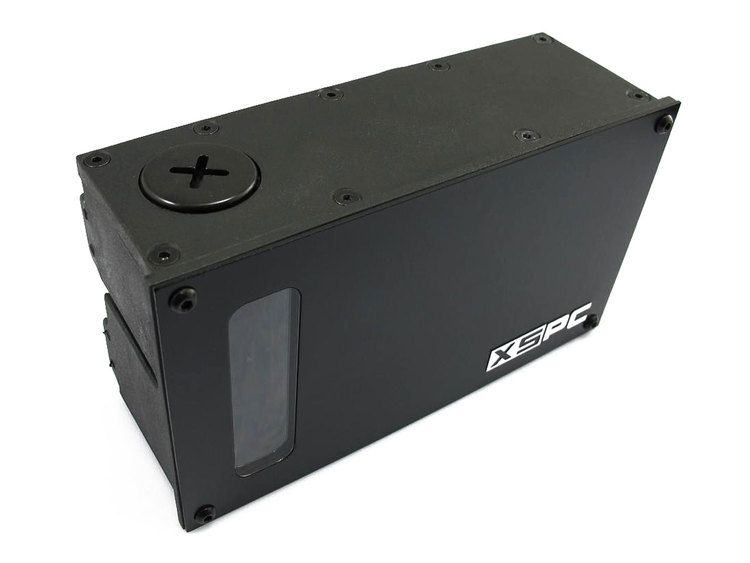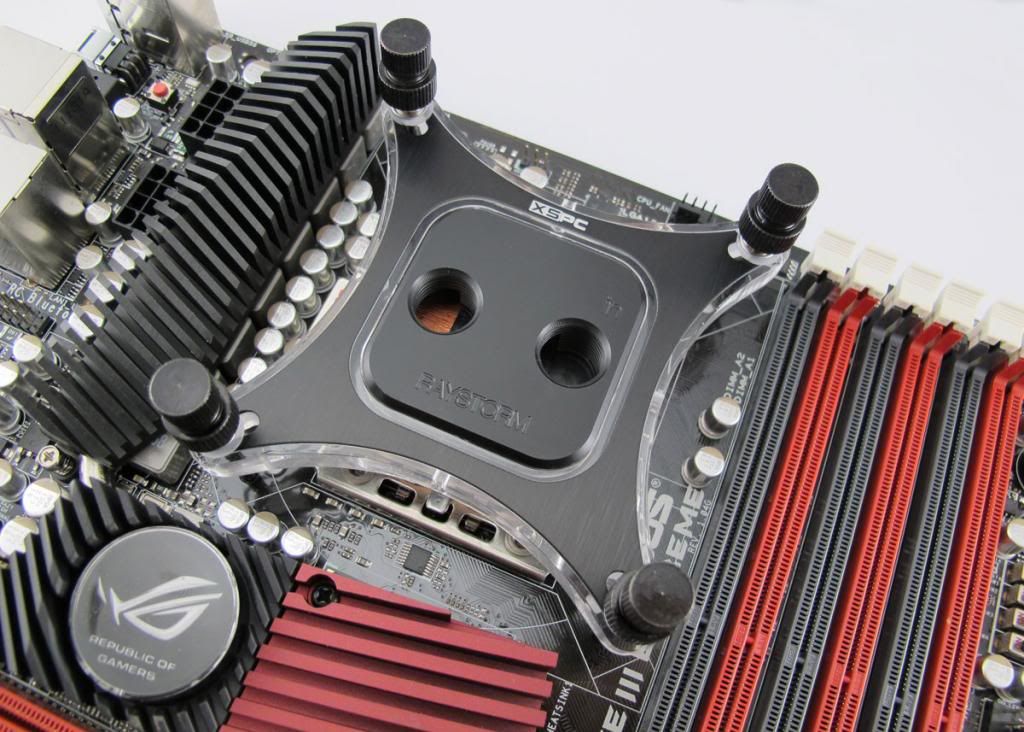 Edited by djnsmith7 - 9/10/13 at 6:42pm