Hey everyone, I've been tinkering around with my second build for a while now, but I'm looking to squeeze some more out of my CPU.
Here's my rig:
CPU: AMD FX-6300
COOLER: OEM Corsair H60 w/ Push/Pull
MOBO: GIGABYTE 990FX-UD3
GPUs: HIS Radeon 7950 and MSI Radeon 7950 Twin Frozr III CrossfireX
P/S: Corsair HX750
RAM: 8GB Corsair Vengeance
SSD: 60GB OCZ Agility 3
HDD: 2TB Seagate Barracuda
CASE: Fractal Design MIDI R2
Currently, I'm running my FX-6300 at 4.39Ghz, but judging by others' results I think I can go higher.
My Vcore is 1.416V Idle, and 1.464V under load with my LLC settings.
Currently this overclock is 24/7 Prime95 Stable. I also installed the 60mm fan that's included with the stock heatsink over the VRMs on my Motherboard to aid in cooling.
Here is a picture of my Temperatures after 30 mins of Prime95.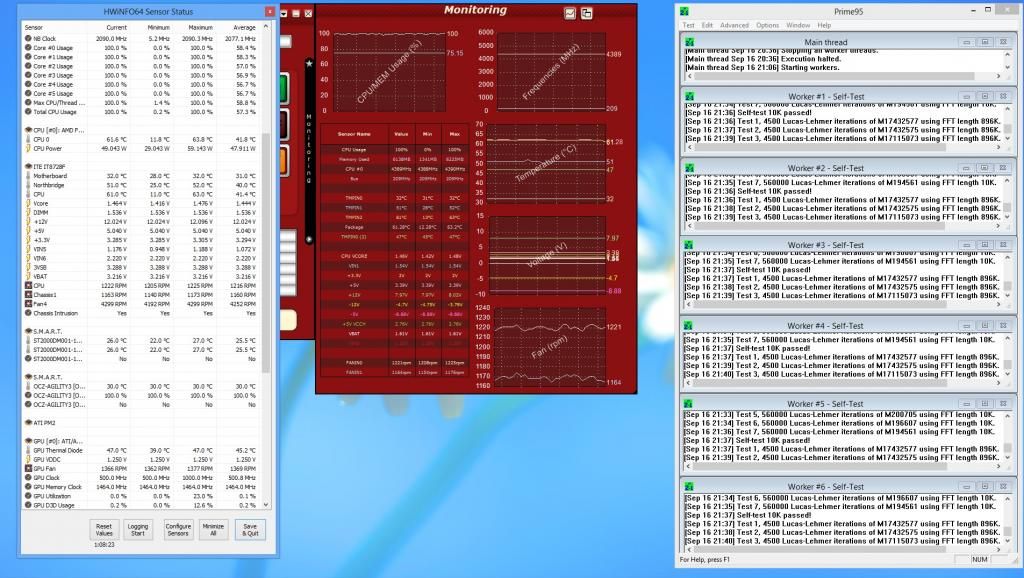 I'm a little confused however, is TMP2 my CPU Socket/VRM temp? Or is it my CoreTemp?
If TMP1 is my CPU CoreTemp, I think I have at least 5 degrees more headroom to go up.
What do you think? Can I push her even higher??