ASUS Maximus VI Hero - Performance Test
Introduction:
The Maximus VI Hero (M6H) is ASUS' entry-level overclocking motherboard (mobo) based on Intel's latest Z87 chipset. It is targeted for those who want to want the Republic of Gamers (ROG) features and decent overclocking potential without breaking the wallet. Today we're going to find out what's so special about this mobo.
Product Link:
http://www.asus.com/Motherboards/MAXIMUS_VI_HERO
Suggested Retail Price:
RM899
Specifications:
Full specifications of M6H can be found
HERE
Overview of M6H:
Unboxing: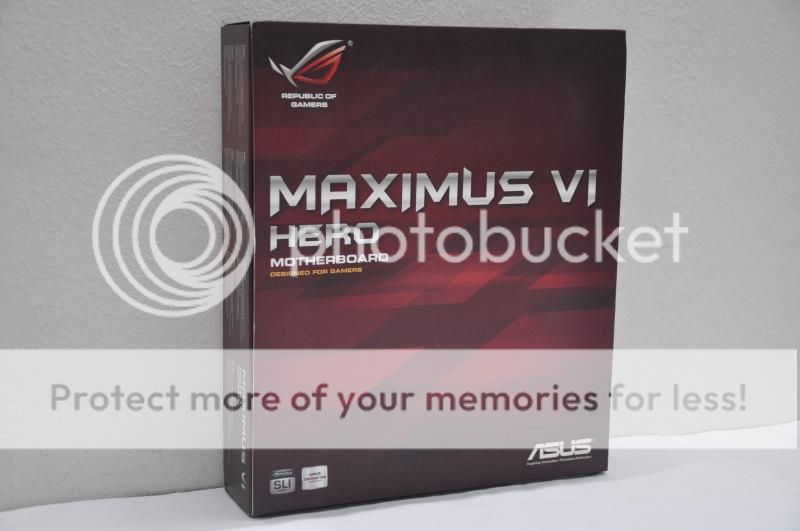 AS usual, this ROG mobo comes in a red box.
The M6H features a black and red theme. This ATX board has a form factor of (30.5 x 24.4) cm, which is exactly the same size as its eldest brother, the Maximus VI Extreme (M6E).
A close up on the CPU socket area shows that the M6H is powered by 8 + 2 Digital Phase Power Design. The CPU has eight phases and the other two are supplying power to the memory. The Socket LGA1150 supports Intel's 4th Generation Core i7, i5 & i3/ Pentium/ Celeron processors. There are four DIMM slots supporting up to 32GB of DDR3 Dual Channel & 3000+ MHz of RAM under overclocked.
Let's take a look at the expansion slot area. The M6H has two PCIe 3.0 16x slots supporting 2-way SLI or Crossfire (CF) @ x8/x8. Despite having just two slots, this PCIe slots supports Quad SLI and Quad CF. There are three PCIe 2.0 x1 slots sharing bandwidth with the PCIe 2.0 x16 slot at the bottom of the board.
The board contains eight SATA3 ports - six from Chipset Z87 and two from ASMedia ASM1061 controller.
The rear I/O panel includes:
1 x PS/2 keyboard/mouse combo port
1 x HDMI
1 x LAN (RJ45) port
4 x USB 3.0
4 x USB 2.0
1 x Optical S/PDIF out
6 x Audio jacks
1 x USB BIOS Flashback Button
The board is equipped with ROG SupremeFX 8-Channel High Definition Audio CODEC which features Sonic Radar technology. Sonic Radar gives a strategic advantage on some very particular or crucial moments in a gaming session.
The audio circuitry is highlighted by red LEDs once we switch the system on.
Back side of the board has some backplates to give retention to the CPU socket and VRM heatsinks on the top of the board.
Accessories came with the package is quite standard and a little less than other ROG siblings. Yes, there's a ROG door hanger provided.
Test Setup:
CPU: Intel Core i7 4770K
MB: ASUS Maximus VI Hero
DRAM: G.Skill TridentX 2800 C11 2 X 4GB, G.Skill TridentX 2600MHz C10 2 X 4GB, Corsair DominatorGT GTX4 2533MHz C9 2 X 2GB and G.Skill RipjawsX 2133MHz C8 2 X 2GB
GPU: Gigabyte HD7970, MSI's special BIOS, Driver Catalyst 13.10 beta
Storage: Crucial M4 128GB
ODD: LiteON DVD-RW
PSU: Corsair AX1200
Cooling: Custom watercooling - EK Supreme HF plate #6 CPU waterblock, 2x XSPC RX360 radiator, Swiftech MCP655 pump, EK FC7970 GPU waterblock, EK Multioption X2 Advanced reservoir, XSPC 1/2" ID 3/4" OD white tubing, 12x Scythe GT AP-15 1850rpm 120mm fan + Aerocool Shark 120mm fan, Coolaboratory Liquid Pro thermalpaste etc.
Casing: DimasTech Easy Dual V2.5 Bench Table
OS: Windows 7 Ultimate 64-bit SP1
Edited by owikh84 - 9/30/13 at 4:20pm