I have just finished boosting my overclock up from 2.3ghz to 2.7ghz.
I only am doing this to gain a few more fps in bf2142 coz im finding it to be crap at the moment as you would have know from my other posts
The ram speed and timings are crap, but it helps the fps so im not complaining.
im not sure how it works, but i have crap ram and its no good for overclocking im told.
i think its stable, it runs games and all thats jazz. havnt had much of a change to prime it as yet.
Let me know what you think, and if i can make it better, oh and how do i know if its stable?
My Bios settings were.
Cpu freq- 300
HT- x3
Cpu clock ratio- x9
Cpu/ddr- 2/1.33
Volt 1.55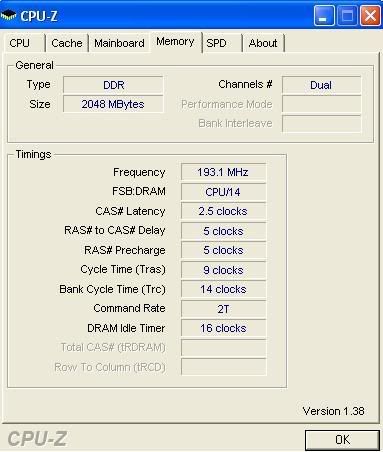 CPU
Motherboard
Graphics
RAM
AMD Opteron 165 Toledo @ 2.9 Ghz
GA-K8N Pro-SLI
XFX8800GT 710/1705/1005
2GB DDR500 G.SKILL
Hard Drive
Optical Drive
OS
Monitor
WD SataII 80gb, 120gb, 320gb
Gigabyte DVD+RW
Windows Vista Ultimate
Acer 17'' and 19''WS
Keyboard
Power
Case
Mouse
Logitec G15
Cool Master Extreme Power 600W
Crap
Logitec G9
Mouse Pad
Icemat 2nd Ed
View all
hide details
CPU
Motherboard
Graphics
RAM
AMD Opteron 165 Toledo @ 2.9 Ghz
GA-K8N Pro-SLI
XFX8800GT 710/1705/1005
2GB DDR500 G.SKILL
Hard Drive
Optical Drive
OS
Monitor
WD SataII 80gb, 120gb, 320gb
Gigabyte DVD+RW
Windows Vista Ultimate
Acer 17'' and 19''WS
Keyboard
Power
Case
Mouse
Logitec G15
Cool Master Extreme Power 600W
Crap
Logitec G9
Mouse Pad
Icemat 2nd Ed
View all
hide details