so my hd 7950 memory is at 1375mhz, i think it has the hynix MFR's rated for 1250 @ 1.6v yet the conflicts with hynix specs as there is no 1250 memory at 1.6v stock so either sapphire added +0.1v as i havent touched mvddc or hynix is wrong anyway is there a proven way to test ecc memory for stability? ive done the following:
-put it right up to 1500mhz to match 7970 stock speeds, occt gave solid blocked lines on the screen+freeze pretty fast, 1450mhz seemed to be fine
-1450 in benchmarks gave a decent increase, tried 1375 which also still had most of the increase (90%+ of it), & many more speeds between 1250 <-> 1375 <-> 1450 had the same steady result, iirc ecc memory when its limit is reached performance will stop rising or even drop due to retrying from corrupt data, but a steady increase with my tested frequencies should indicate that its fine there?
-tried the memory speed tests with core at 1000 & default boost 925 both with stock non boost vddc as any increase isnt needed, the difference from sped up memory was steady in all tests
-stressed with furmark (visually) & occt, no errors
http://www.skhynix.com/products/graphics/view.jsp?info.ramKind=26&info.serialNo=H5GQ2H24MFR
there under 5gbps which is 1250mhz rated, it should be 1.5v but mines stock 1.6v, but if i had the 6gbps chips they wouldnt of crashed at 1500, im yet to take off the heatsink even to replace the tim since it cools so well.
this is what its at now, the core can go more but im fine with it there since this card is 6+6 pin pci-e power, the difference above 1375 is still there but minimal. click magnifying glass icon at the bottom right twice to get full size.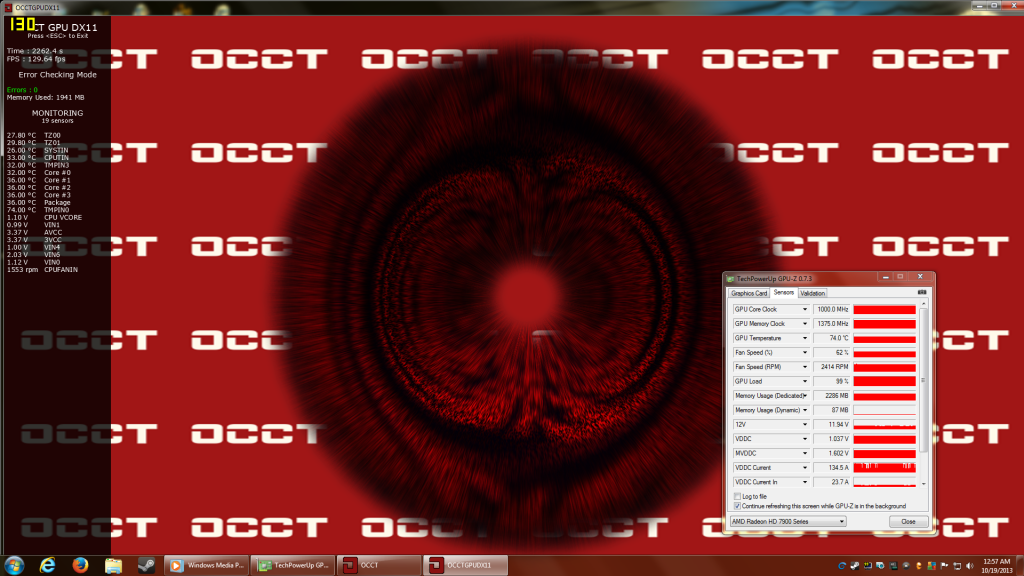 Edited by GigaByte - 10/19/13 at 4:42pm
CPU
Motherboard
Graphics
RAM
Core i7 4710MQ
Eurocom X3 R2/Clevo P157SM-A
GeForce GTX 965M 4GB @ 1178/1353 MHz
16GB DDR3L 1866 @ 2133 11-11-11-31-2T
Hard Drive
Hard Drive
Cooling
OS
[SSD] Mushkin ECO2 240GB
[HDD] HGST 1TB 7.2K RPM SATA III
Stock
Windows 10 Pro x64
Monitor
Keyboard
Power
Case
15.6" 1080P LCD
Stock
Stock 180W
Stock
Mouse
Audio
Touchpad/Microsoft Optical Mouse
Sound Blaster X-Fi MB3
View all
hide details
CPU
Motherboard
Graphics
RAM
Core i7 4710MQ
Eurocom X3 R2/Clevo P157SM-A
GeForce GTX 965M 4GB @ 1178/1353 MHz
16GB DDR3L 1866 @ 2133 11-11-11-31-2T
Hard Drive
Hard Drive
Cooling
OS
[SSD] Mushkin ECO2 240GB
[HDD] HGST 1TB 7.2K RPM SATA III
Stock
Windows 10 Pro x64
Monitor
Keyboard
Power
Case
15.6" 1080P LCD
Stock
Stock 180W
Stock
Mouse
Audio
Touchpad/Microsoft Optical Mouse
Sound Blaster X-Fi MB3
View all
hide details