Hi, late last night i finished my new build. I upgraded from an older 965be water cooled and enjoyed overclocking it. Decided to upgrade the whole thing and now have an asus sabertooth990fx, with an amd 8350 be. Running a single loop just for the cpu with a koolance 380a and a 240mm black ice rad. Graphics card is an asus matrix platinum 7970 because it was on offer and cheaper than any other 7970's on the day.
The computers running great, installed core temp to monitor the temp of the cpu so I could have a little play around with overclocking... The trouble is the cpu temps are simply not right. I've used hardware monitor too and it's giving the same results. In my room which is 20 degrees both programs are saying the cpu is idling between 4 and 8 degrees, and on a prime95 torture test it only goes up to 28 degrees after a few minutes. Let the cpu go back to idle and it's straight back down to around 10 degrees.
I haven't overclocked anything yet, it's straight out of the box.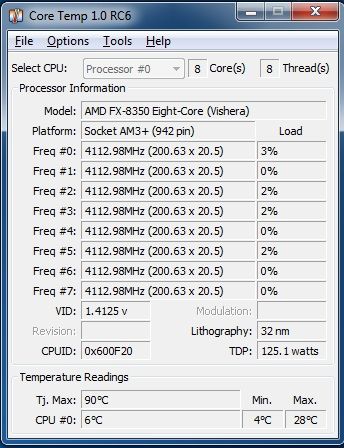 I'm fairly handy with building computers but still learning about overclocking them, so will be digging in here to find lots of useful information for my set up.
Has anyone else had problems with inaccurate cpu temps on this mobo?
Thanks for any help, hope i've not posted in the wrong area