Hello all! Finally got this box tuned the way I want it. Most recent drivers, tried to slim down 8.1 a little bit, etc...
Anyway, this is all on stock clocks. One note to make is that my graphics card is in an 8x slot instead of a 16x slot due to space limitations of my HAF XB with the H100i and AX7970 cooler on my 7950.
Let me know what other benchies you'd like to see and I'll post them up.
Does everything seem proper? My only complaint on these numbers is with PCMark8. During the "Casual Gaming" benchmark, I was having some stuttering. I'm not sure why, however. Everything was closed. The only program I had open was Chrome, but it was sitting completely idle during the entire duration of the run. Anyone else have the same experience? I think it was the test showing the old scene from 3dmark05? With the Faery and the tree stump with the face...
Everything feels wonderful. Fantastic frame-rates on BF4 beta @1080p Ultra. Never a slow-down. FarCry3 on 1080p with max settings runs pretty damn well. I mean, I at least stay above 30fps. With it being a single player campaign, I don't desire a constant 60fps.
As I said, I just want to make sure everything is running as should be. Any input is well apprectiated!
CM HAF XB
AMD FX-8320(lapped to 2000grit with CLU for TIM)
Corsair Vengeance DDR3 667
PNY XLR8 120GB SSD (OS drive)
MSI 7950 POS Reference design with a few MHz boost by MSI, Arctic AX7970 installed, CLU for TIM
Asus SABERTOOTH 990FX R2.0
Corsair H100i
Seagate Barracuda 7200RPM 1TB 32MB 3.0GB/s
XFX P1-750B-BEFX Gold PSU
Benchies:
3DMark: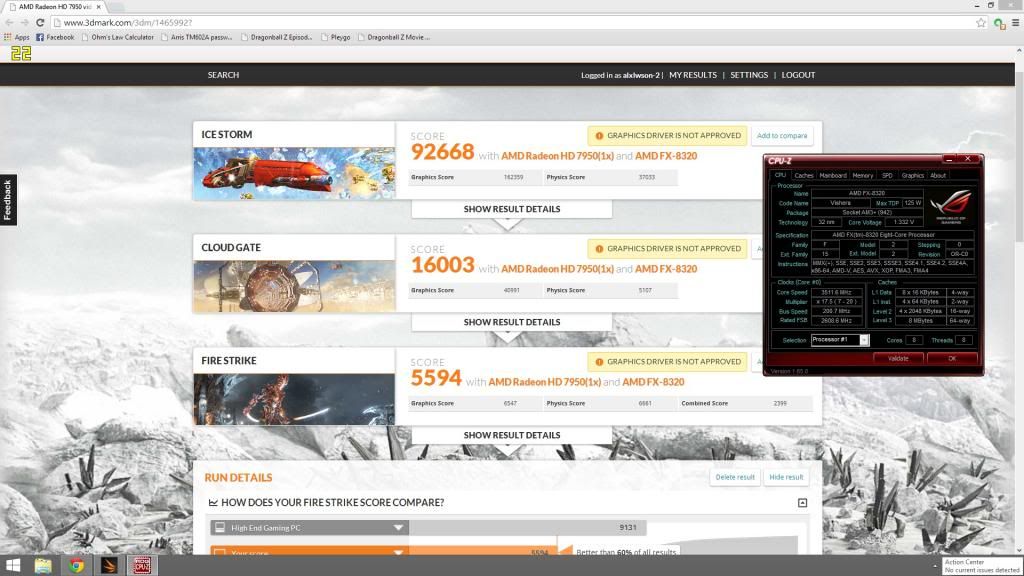 CineBench R15: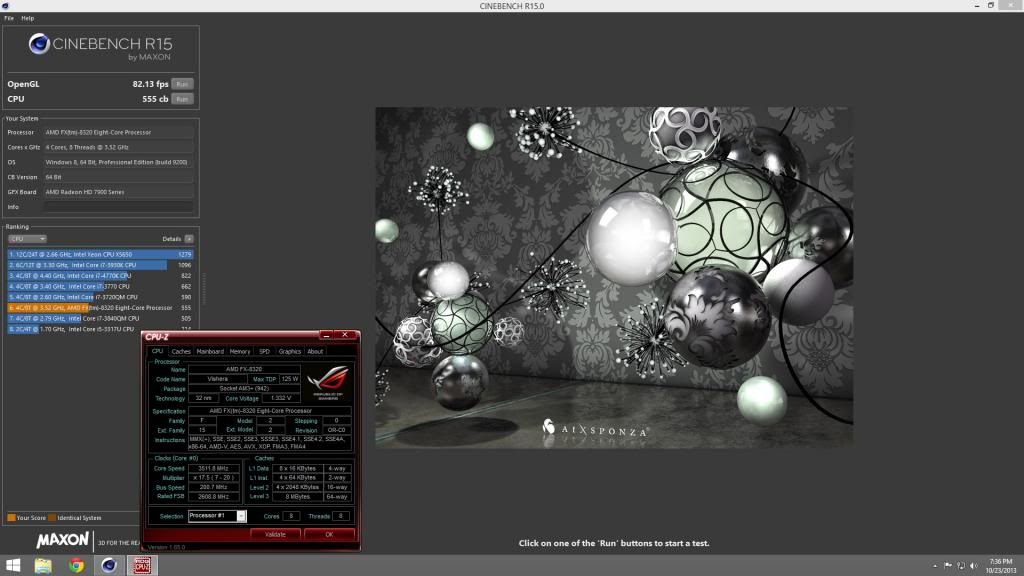 PCMark:
Thanks all,
Bean