Hey guys, I'm currently running the Corsair H100i and getting some pretty poor temps, I can only assume from my 780 Classified pumping heat into the case, so I've decided to go for a full open loop system to hopefully drop both temps substantially.
I'm using a 650D case which I can only fit a 240mm radiator at the top and a 120mm to either the back exhaust or front intake as shown here.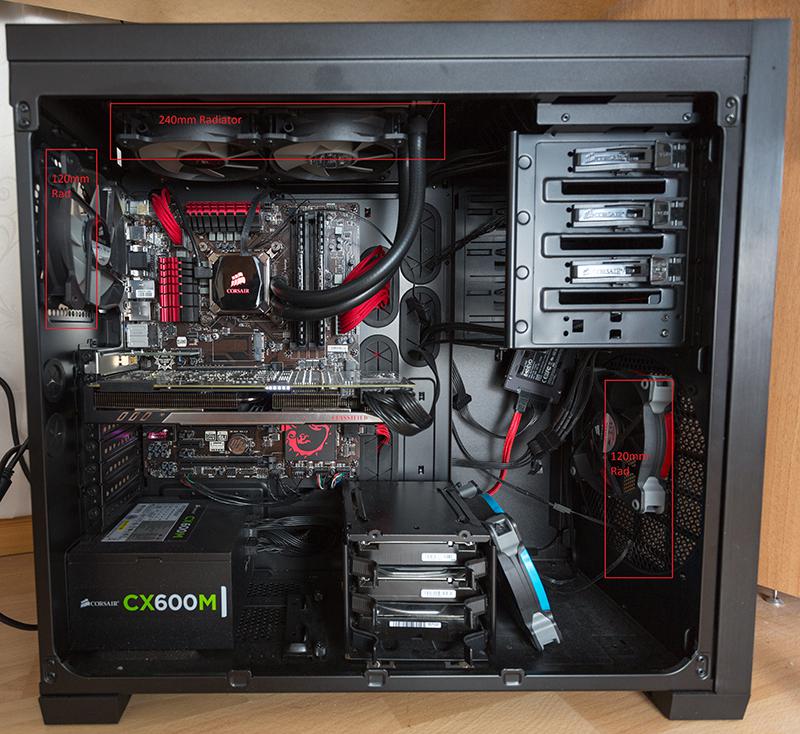 The system I'm thinking of putting together is as follows:
I do have some questions:
- Will the chunky Phobya 120mm rad be enough to help the AX240 cool both the GPU and CPU? My 4770k is currently stock but the Classy is OC'd to 1.3Ghz, it sits around the low 70°C's when under load at about 80% fan speed, will the two rads working together be enough if I OC the 4770k as well? My system is about 2 months old and I've only just got the 650D case however if two 240mm rads are essential to get lower temps I could always look at getting rid of it and getting a bigger case, this isn't the preferred option though!
- I've read that some tubing leaves deposits in the loop, how does Primochill tubing rate? Will it fur up my system or be just fine?
- Is the EK all in one coolant a good solution? I've read distilled water with anti fungi additives can be just as good?
I was going order it and get it shipped (fingers crossed) for next week, but the
XSPC D5 Dual Bay Reservoir/Pump Combo V2
seems to have gone out of stock since I started writing this post!
I suppose this gives me a little bit more time to get some advice and work out if I am missing anything.