So. Just today I got a brand new
PCI XFX 7900GS
in the mail.
I installed it and everything seemed to be going great until I started playing some games.... I notice in GTA San Andreas, the framerate repeatedly stutters, badly, and this is with low graphics settings. I tried playing Far Cry and I noticed that you can't see through the water, even with every setting maxed out. When I use the configuration utility for Far Cry it will say my overall system spec is "very high" however when I hit autodetect on the video section it defaults to all "lows." I get good frame rates in Far Cry (even with all settings max!), but something is not right here...
I have:
-a 530W Fortron PSU. Should be plenty of juice. There is 1 molex connector on the PCI card, and it is indeed connected
-installed the newest version of Direct X
-installed new nVidia drivers (while separately uninstalling the previous ones). the versions I tried are 93.71 (newest on guru3d) and the ones which came included on CD with the card
-checked my mobo bios and confirmed that PCI express is set as the primary graphics interface
factors I am suspicious of:
1. my motherboard... it is AGP and PCI express both. It is a strange model. Perhaps my motherboard is just retarded or something. But it >SHOULD WORK<!
2. The reason I bought a new card is because my
BFG 6800 Ultra OC
(note, AGP card) kept giving me an error message whenever I started windows. It said: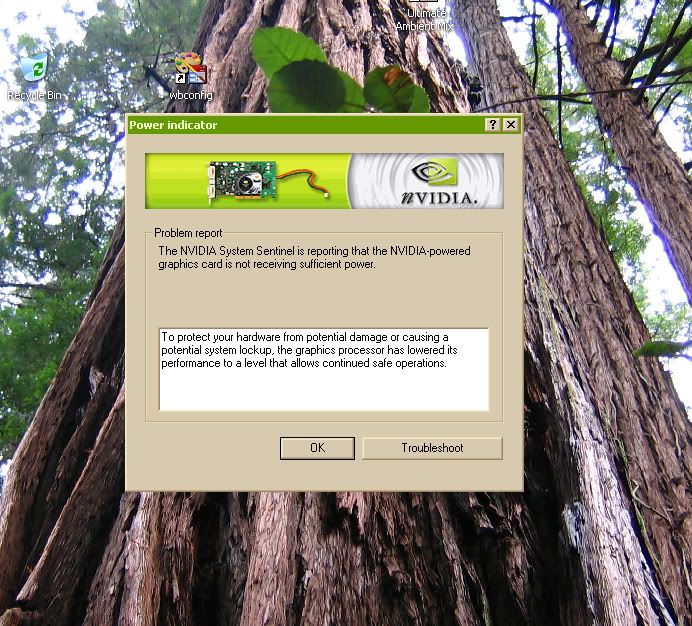 I no longer get this message now that I have the new card. Incidentally I tested the old 6800ultra in a different machine and I got the same message, so I think the card is bad... I'm going to RMA it.
So, does anyone have any ideas why I am not getting the performance I should??? There is no reason why GTA should be all choppy at low resolution, and back when Far Cry used to run great on my old card I remember the water definitely being see though... the 7900GS should be a slight upgrade in performance compared to a 6800 ultra... what is going wrong here?!?!?! Any help is greatly appreciated.
CPU
Motherboard
Graphics
RAM
i5 750 @ 3.5(175x20) & 4.2(175x24) dynamic OC
MSI GD65 P55
MSI HD 5750 1GB
G.SKILL Ripjaw 4GB DDR3 1600
Hard Drive
OS
Monitor
Keyboard
400GB WD SATA + 1.5TB WD SATA external
Win 7 Ultimate
Viewsonic 17" & NEC 19"
Saitek Eclipse II
Power
Case
Mouse
Fortron Source 530W Blue Storm
Antec 300
Microsoft "Laser"
View all
hide details
CPU
Motherboard
Graphics
RAM
i5 750 @ 3.5(175x20) & 4.2(175x24) dynamic OC
MSI GD65 P55
MSI HD 5750 1GB
G.SKILL Ripjaw 4GB DDR3 1600
Hard Drive
OS
Monitor
Keyboard
400GB WD SATA + 1.5TB WD SATA external
Win 7 Ultimate
Viewsonic 17" & NEC 19"
Saitek Eclipse II
Power
Case
Mouse
Fortron Source 530W Blue Storm
Antec 300
Microsoft "Laser"
View all
hide details