Hi,
While checking out the new build I completed a couple days ago, I noticed in cpu-z the ram timings are wrong.
I have this ram F3-12800CL9D-8GBXL:
http://www.gskill.com/en/product/f3-12800cl9d-8gbxl
As per their site it is:
Tested Speed 1600MHz
Tested Latency 9-9-9-24-2N
Tested Voltage 1.50v
cpu-z shows the correct speed dram freq. of around 800mhz, which is 1600mhz, and Channel # is Dual as well.
However, the timing shows 11-11-11-28 1T.
My motherboard is gigabyte z87 ud3h, and I tried xmp 1 profile -> doesn't work. I tried manually setting the sub timing to 9-9-9-24 2 and that doesn't work either...now after a couple hours of researching, I'm at a loss as to what to do.
If anyone can help me figure this issue out, it would be greatly appreciated.
cpu-z screenshot:
[img]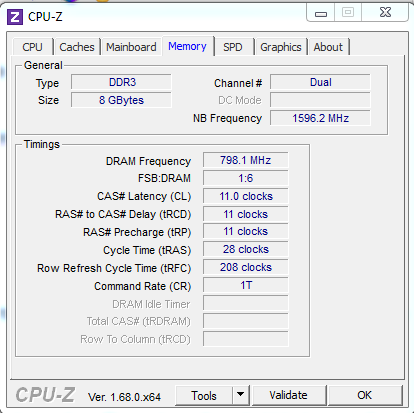 UEFI BIOS screenshot:
[img]