Hey All,
Well I thought I better get round to starting this topic as I'm in the process of upgrading my current pc and making it into a custom desktop enclosure. With the release of Battlefield 4 I've gone with a black and orange concept.
PC specs that I started with:
Mobo
- Asus Gene II rampage *
CPU
- I7 920 2.8ghz (did have it OC to 4ghz but have reset it until i finished the new build) *
MEM
- Ripjawz C9 16gb kit *
HDD/SSD
- Samsung Pro 128gb SSD (OS), Samsung EVO 120gb SSD (games), 2TB Western Digital (storage) & 4TB Western Digital HDD (video recordings) *
GFX
- XFX Radeon HD 6790 **
OPT drive
- LG BLU RAY Writer **
PSU
- Cosair TX850M Semi Modular **
Cooling
(CPU) - Corsair H80 water cooled loop **
OS
- Windows 8.1
All of which where in a Fratal Design - Define XL
Pic of the old comp: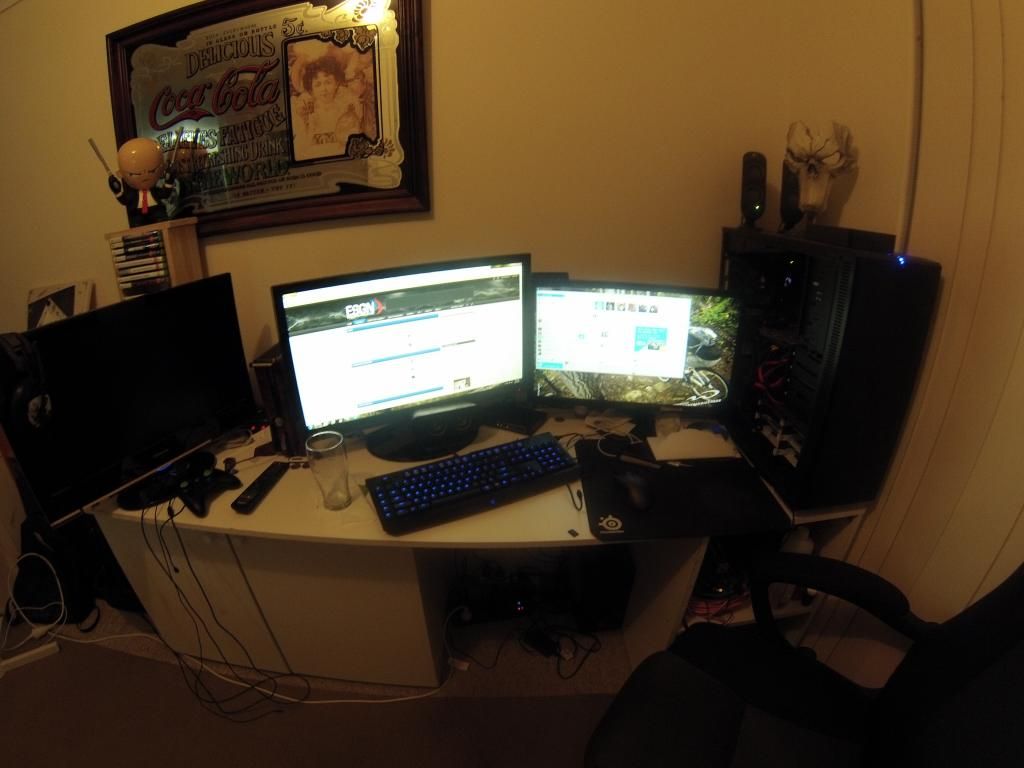 The Items that I've upgrading are:
GFX
- Geforce 770 4GB
Opt Drv
- changing to an external slim blu ray writer
PSU
- Corsair AX860
Cooling
- Full XSPC Raystorm 750 EX360 Water Cooling Kit & 7 NZXT FZ 120mm Orange LED Fan
Lighting
- 4 BitFenix Alchemy Connect 30cm Orange LED Strip
So currently for the build I've got one enclosure sorted & almost ready to go. Under the character on the right side as you look in I'm gonna have one of the orange LED strip attached to the brace and shining out to illuminate the character. I've also got a quote from a CNC company to make the connection panel for the monitor, keyboard and other items & can place an order once its pay week again.
Pics below of the progress.
Concept:
Battlefield character cutout and enclosure:
Water cooing kit, fans & lighting (all ordered form PCCG)
Front panel layout:
Box made up for the PC components with the supervisor making himself home in it:
Initial layout thoughts for the PC:
Enclosure Painted and the start of fitting the rad, fans & pump/res combo:
Preview of how the fans look when running:
The new graphics card for the PC:
The following pics of the install of the gpu waterblock but i originally picked up the wrong model from what has actually been installed:
Starting to put everything into the enclosure:
Bracket painted for the mounting of the monitors:
All in place to get a full overview on how it'll look:
Layouts for the perspex (still to be cut out)
So this is all the progress I've managed to get done so far (well during my 2 week break over christmas and new years) as I'm awaiting for an order to arrive so I custom sleeve the cables from the psu and I'm also needing to order the piece I was getting cnc'd for all the connections from the motherboard but that'll have to wait until more funds are available.