Haemato
-a zak2501 build
I was originally inspired to build a water cooling computer from many designs that incorporated white cases with red blood colored coolant in clear tubing.
Out of all the designs that stood out to me the most. So I wanted my first water cooled build to incorporate that design scheme.
So I decided to turn my existing air cooled computer into a water cooled computer.
Computer part list:
1366 Intel i7 950
X58 Asus Sabertooth
18gb DDR3 3x2gb 3x4gb (3x4gb was bought later as an upgrade)
GTX 670 4gb (buying another one soon)
256gb Vertex 4 SSD - Windows 8.1
1tb & 2tb WD HDD - storage
3tb SG External HDD - more storage
LG Blu-ray Writer
G-Vans 6 x 30w Touch Screen Fan Controller
Corsair AX1200 PSU
I started out with a Corsair 800D back in 2010. I took it apart rivet by rivet and attempted to paint the WHOLE case white. I spent 6 hours spray painting and clear coating in my garage.
In the end it didn't turn out as nice as I wanted it to. Here was the original mock up: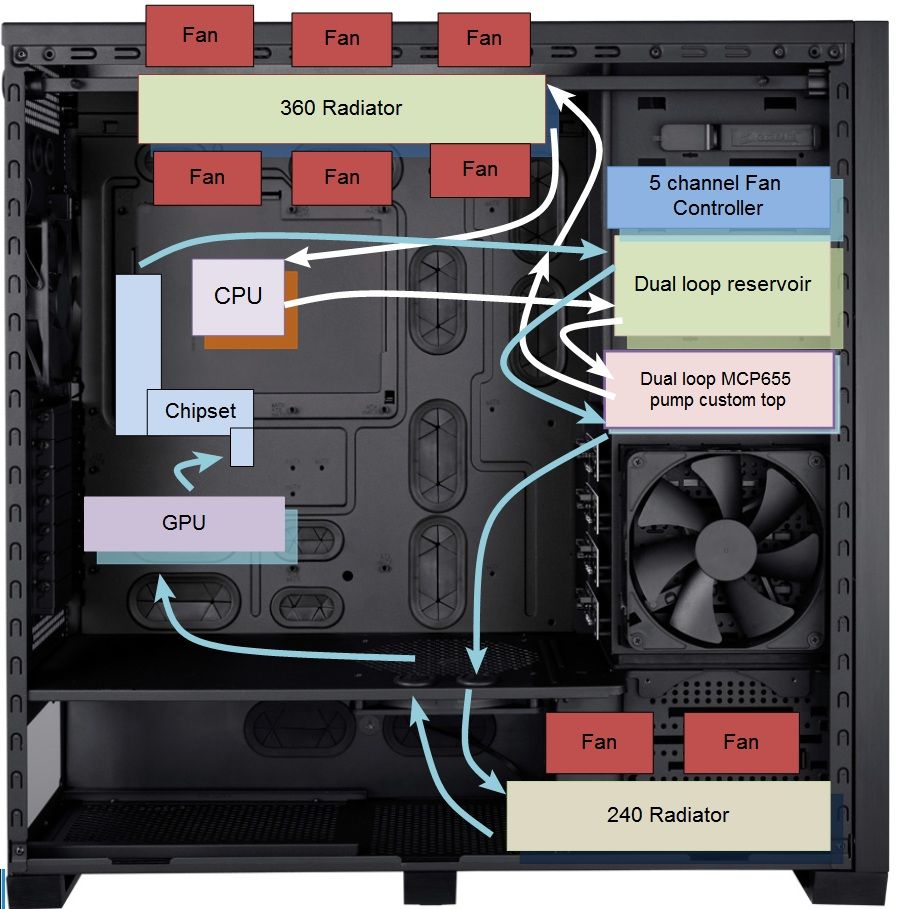 After a year and a half accumulating my water cooling part the perfect water cooling tower came out... the nzxt switch 810. Better customization and I could put a 240 rad at the bottom without modding the case... and it was white!
That was a HUGE plus, I didn't have to subject the case to my horrible painting lol
so I tossed out the 800D and got to work on the Switch 810.
Revised plan:

Water cooling part list:
RX360 & RX480 Radiator's
Gentle typhoon 14 fans in Push/Pull
Switftech Apogee XT CPU Block
Ek-FC680 Nickel Plexi GPU Block
EK-RAM Dominator x6 RAM Block
Koolance RP-452X2 Dual Bay Reservoir
2 x D5 Pumps in serial
Primochill 1/2in 3/4od clear tubing
EK-Ekocoolant Blood Red
Bitspower Compression & angled fittings
At this point I found someone that does custom pedestals for the Switch 810's. I purchased one and waited 4 weeks for it to ship and slapped it together.
(I put some extra box's I had laying around to make this picture look more impressive haha)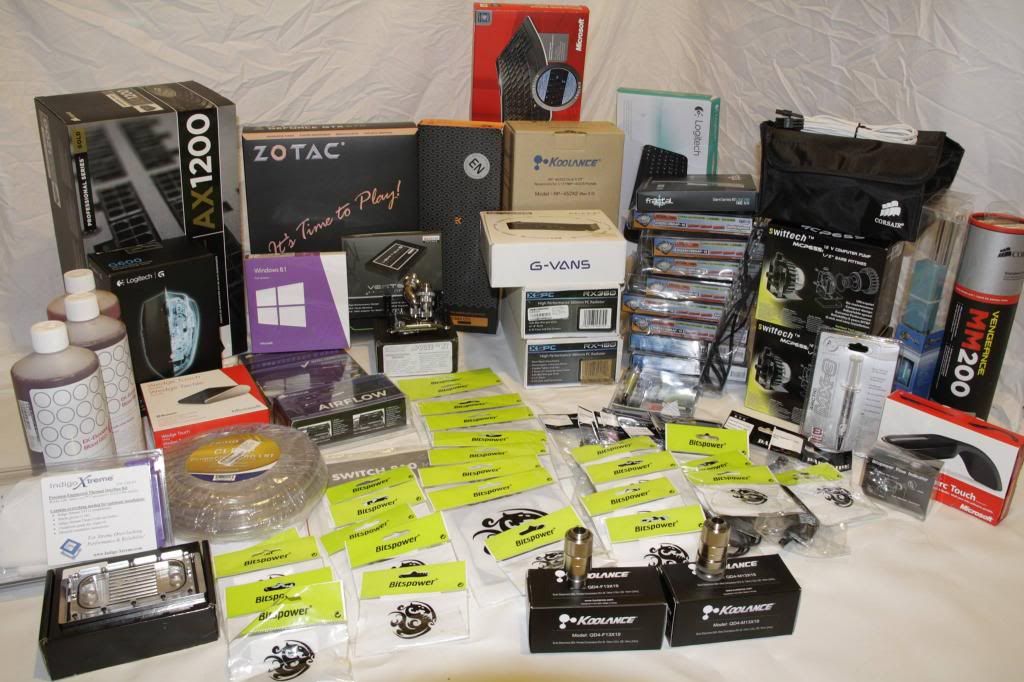 It wasn't till a year has past since I bought the NZXT case I started the actual final build. (It took me that long to save up and get all the parts, but buy now the i7 950 was getting dated, more on that after.)

Drainage and 480 rad in the pedestal:
I ran into problems with my mockup, I didn't have the proper angled fittings to go from the 480 rad straight to the cpu so I put it into the ram block first.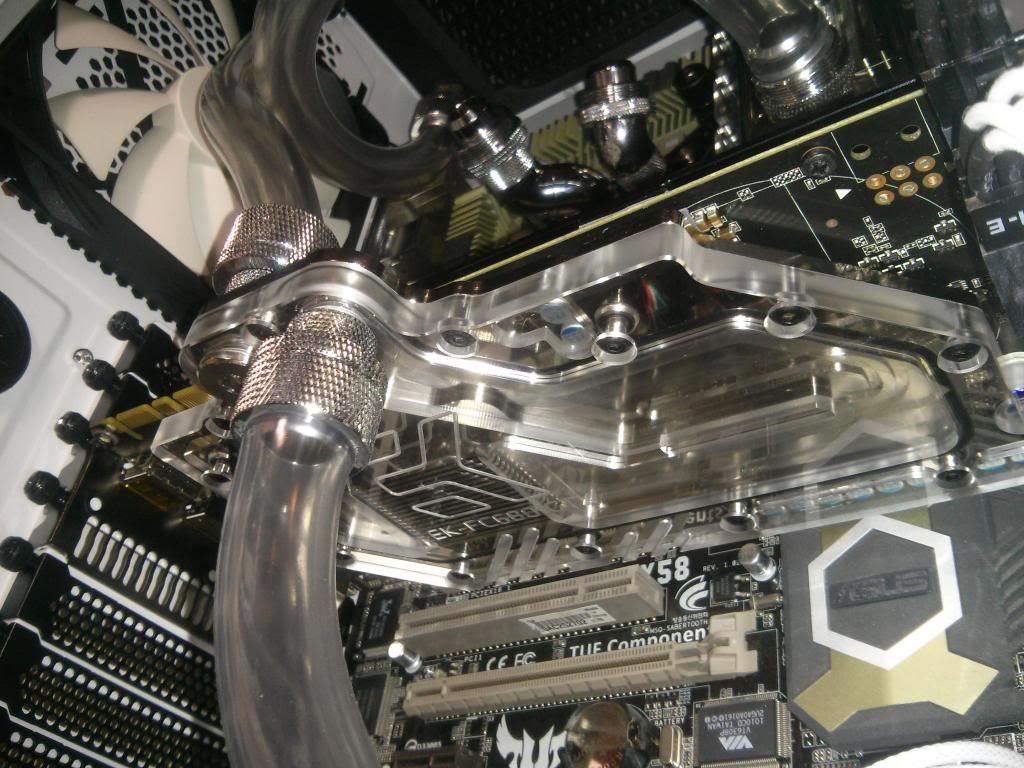 Starting to look bad behind there...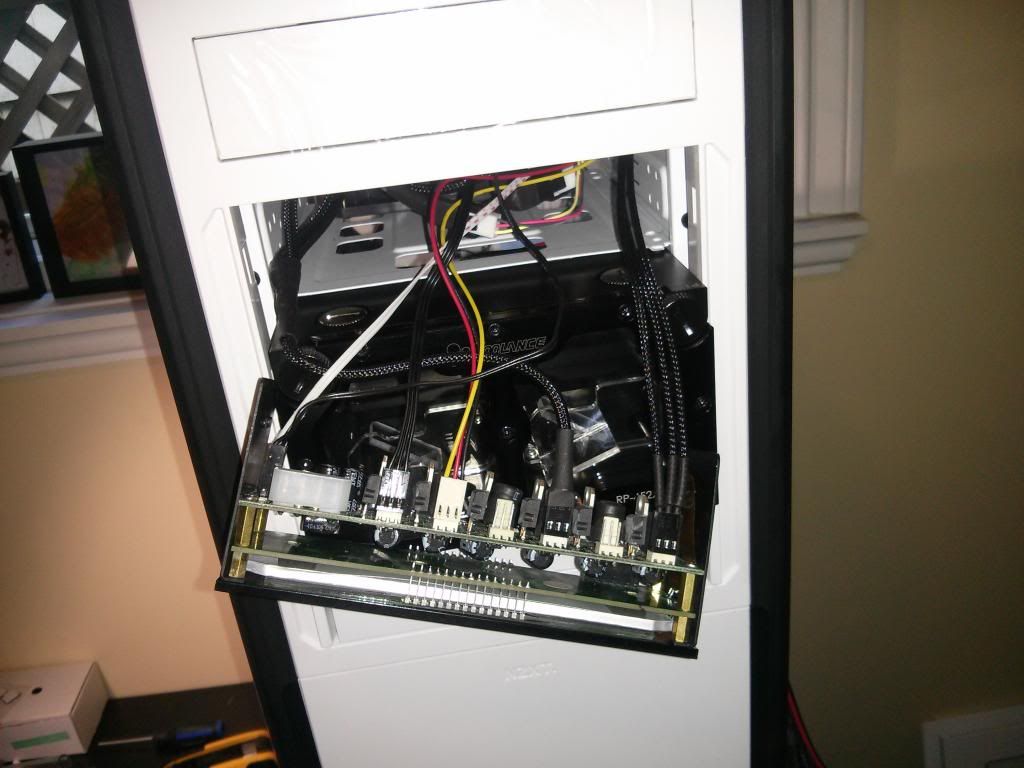 Oh god what a nightmare! I wanted to finish this build in a day so the back of my case still looks like that.
I'm really not that great at cable management.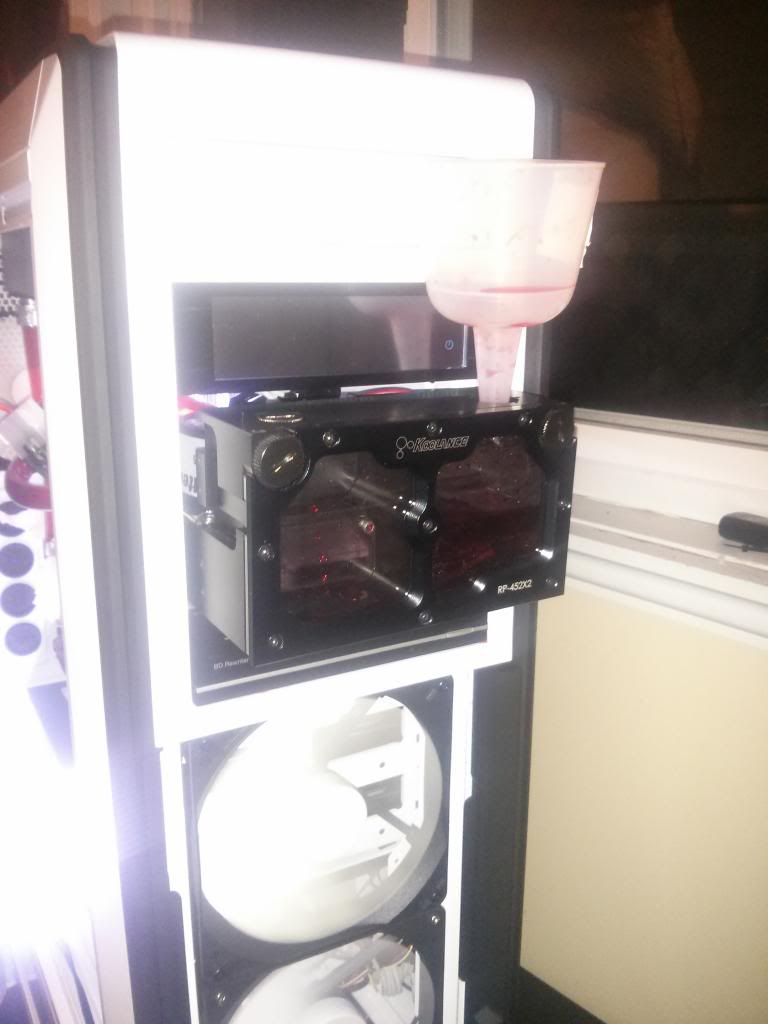 And the my first ever fill begins. I filled the res to the top, jumped the psu and switched it on. The pumps made a roaring loud noise and no fluid was moving, I panicked and shut it off.
After an hour of research I learned that these reservoirs are hard to prime and you must turn and tilt your case every which way. I went ahead and tried to get liquid down the tubes as much
as I can just by tilting the case. After turning the pumps on a few times the liquid finally started to move.
I noticed a fitting was loose on the cpu block, I must of missed it with my clamp. I tightened it, I must of went over board cause the fitting broke right off.
All of the red dye came poring out onto the case and my carpet >.< I quickly grabbed the empty liquid container and emptied the liquid. After a bit of damage control everything was fine but I had to buy another fitting.
Leak test: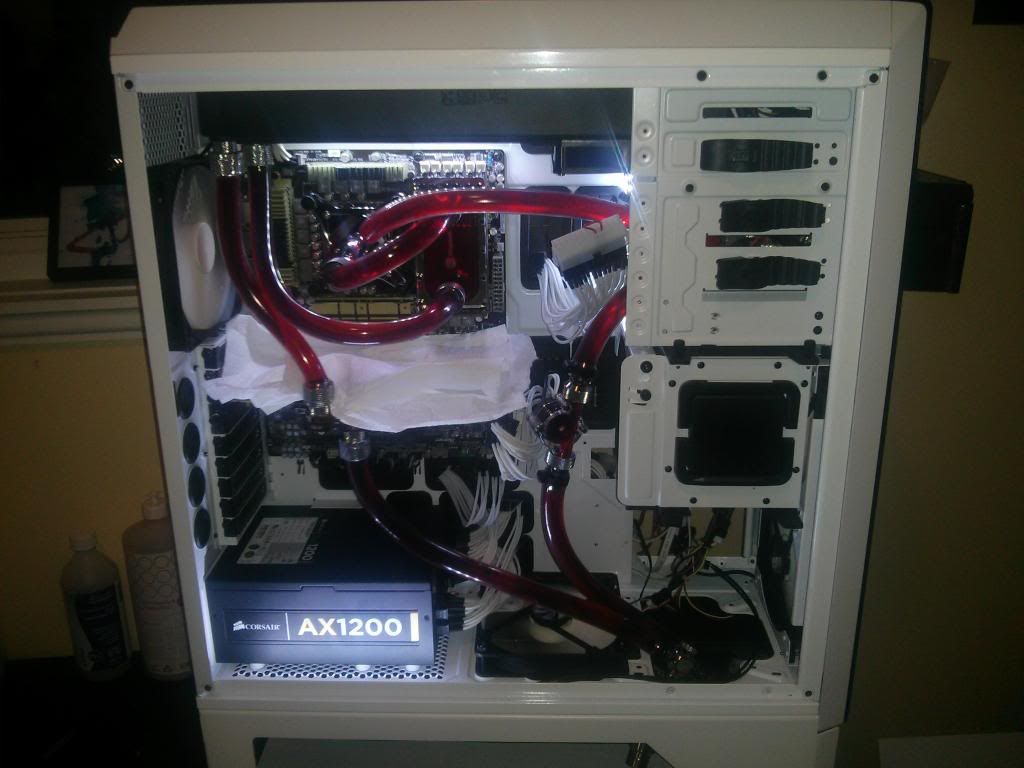 I then added the rest of the gentle typhoon fans to the radiators after I had enough money to buy the rest. They jumped $10 dollars in price since when I first bought the first 7.
They gained alot of popularity with water cooled radiators.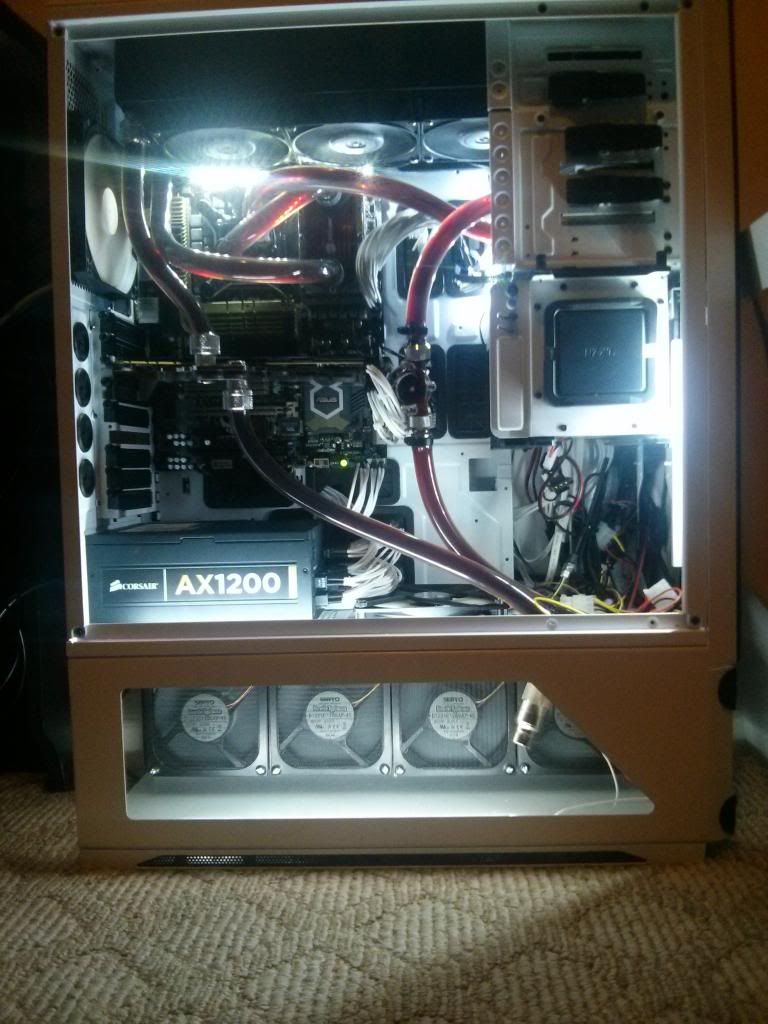 "Can I play?"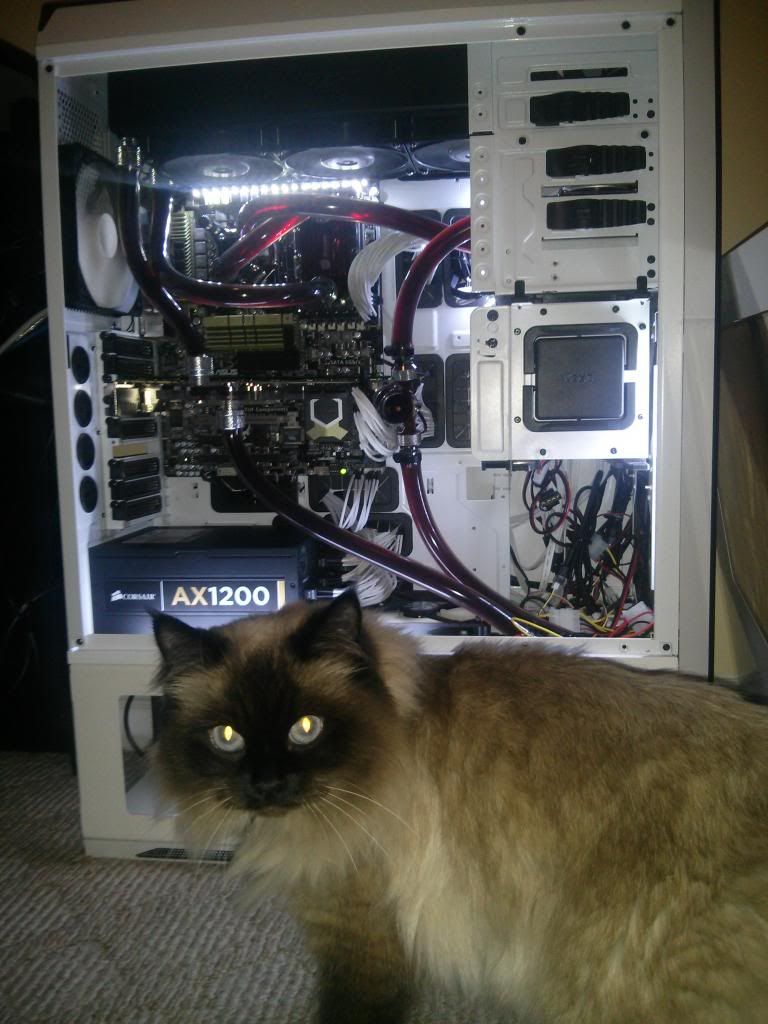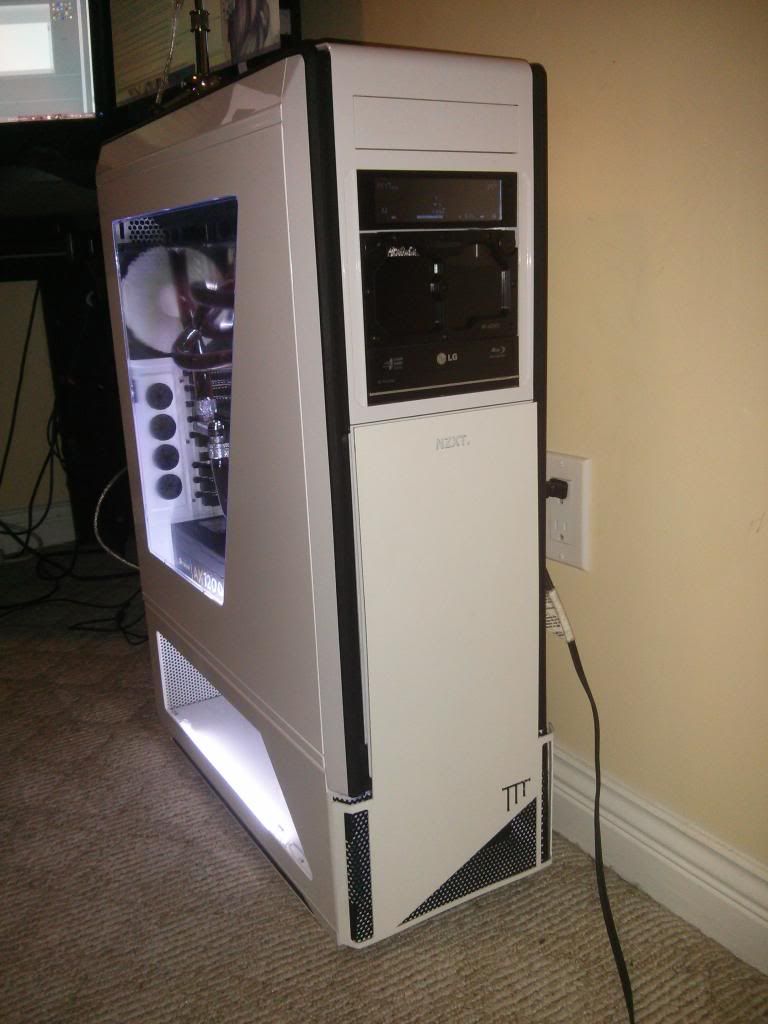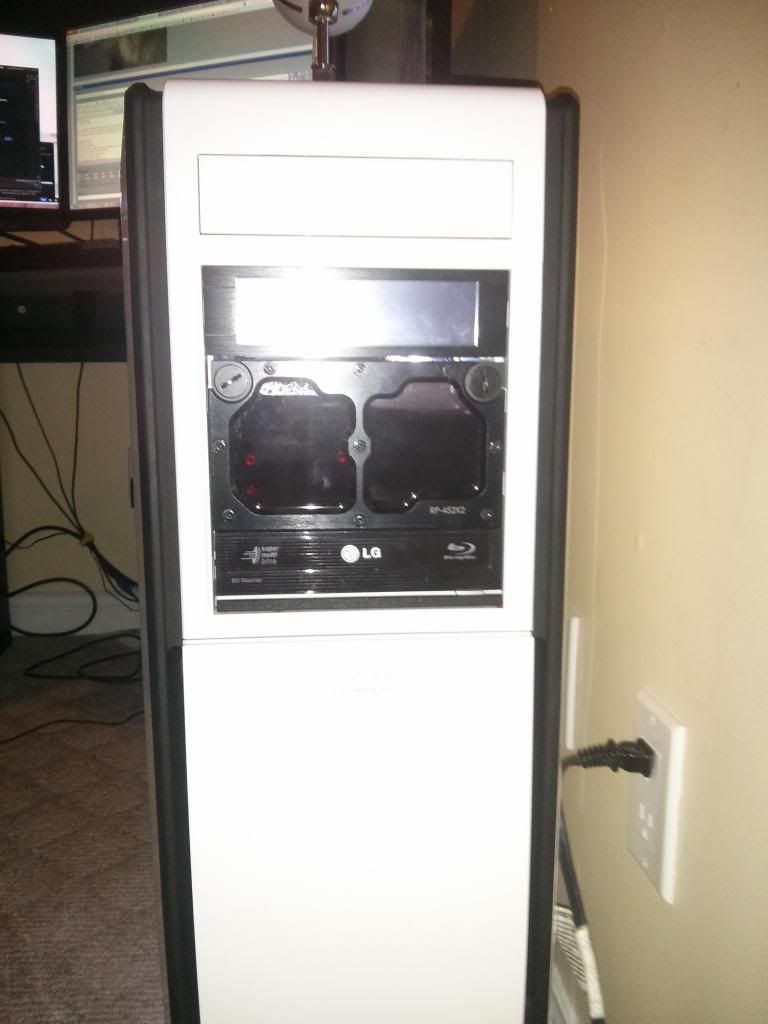 Stay tuned. I am switching out my mobo and cpu for
MSI Z87-GD65 Gaming motherboard -Own
Intel i7 4770k CPU -Own
2x8gb DDR3 RAM -Own
A 2nd GTX 670 with waterblock -On order
Bitspower 4DIMM Universal Ram Block -On order
Koolance 380I CPU Block -On order
I am then using the i7 950 as a streaming PC for twitch.tv
here are the parts: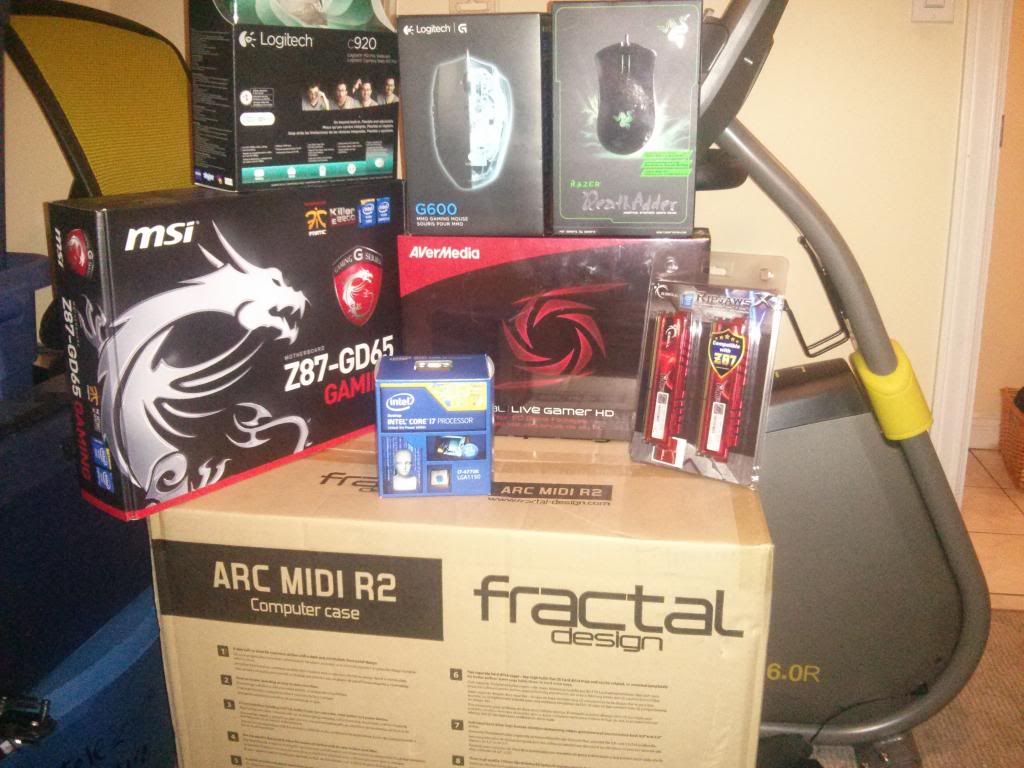 (again I threw some extra boxes in there for dramatic effect ;D )
Thanks for your time let me know what you guys think of my first water cooled build.
Edited by zak2501 - 1/12/14 at 5:52pm