Edit
: Wow, I should probably resort to google first
. I ran the following lines in terminal that seemed to fix it...
sudo killall apt-get
sudo dpkg --configure -a
Although I'm not 100% sure how that fixed it since after running the first line it came back saying nothing was running the first place (if I interpreted it correctly). Then after running the second line I was prompted with a Y/N script in which I just exited out of terminal unsure of what to do.
Warning: Spoiler!
(Click to show)
Okay so I'm pretty new to Linux but I'm starting to try and use it as much as I can to gain familiarity with it.
I am on the latest version of Linux Mint and trying to install Dropbox. I have downloaded and tried to install both the Ubuntu and Debian versions (I believe that is what Mint is based on) with no avail.
This is what pops up when trying to install it with the GUI application....
As far as I know none of this is running but I have yet to figure out how to see current task running so I guess I'm not sure.
When I follow the terminal command to manually install it, this is what I see...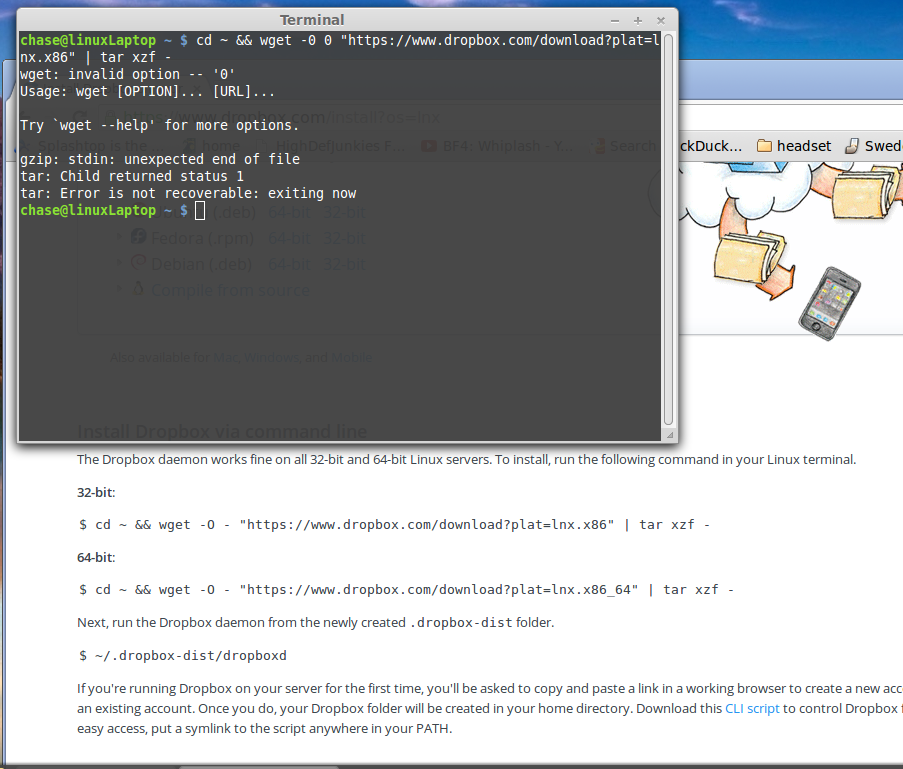 I know it's obviously caused because of my lack of knowledge on the OS. Can someone please point me to my flaw?
Edited by Outlawed - 1/14/14 at 11:28am