Hey guys! Finally got some more parts and got rolling so I figured I'd do a log. Haven't come up with an appropriate name yet unfortunately. Anyways here's the specs/what I have/what I'm planning to get...
Case-Antec Lanboy Air
Motherboard- ASUS Sabertooth X87
PSU- Seasonic Platinum 1000w
CPU- i7 4770k
Memory- 2x4gb Corsair Dominator GT 1866 (planning to add another kit)
Optical- ASUS DVD burner
And the other parts I'm planning on..
SSD- Samsung 840 Pro 256GB
HDD- WD Black 1TB
GPU- EVGA GTX770 4GB Classified HydroCopper
I have most of the parts for the watercooling loop, just need a pump, second rad, couple more fittings and fluid. I have..
CPU block- EKWB Supreme HF
Rad- EKWB Colstream 120
Tubing- Feser UV orange
All fittings are Bitspower Matte black
Planning to get the MCP655 Vario with the Bitspower top and body. Thinking about throwing the EK block on the ram and sticking it in the loop.
Aaaaaand some pics!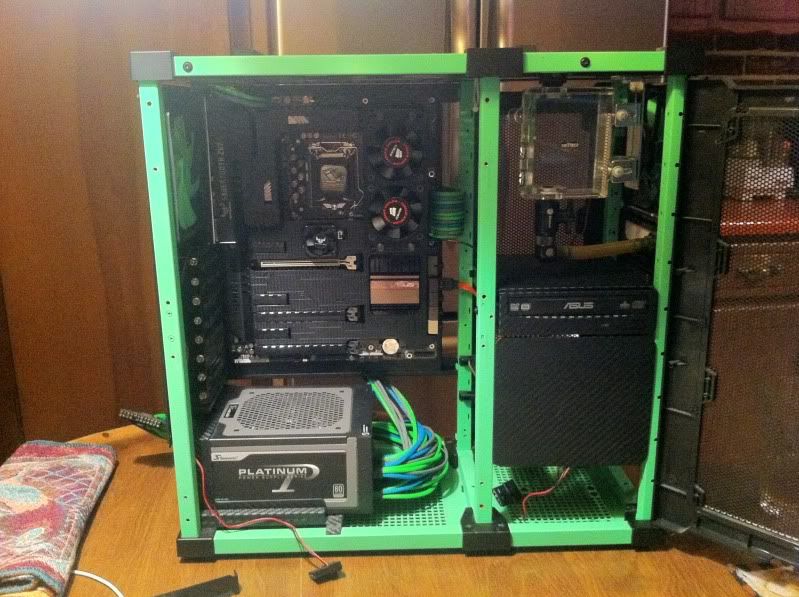 Edited by Jordan531 - 2/10/14 at 4:26pm