This Classified is Closed
For Sale:
16gb Kingston 1866mhz Ram - Still available - Price Lowered
Will Ship To: US50, US48

Up For sale is some parts from an m18x I parted out. Everything works properly, just parted the rig because I needed cash:
Two 2x4gb Kingston 1866mhz XMP3 SO-DIMM kits - X7C75G-1310 pulled from an m18x $65 8gb per kit or $120 for all 16gb shipped Or Best Offer!
Intel i7 3840qm - Turboclocks to 3.4ghz, really fast CPU, next step is the XM line of CPUs. - $350 shipped - SOLD to Lemans81
Thanks for looking.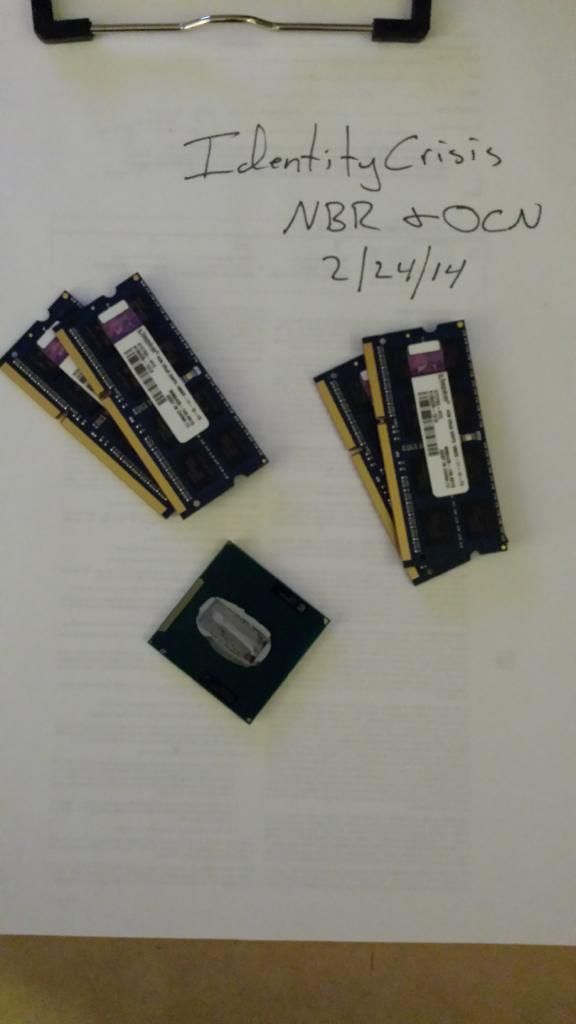 Edited by identitycrisis - 3/17/14 at 6:35am
CPU
Graphics
RAM
Hard Drive
Intel 3630QM
GTX 680m SLi
16gb ddr3 1866mhz
256gb Samsung SSD
Hard Drive
Hard Drive
Optical Drive
Cooling
256gb Samsung SSD
750gb WD Black
DVD/RW/BluRay
notepal U3
OS
Monitor
Power
Case
Windows 7 Ultimate 64 bit
18.4" 1080p
330watt power Brick
Alienware M18x-R2 Chassis Black
Mouse
Logitech G500
View all
CPU
Motherboard
Graphics
RAM
i&-2720QM
HP GM67
Quadro 1000M
Generic
Hard Drive
Optical Drive
Cooling
OS
7200RPM
CD/DVD-RW
Stock
Win 7 Professional X64
Monitor
Case
15.6" 1920x1080 & 22" Dell External 1680x1050
HP Elitebook
View all
hide details
CPU
Graphics
RAM
Hard Drive
Intel 3630QM
GTX 680m SLi
16gb ddr3 1866mhz
256gb Samsung SSD
Hard Drive
Hard Drive
Optical Drive
Cooling
256gb Samsung SSD
750gb WD Black
DVD/RW/BluRay
notepal U3
OS
Monitor
Power
Case
Windows 7 Ultimate 64 bit
18.4" 1080p
330watt power Brick
Alienware M18x-R2 Chassis Black
Mouse
Logitech G500
View all
CPU
Motherboard
Graphics
RAM
i&-2720QM
HP GM67
Quadro 1000M
Generic
Hard Drive
Optical Drive
Cooling
OS
7200RPM
CD/DVD-RW
Stock
Win 7 Professional X64
Monitor
Case
15.6" 1920x1080 & 22" Dell External 1680x1050
HP Elitebook
View all
hide details