Quote:
Originally Posted by
Ian Cutress @ AnandTech
Intel's roadmap goes through all the power and market segments, from ultra-low-power, smartphones, tablets, notebooks, desktops, mainstream desktops, enthusiast desktops and enterprise. Enterprise differs from the rest of the market, requiring absolute stability, uptime and support should anything go wrong. High-end enterprise CPUs are therefore expensive, and because buyers are willing to pay top dollar for the best, Intel can push core counts, frequency and thus price much higher than in the consumer space. Today we look at two CPUs from this segment – the twelve core Xeon E5-2697 v2 and the eight core Xeon E5-2687W v2.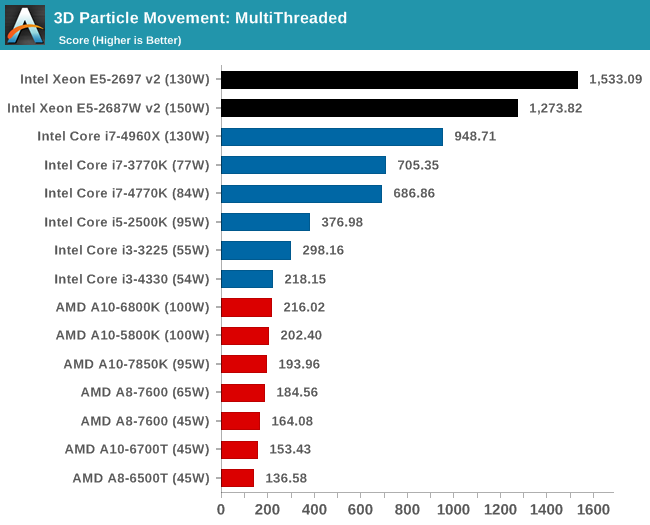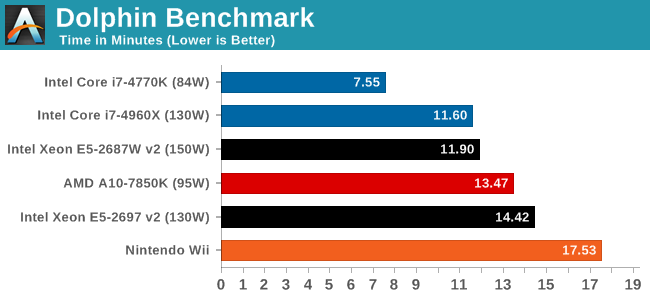 →
Source
In case you're wondering, I chose those two benchmarks because they showed the best and the worst performance reletive to Haswell.
(and in no way was it because I was the person in question that emailed Ian about the Dolphin benchmark, that'd be crazy talk)
CPU
Motherboard
Graphics
RAM
Core 2 Duo (Penryn) T8300 @ 2.4GHz
Dell Studio 1535
Intel 965GMA
2GB 667MHz Samsung DDR2
RAM
Hard Drive
OS
Monitor
1GB 667MHz Samsung DDR2
60GB Corsair Force 3 SSD
Windows 7 64bit SP1
Toshiba 39L1350U HDTV
Keyboard
Power
Mouse
Mouse Pad
Some USB wireless Logitech keyboard
Rocketfish universial power adapter (my cousin's)
Some USB wireless Logitech mouse
couch
Audio
Audio
HDMI audio-out to HDTV
HDTV optical-out to Denon AVR-200 reciever
View all
CPU
Motherboard
Graphics
RAM
Pentium 3 @ 667MHz
Some Intel mobo
ATI Rage 128 AGP 32MB
2x256MB DDR1
Hard Drive
Hard Drive
Hard Drive
Hard Drive
1GB Sandisk CF card - boot drive
Western Digital Caviar SE - 320GB IDE
Maxtor - 200GB IDE
RamDisk - adaptive 64MB viotle scratch
Cooling
OS
Monitor
Power
Athlon XP 2000+ Palomino stock heatsink w/ copp...
Windows 2000 Pro SP4
None - VNC is used instead
Bestec ATX-250-12Z
Case
Other
Other
Some super-basic beige case
Intel PCI ethernet card
Linksys PCI ethernet card
View all
hide details
CPU
Motherboard
Graphics
RAM
Core 2 Duo (Penryn) T8300 @ 2.4GHz
Dell Studio 1535
Intel 965GMA
2GB 667MHz Samsung DDR2
RAM
Hard Drive
OS
Monitor
1GB 667MHz Samsung DDR2
60GB Corsair Force 3 SSD
Windows 7 64bit SP1
Toshiba 39L1350U HDTV
Keyboard
Power
Mouse
Mouse Pad
Some USB wireless Logitech keyboard
Rocketfish universial power adapter (my cousin's)
Some USB wireless Logitech mouse
couch
Audio
Audio
HDMI audio-out to HDTV
HDTV optical-out to Denon AVR-200 reciever
View all
CPU
Motherboard
Graphics
RAM
Pentium 3 @ 667MHz
Some Intel mobo
ATI Rage 128 AGP 32MB
2x256MB DDR1
Hard Drive
Hard Drive
Hard Drive
Hard Drive
1GB Sandisk CF card - boot drive
Western Digital Caviar SE - 320GB IDE
Maxtor - 200GB IDE
RamDisk - adaptive 64MB viotle scratch
Cooling
OS
Monitor
Power
Athlon XP 2000+ Palomino stock heatsink w/ copp...
Windows 2000 Pro SP4
None - VNC is used instead
Bestec ATX-250-12Z
Case
Other
Other
Some super-basic beige case
Intel PCI ethernet card
Linksys PCI ethernet card
View all
hide details