Live Stream Saturday October 25th at 2:00 PM EDT of BWG Getting Dolled Up: http://www.twitch.tv/ocnbwg
By the powers vested in me, I hereby present:

----> SIGN UP HERE <----

You only need to sign up 1 time. You'll always be in each event if you fold after signing up.
Points goal 1 from October Foldathon (BWG gets all dolled up):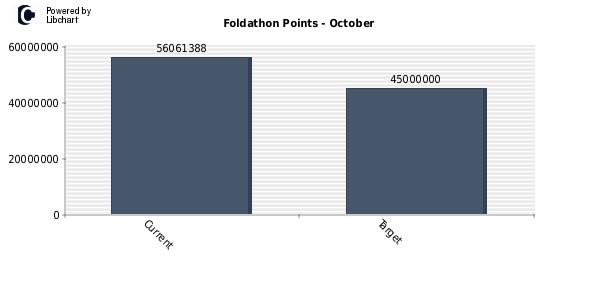 Points goal 2 from October Foldathon (Extra cash prizes):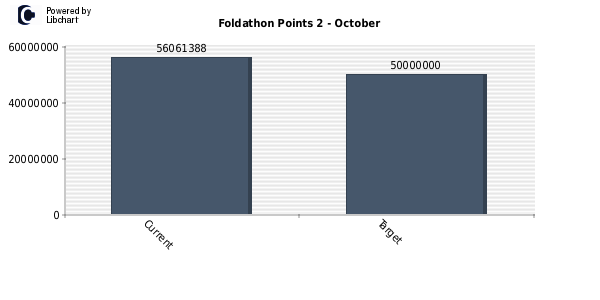 # Folders from October Foldathon: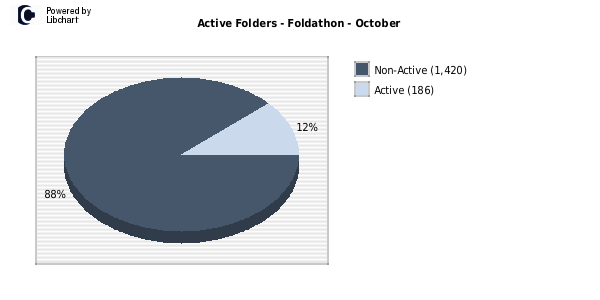 What is the Foldathon?

Every month we hold a Foldathon, or FAT for short. The FAT is a mad dash over a 2 day period where we fold on as much hardware as we can get a grubby fingers on and try to amass the most points possible. It is winner takes all. Okay, that's not true, but if you're lucky you might win something, probably not, but you will have made a honourable contribution to the science behind Folding@Home. What is that science you're probably asking, have a gander over here to learn more. All units crunched for team 37726 count, even if you can only manage to complete one unit, but if you're already a folder, there's no excuse for not folding for the full 48 hours 




How it works:

Sign-up and run Folding@home for Overclock.net (team number: 37726) during the specified times. Those who Fold will be entered into a drawing to win the prizes listed below. If you still don't know what Folding@home is or need some help getting started, feel free to post here, make a thread in the Overclock.net Folding@Home Team forum or check this guide: FAHControl v7 for both CPU and GPU
SIGN UP HERE - If you have ever signed up for a FAT before today, then you are already signed up.
Even if you go away for a couple months, you'll still be signed up. You can also verify whether or not you're signed up by looking for your name here in the member list.
When:
Monday October 20th  - Wednesday October 22nd - starting and ending at 12:00 EDT / 16:00 UTC
Countdown to end


Reminders:

If you would like to be put on a reminder list for all future Foldathons, please join this group: Foldathon Participants

Prizes

OCN Donated:
3x $25 PayPal - Deathclaw, lacrossewacker, Sethy666
2x Overclocked Accounts - CaLPaR,  Michael_Lee
Member Donations:
Small Tech Station
(Click to show)

Have something to donate, PM @BWG, @hertz9753, and @dman811
Prizes will be drawn at 8PM EDT the day the event ends, Wednesday 22nd

Stats:

http://folding.axihub.ca/foldathon.php

http://folding.axihub.ca/foldathonteam.php
Historical Point Totals (for 2014)
(Click to show)
Points from January Foldathon: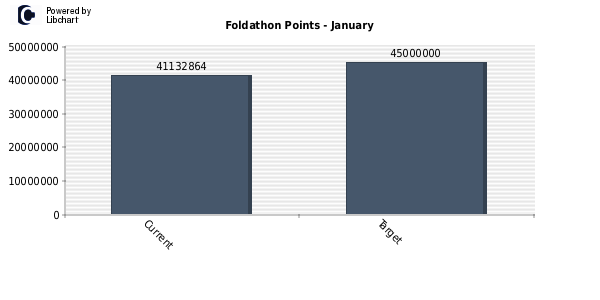 # Folders from January Foldathon: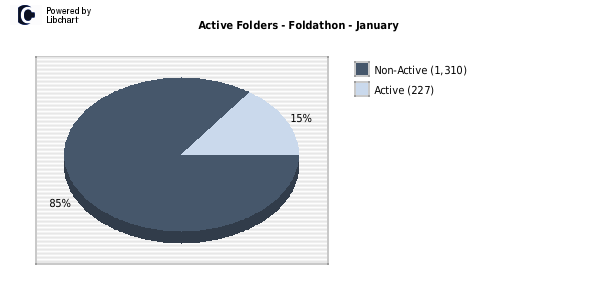 Points from February Foldathon: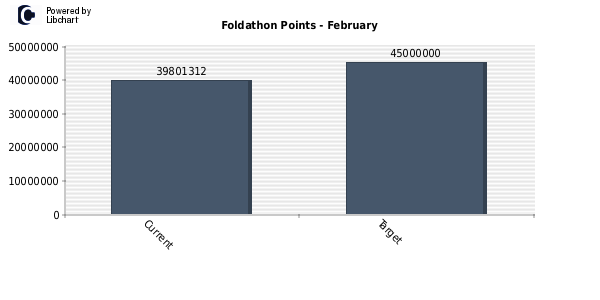 # Folders from February Foldathon: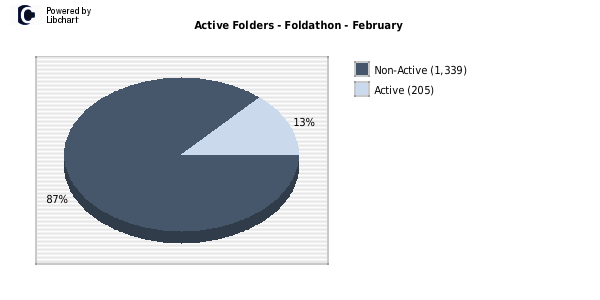 Points from March Foldathon: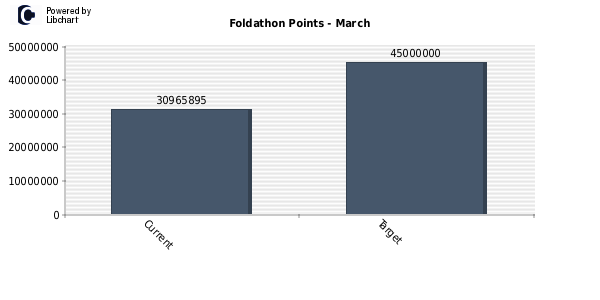 # Folders from March Foldathon: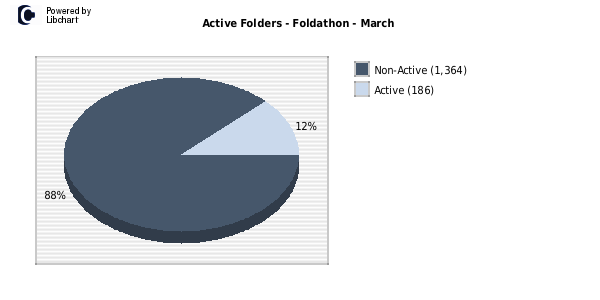 Points from April Foldathon:
# Folders from April Foldathon:
Points from May Foldathon: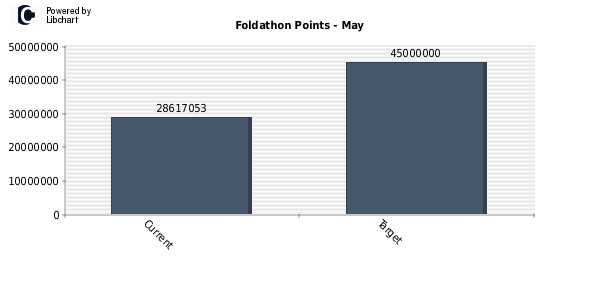 # Folders from May Foldathon: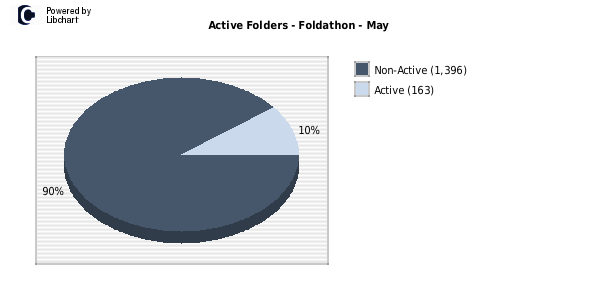 Points from June Foldathon: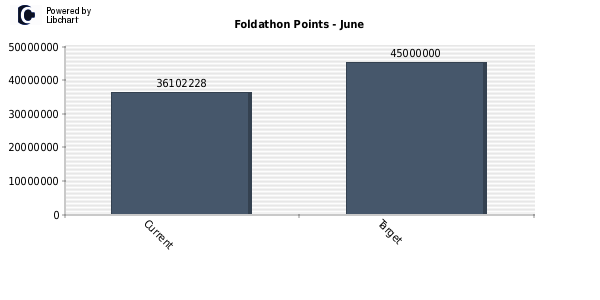 # Folders from June Foldathon: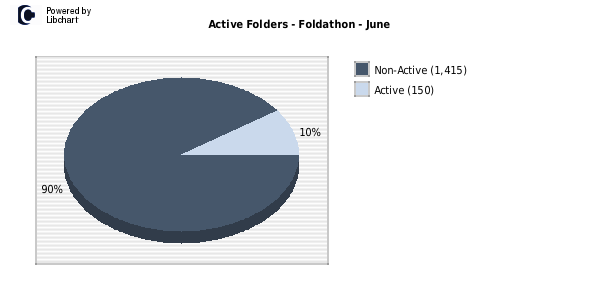 Points from July Foldathon: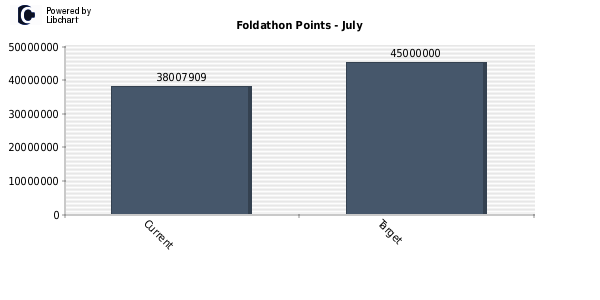 # Folders from July Foldathon: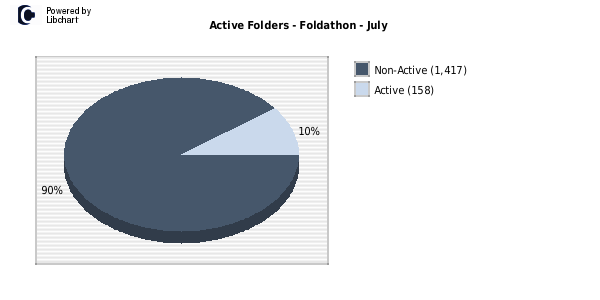 Points from August Foldathon: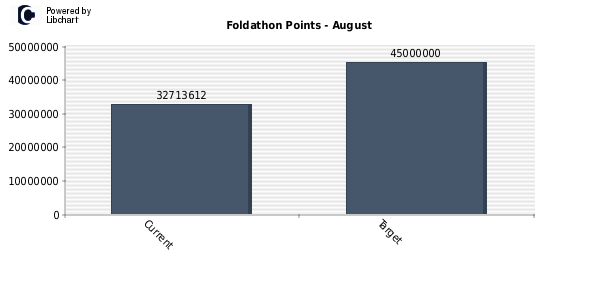 # Folders from August Foldathon: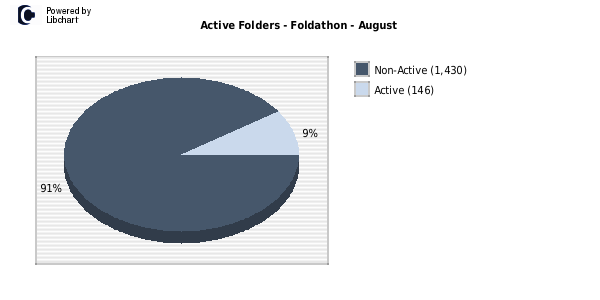 Points from September Foldathon: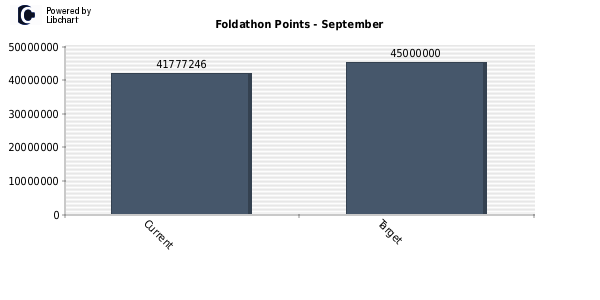 # Folders from September Foldathon: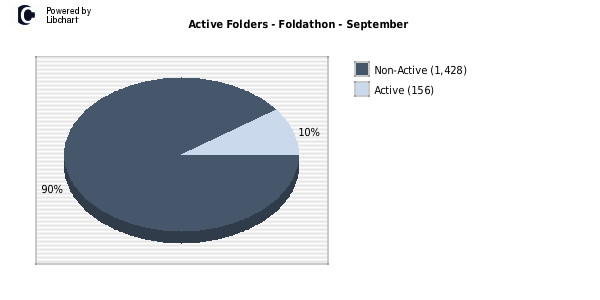 | Foldathon Rank | F@H User | OCN User | Desc. | Start | Finish | Total ↓ |
| --- | --- | --- | --- | --- | --- | --- |
| 1 | ZDngrfld | ZDngrfld |   | 206956904 | 210248636 | 3291732 |
| 2 | Chooofoojoo | Chooofoojoo |   | 301608140 | 303882380 | 2274240 |
| 3 | joeh4384 | joeh4384 |   | 3410853 | 5516733 | 2105880 |
| 4 | lanofsong | lanofsong |   | 86212521 | 88230993 | 2018472 |
| 5 | LarsL | LarsL |   | 190737840 | 192646549 | 1908709 |
| 6 | Klue22 | Klue22 |   | 386873875 | 388728930 | 1855055 |
| 7 | Emoga | emoga |   | 5015168 | 6566552 | 1551384 |
| 8 | BOB850123 | BOB850123 |   | 52076463 | 53611597 | 1535134 |
| 9 | Rockhopper | msgclb |   | 260923702 | 262359900 | 1436198 |
| 10 | valvehead | valvehead |   | 120987984 | 122357992 | 1370008 |
| 11 | notyettoday | notyettoday |   | 152263119 | 153485382 | 1222263 |
| 12 | nagle3092 | nagle3092 |   | 12570285 | 13668959 | 1098674 |
| 13 | DreadManD | DreadManD |   | 1640990 | 2636605 | 995615 |
| 14 | snoball | snoball |   | 174277 | 1137922 | 963645 |
| 15 | Wolfsbora | Wolfsbora |   | 6938759 | 7897673 | 958914 |
| 16 | ledzepp3 | ledzepp3 |   | 48536183 | 49407313 | 871130 |
| 17 | thrgk | thrgk |   | 4105031 | 4972234 | 867203 |
| 18 | ALUCARDVPR | ALUCARDVPR |   | 113268982 | 114010822 | 741840 |
| 19 | Sethy666 | Sethy666 |   | 22689940 | 23430916 | 740976 |
| 20 | Maximus7651000 | maximus7651000 |   | 74539960 | 75279301 | 739341 |
| 21 | JayKthnx | JayKthnx |   | 97302061 | 98037974 | 735913 |
| 22 | hertz9753 | hertz9753 |   | 175584995 | 176318799 | 733804 |
| 23 | gboeds | gboeds |   | 181589127 | 182252337 | 663210 |
| 24 | Kitler | Kitler |   | 97877038 | 98495875 | 618837 |
| 25 | WiSK | WiSK |   | 62155228 | 62772351 | 617123 |
| 26 | k4m1k4z3 | k4m1k4z3 |   | 122647344 | 123253486 | 606142 |
| 27 | RushiMP | RushiMP |   | 167732207 | 168331580 | 599373 |
| 28 | GriMDrakK | GrimDrakK |   | 1706289 | 2299033 | 592744 |
| 29 | navynuke499 | navynuke499 |   | 56807305 | 57398167 | 590862 |
| 30 | SU11YBEAR | SU11YBEAR |   | 204910 | 770403 | 565493 |
| 31 | alt.sanity | altsanity |   | 42825025 | 43379518 | 554493 |
| 32 | Lemondrips | Lemondrips |   | 4832949 | 5364758 | 531809 |
| 33 | PaperClip | nbrock |   | 36689510 | 37219720 | 530210 |
| 34 | PigeonBAG | kyle659 |   | 3218697 | 3727823 | 509126 |
| 35 | stickg1 | stickg1 |   | 50711039 | 51195326 | 484287 |
| 36 | xenomorph113 | xenomorph113 |   | 3721922 | 4191778 | 469856 |
| 37 | nighttraitor | nighttraitor |   | 9179124 | 9644635 | 465511 |
| 38 | mica3speedy | mica3speedy |   | 11438158 | 11902881 | 464723 |
| 39 | WhiteWulfe | WhiteWulfe |   | 13247634 | 13710901 | 463267 |
| 40 | Erick_Silver | Erick |   | 47580703 | 48035812 | 455109 |
| 41 | QuietGamer | QuietGamer |   | 60170604 | 60623971 | 453367 |
| 42 | Brab | joker927 |   | 99905612 | 100357637 | 452025 |
| 43 | PantherAl | Panther Al |   | 57194919 | 57613825 | 418906 |
| 44 | Danbeme32 | Danbeme32 |   | 20341087 | 20758346 | 417259 |
| 45 | Edibrac | Edibrac |   | 24022320 | 24428262 | 405942 |
| 46 | staccker | staccker |   | 7930295 | 8326725 | 396430 |
| 47 | DarkSkyline16 | PimpSkyline |   | 42151198 | 42546421 | 395223 |
| 48 | McPaste | McPaste |   | 11833237 | 12214067 | 380830 |
| 49 | Wheezo | Wheezo |   | 24386658 | 24742729 | 356071 |
| 50 | $ilent | $ilent |   | 38051791 | 38404931 | 353140 |
| 51 | superericla | superericla |   | 33406684 | 33731469 | 324785 |
| 52 | Kevdog | Kevdog |   | 83709230 | 84023948 | 314718 |
| 53 | mossberg385t | mossberg385t |   | 120155 | 428448 | 308293 |
| 54 | PR-Imagery | PR-Imagery |   | 25886227 | 26178141 | 291914 |
| 55 | Duality92 | Duality92 |   | 2852259 | 3143699 | 291440 |
| 56 | shelter_ocn | shelter |   | 71016032 | 71302517 | 286485 |
| 57 | Yey09 | yey09 |   | 2043657 | 2326655 | 282998 |
| 58 | BWG | BWG |   | 28673810 | 28944418 | 270608 |
| 59 | DAI_JAZZER | DAI_JAZZER |   | 402831 | 672316 | 269485 |
| 60 | Genesis1984 | Genesis1984 |   | 7735568 | 8001163 | 265595 |
| 61 | epidemic-08 | epidemic |   | 16017443 | 16276542 | 259099 |
| 62 | Nomadskid | Nomadskid |   | 681405 | 939960 | 258555 |
| 63 | [OCN]Buzzin92 | Buzzin92 |   | 26772092 | 27029071 | 256979 |
| 64 | sks72 | sks72 |   | 29779509 | 30024573 | 245064 |
| 65 | bfromcolo | bfromcolo |   | 4933367 | 5178327 | 244960 |
| 66 | Hogann | Hogann |   | 28622078 | 28862827 | 240749 |
| 67 | Jeppzer | Jeppzer |   | 172480125 | 172718921 | 238796 |
| 68 | sAnity? | dman811 |   | 31208956 | 31445544 | 236588 |
| 69 | shlunky11 | shlunky |   | 9179996 | 9414140 | 234144 |
| 70 | DeviousAddict | deviousaddict |   | 20127200 | 20356882 | 229682 |
| 71 | mxfreek09 | mxfreek09 |   | 7322511 | 7550418 | 227907 |
| 72 | MKclan | mkclan |   | 5763238 | 5964456 | 201218 |
| 73 | Shogon | Shogon |   | 12460705 | 12659825 | 199120 |
| 74 | BackwoodsNC | BackwoodsNC |   | 61962864 | 62161702 | 198838 |
| 75 | Go_Gators! | Go |   | 36485955 | 36681960 | 196005 |
| 76 | George_C | George C |   | 2358692 | 2548818 | 190126 |
| 77 | NFSxperts | NFSxperts |   | 48385233 | 48573009 | 187776 |
| 78 | Mitche01 | Mitche01 |   | 32651994 | 32839665 | 187671 |
| 79 | Gualichu | Gualichu04 |   | 3585791 | 3760518 | 174727 |
| 80 | ThijsH | ThijsH |   | 242241 | 416703 | 174462 |
| 81 | Loosenut | Loosenut |   | 5869864 | 6040691 | 170827 |
| 82 | fragamemnon | fragamemnon |   | 13278682 | 13448455 | 169773 |
| 83 | MaintenanceBot | Maintenance Bot |   | 1344029 | 1512408 | 168379 |
| 84 | kenpachi7 | Kenpachi7 |   | 6407394 | 6567088 | 159694 |
| 85 | NorxMAL | NorxMAL |   | 93014455 | 93168783 | 154328 |
| 86 | giganews35 | giganews35 |   | 44052485 | 44203145 | 150660 |
| 87 | this_n00b_again | this |   | 23242373 | 23387358 | 144985 |
| 88 | Deeeebs | Deeeebs |   | 851844678 | 851983516 | 138838 |
| 89 | Spaceblue | Whodie |   | 93098132 | 93230090 | 131958 |
| 90 | u3b3rg33k | u3b3rg33k |   | 77488898 | 77617960 | 129062 |
| 91 | j4k3nqc | j4k3nqc |   | 3019356 | 3141559 | 122203 |
| 92 | gavush | Gavush |   | 228847 | 350621 | 121774 |
| 93 | josephimports | josephimports |   | 48323710 | 48439728 | 116018 |
| 94 | SweetAndLow | SweetAndLow |   | 53762526 | 53873374 | 110848 |
| 95 | jcharlesr75 | jcharlesr75 |   | 46260786 | 46369537 | 108751 |
| 96 | jellis142 | jellis142 |   | 25990191 | 26096525 | 106334 |
| 97 | pblackmore0307 | animal0307 |   | 3272107 | 3375065 | 102958 |
| 98 | Fasttracker440 | fasttracker440 |   | 5482978 | 5574166 | 91188 |
| 99 | kpforce1 | kpforce1 |   | 23060533 | 23150074 | 89541 |
| 100 | MC-Sammer | MC-Sammer |   | 17297997 | 17386580 | 88583 |
| 101 | dudesquirrel | dudesquirrel |   | 6132322 | 6220685 | 88363 |
| 102 | scifiguy | muels7 |   | 27687006 | 27771183 | 84177 |
| 103 | Hazara | Hazara |   | 9472008 | 9548189 | 76181 |
| 104 | axipher | axipher |   | 3747064 | 3821805 | 74741 |
| 105 | She_loved_E | She loved E |   | 19886703 | 19959110 | 72407 |
| 106 | packerbackermk | packerbackermk |   | 30192807 | 30263438 | 70631 |
| 107 | Slink3Slyde | Slink3slyde |   | 3541637 | 3610306 | 68669 |
| 108 | Samurai707 | Samurai707 |   | 44449220 | 44517772 | 68552 |
| 109 | Diffident | Diffident |   | 1121311 | 1188430 | 67119 |
| 110 | Renegadesl1 | Renegadesl1 |   | 56858868 | 56924537 | 65669 |
| 111 | WonderMutt | WonderMutt |   | 77103078 | 77166040 | 62962 |
| 112 | franz | franz |   | 32727067 | 32789829 | 62762 |
| 113 | Irisservice | Irisservice |   | 36541163 | 36601429 | 60266 |
| 114 | DownshiftArtist | DownshiftArtist |   | 4898454 | 4957366 | 58912 |
| 115 | nategr8ns | nategr8ns |   | 3480757 | 3538454 | 57697 |
| 116 | levontraut | levontraut |   | 168410 | 223719 | 55309 |
| 117 | Michael_Lee | Assimilator87 |   | 14820893 | 14875896 | 55003 |
| 118 | glinux | glinux |   | 15634175 | 15689025 | 54850 |
| 119 | jetpuck73 | jetpuck73 |   | 9533084 | 9587518 | 54434 |
| 120 | benpack101 | benpack101 |   | 30589090 | 30639221 | 50131 |
| 121 | DemiGod2005yr | Matt*S. |   | 37896503 | 37943948 | 47445 |
| 122 | OCN_NvidiaStorm | NvidiaStorm |   | 20241609 | 20286871 | 45262 |
| 123 | X-Thumper-X | Thumper |   | 37223457 | 37268135 | 44678 |
| 124 | Fir3Chi3f | Fir3Chi3f |   | 19183195 | 19227450 | 44255 |
| 125 | zhylun | zhylun |   | 3062692 | 3104920 | 42228 |
| 126 | aznchowboy650 | aznchowboy650 |   | 31141468 | 31182891 | 41423 |
| 127 | SafetyMollusc | SafetyMollusc |   | 0 | 41101 | 41101 |
| 128 | loki_reborn | loki_reborn |   | 6676697 | 6717006 | 40309 |
| 129 | Gnomepatrol | Gnomepatrol |   | 2815472 | 2855311 | 39839 |
| 130 | kishagi | kishagi |   | 2279776 | 2317641 | 37865 |
| 131 | K092084 | K092084 |   | 136075192 | 136112692 | 37500 |
| 132 | max302 | max302 |   | 3864974 | 3902250 | 37276 |
| 133 | Heedehcheenuh | heedehcheenuh |   | 18028268 | 18061594 | 33326 |
| 134 | talynn67 | Talynn67 |   | 7076609 | 7105787 | 29178 |
| 135 | rollingdice | rollingdice |   | 8204097 | 8231091 | 26994 |
| 136 | Darthbaggins | Darthbaggins |   | 13534961 | 13558808 | 23847 |
| 137 | twiz0r | twiz0r0r |   | 15673201 | 15695958 | 22757 |
| 138 | jwalker150 | jwalker150 |   | 5564429 | 5586937 | 22508 |
| 139 | Jermasaurus | Jermasaurus |   | 4737727 | 4759446 | 21719 |
| 140 | [March] | [March] |   | 8600478 | 8620882 | 20404 |
| 141 | Aestylis | Aestylis |   | 10817974 | 10838266 | 20292 |
| 142 | imaweirdo159 | imaweirdo159 |   | 11441289 | 11460625 | 19336 |
| 143 | Merestone | Merestone |   | 8498925 | 8518051 | 19126 |
| 144 | ikcti | ikcti |   | 820606 | 839078 | 18472 |
| 145 | TickTock99 | tictoc |   | 16414241 | 16432616 | 18375 |
| 146 | Taowulf | Taowulf |   | 33376 | 51060 | 17684 |
| 147 | Destoration | Vanquished |   | 187721 | 204453 | 16732 |
| 148 | ironsurvivor | ironsurvivor |   | 32323110 | 32338510 | 15400 |
| 149 | CaLPaR | CaLPaR |   | 4476112 | 4491006 | 14894 |
| 150 | Millillion | Millillion |   | 9751868 | 9765368 | 13500 |
| 151 | JJEEGG2211 | JJEEGG2211 |   | 130731 | 143837 | 13106 |
| 152 | K.Sakai | sakae48 |   | 50650 | 62275 | 11625 |
| 153 | willhemmens | Willhemmens |   | 6865788 | 6877302 | 11514 |
| 154 | drnilly007 | drnilly007 |   | 3628375 | 3639539 | 11164 |
| 155 | Nebulae | Zëddicus |   | 16041150 | 16052236 | 11086 |
| 156 | lolllll117 | lolllll117 |   | 8787533 | 8797884 | 10351 |
| 157 | epipo | Epipo |   | 165113 | 175137 | 10024 |
| 158 | Ceadderman | Ceadderman |   | 6875989 | 6885674 | 9685 |
| 159 | Ikem | ikem |   | 14861579 | 14870867 | 9288 |
| 160 | Majin_SSJ_Eric | Majin SSJ Eric |   | 21673822 | 21681822 | 8000 |
| 161 | Rew017 | rew017 |   | 7772658 | 7780399 | 7741 |
| 162 | zodac | zodac |   | 38428033 | 38435408 | 7375 |
| 163 | leekaiwei | leekaiwei |   | 5184188 | 5191055 | 6867 |
| 164 | darksun20 | darksun20 |   | 45381706 | 45388150 | 6444 |
| 165 | MrBreeze | MrBreeze |   | 1362672 | 1368106 | 5434 |
| 166 | kyle170 | kyle170 |   | 5437541 | 5442853 | 5312 |
| 167 | 808MP5 | 808MP5 |   | 7851268 | 7855800 | 4532 |
| 168 | coachmark2 | coachmark2 |   | 16339885 | 16344379 | 4494 |
| 169 | mrbonami2 | bonami2 |   | 1726146 | 1729833 | 3687 |
| 170 | sdriver | sdriver |   | 3620235 | 3623833 | 3598 |
| 171 | Deathclaw | Deathclaw |   | 195107 | 198248 | 3141 |
| 172 | joelmicks | Exean |   | 19450672 | 19453733 | 3061 |
| 173 | ShtKck | ShtKck |   | 10207401 | 10210244 | 2843 |
| 174 | RussianJ | RussianJ |   | 2645691 | 2648331 | 2640 |
| 175 | UPGR4Y3DD | UPGR4Y3DD |   | 5611343 | 5613687 | 2344 |
| 176 | krista031 | krista031 |   | 400670 | 402696 | 2026 |
| 177 | Nicnivian | Nicnivian |   | 524079 | 525761 | 1682 |
| 178 | drew630 | drew630 |   | 27946669 | 27948278 | 1609 |
| 179 | gugurs | gugurs |   | 0 | 1384 | 1384 |
| 180 | royalflush5 | royalflush5 |   | 1158943 | 1160036 | 1093 |
| 181 | lurker2501 | lurker2501 |   | 3451451 | 3452104 | 653 |
| 182 | pbasil1 | pbasil1 |   | 13457188 | 13457827 | 639 |
| 183 | Nathan | NateTheeGreat |   | 712843 | 713292 | 449 |
| 184 | DizZz | DizZz |   | 75550622 | 75550997 | 375 |
| 185 | lacrossewacker | lacrossewacker |   | 60389794 | 60390119 | 325 |
| 186 | Tilux | Tilux |   | 17123 | 17373 | 250 |

Sig-link:
CPU
Motherboard
Graphics
RAM
Intel i5-4570s
Asus H97M-Plus
AMD R9 280
G.Skill RipjawsX 16 GB (2x8)
Hard Drive
Hard Drive
Hard Drive
Cooling
250 GB Samsung 840
240 GB Kingston
3 TB USB 3.0 Drive
Custom Loop
OS
Monitor
Keyboard
Power
Windows 10 Preview
BenQ GL2450
Filco MajesTouch2 Ninja
PC P&C Silencer Mk III 600 W
Case
Mouse
Mouse Pad
Audio
Fractal Design Core 1000
Mionix Castor
Monoprice XXL
JL Amps + Custom Morel Bookshelf speakers
Other
Scythe Kama-Panel 3
View all
CPU
Motherboard
Graphics
RAM
FX-8150 @ 4.6 GHz
Fatal1ty 990FX Pro
9800 GTX+ 512 MB
G.Skill Ripjaws X 1866 CL9
Hard Drive
Hard Drive
Cooling
OS
120 GB OCZ Vertex 3
1 TB WD Black
5x 120mm + MCP350 + EK Supreme HF + MicroRes
Windows 8 Consumer Preview
Monitor
Keyboard
Power
Case
2x Dell U2212HM
Logitech G110
Cooler Master 850W Silent Pro
Cooler Master 690 II Adv.
Mouse
Mouse Pad
Audio
Razer Death Adder 3.5G
Staples Gel Cushion
Asus Xonar DG + Senn. PC333D
View all
CPU
Motherboard
Graphics
RAM
Q6600
Acer X1800
ATI 5670
2 GB Kingston
Hard Drive
Optical Drive
OS
Monitor
2 TB WD Green
Asus BD-R
Windows 7 Home Premium
Sony 50" LCD
Keyboard
Power
Case
Mouse
Acer Media
220 W SFF
Acer X1800
Acer Optical
Mouse Pad
Audio
The TV cabinet
Denon 2808 7.1 AVR + Dahlquist 350W 8" Sub + Kl...
View all
hide details
CPU
Motherboard
Graphics
RAM
Intel i5-4570s
Asus H97M-Plus
AMD R9 280
G.Skill RipjawsX 16 GB (2x8)
Hard Drive
Hard Drive
Hard Drive
Cooling
250 GB Samsung 840
240 GB Kingston
3 TB USB 3.0 Drive
Custom Loop
OS
Monitor
Keyboard
Power
Windows 10 Preview
BenQ GL2450
Filco MajesTouch2 Ninja
PC P&C Silencer Mk III 600 W
Case
Mouse
Mouse Pad
Audio
Fractal Design Core 1000
Mionix Castor
Monoprice XXL
JL Amps + Custom Morel Bookshelf speakers
Other
Scythe Kama-Panel 3
View all
CPU
Motherboard
Graphics
RAM
FX-8150 @ 4.6 GHz
Fatal1ty 990FX Pro
9800 GTX+ 512 MB
G.Skill Ripjaws X 1866 CL9
Hard Drive
Hard Drive
Cooling
OS
120 GB OCZ Vertex 3
1 TB WD Black
5x 120mm + MCP350 + EK Supreme HF + MicroRes
Windows 8 Consumer Preview
Monitor
Keyboard
Power
Case
2x Dell U2212HM
Logitech G110
Cooler Master 850W Silent Pro
Cooler Master 690 II Adv.
Mouse
Mouse Pad
Audio
Razer Death Adder 3.5G
Staples Gel Cushion
Asus Xonar DG + Senn. PC333D
View all
CPU
Motherboard
Graphics
RAM
Q6600
Acer X1800
ATI 5670
2 GB Kingston
Hard Drive
Optical Drive
OS
Monitor
2 TB WD Green
Asus BD-R
Windows 7 Home Premium
Sony 50" LCD
Keyboard
Power
Case
Mouse
Acer Media
220 W SFF
Acer X1800
Acer Optical
Mouse Pad
Audio
The TV cabinet
Denon 2808 7.1 AVR + Dahlquist 350W 8" Sub + Kl...
View all
hide details